ChatGPT has become a household name. It became the fastest-growing platform soon after its launch. Before anyone could even grasp the tool's popularity, people were using ChatGPT for link building, content writing, social media marketing, and whatnot.
Needless to say, ChatGPT has taken the world by storm, and has become everyone's go-to tool. If you want to find out more about how to use ChatGPT to build backlinks and elevate your brand, this article is made for you!
So, without further ado let's dive in to find out how you can use ChatGPT for brand building:
What Is ChatGPT?
ChatGPT is an artificial intelligence (AI) application developed by OpenAI that uses machine learning techniques to generate answers in natural language. Since these AI tools are trained on a large amount of text data, ChatGPT models offer logical and contextually appropriate responses to questions.
ChatGPT's plus point is creating text-based content such as social media posts, strategies, articles, website copy, meta descriptions, and conversational content like chatbots. Businesses can save their time and resources with the help of ChatGPT while still delivering interesting and useful material.
How Does ChatGPT Work?
Using ChatGPT is as simple as ABC. All you have to do is make an account on OpenAI's website and type your prompts and viola! You will be met with amazing responses from the AI.
It is quite similar to other chatbots that reply to whatever you say.
For instance, we asked ChatGPT a very simple question: 'What is content writing?'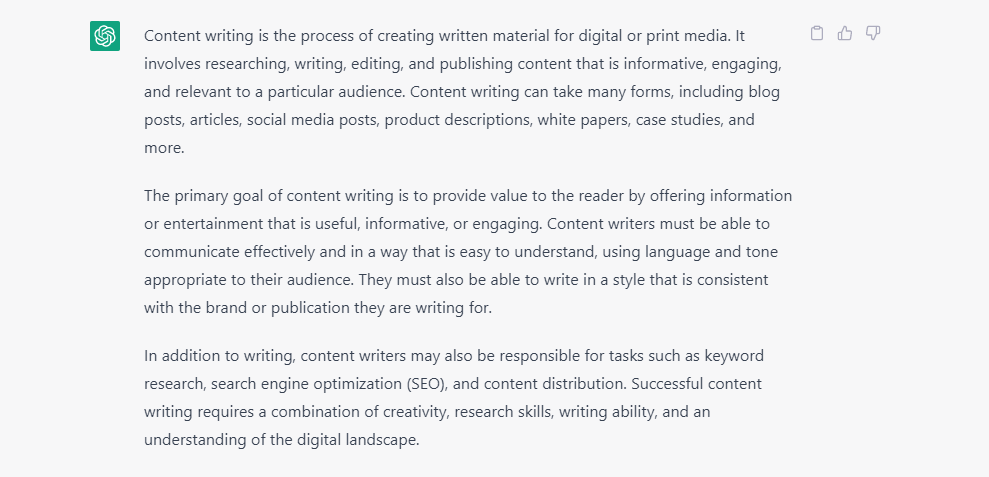 These prompts are commands or questions that you enter in ChatGPT's interface. The best part is that they do not have to be technical. You can type in the language you usually use when talking to humans in real life.
In other words, ChatGPT requires no technical knowledge or abilities. It is available to everybody who understands human language, which is another reason why everyone is going gaga over it.
You can also change the response ChatGPT generates for you based on the command you enter. Depending on your command or question, your response could be a paragraph, a table, a list, or other types of content.
For instance, you can ask for a list of the best writers in history:

Benefits Of Using ChatGPT For Link Building
ChatGPT for link building can do wonders for you by helping you speed up the link building process, generating ideas for you, reducing your costs, helping you connect with influencers and thought leaders in your field, etc., such is the impact of chatGPT on backlinks.
Let's find out more:
Speed Up The Link Building Process – Finding relevant keywords and link building opportunities takes time. You can cut your time in half by providing appropriate prompts to ChatGPT. The AI will generate a list of suitable prospects faster than you could imagine.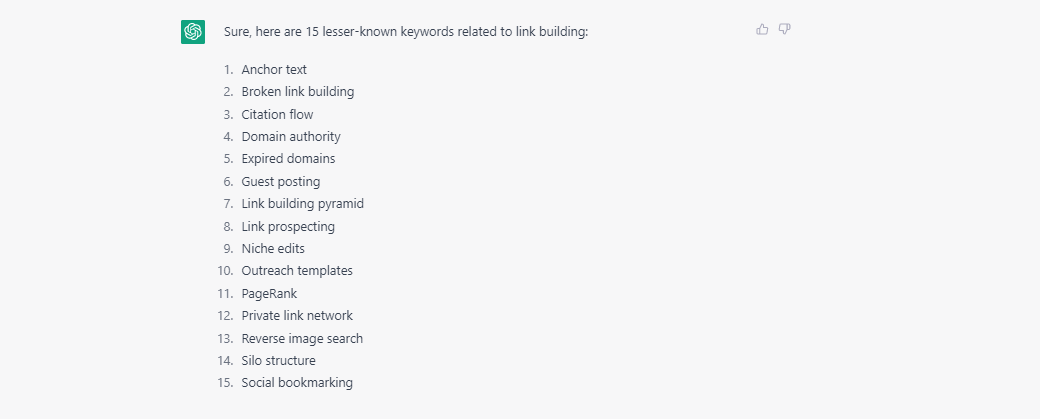 Reduce The Costs – ChatGPT can also help you save money on content creation and hiring professional link builders. That is not to say that humans are not required to supervise and rate ChatGPT's outputs; they are.
Nonetheless, ChatGPT can boost your team's productivity while saving you money in the long run.
Come Up With Ideas – ChatGPT can serve as your brainstorming partner, assisting you in developing new blog post ideas, creative keywords, or ways to paraphrase clumsy sentences. No more feeling trapped!

Connect You With Influencers And Thought Leaders In Your Field – Connecting with influencers and thought leaders is one of the best ways to build links. However, finding them can be a time-consuming process.
ChatGPT can not only generate a list of relevant names, but it can also ensure that those names meet all your requirements.

How To Use ChatGPT To Build Backlinks?
Now that we have established the benefits of using ChatGPT for link building, let's divulge the ways you can actually utilize it for link building and brand building:
Here's How People Have Been Using ChatGPT For Link Building
People have been blown away by ChatGPT's unparalleled diversity of uses, especially SEO experts and backlink builders. Let's look at all the different ways people from the world of marketing have been utilizing the powers of ChatGPT for brand building, outreach, link-building strategies, and more.
Let's dive in, shall we?
ChatGPT for Outreach
Outreach experts use ChatGPT for outreach in multiple ways, including creating outreach letters, collecting personal blogs, compiling blogs for blogger and influencer outreach, and designing follow-up letters:
1.    Creating Outreach Letters with ChatGPT
ChatGPT can straight up create different variants of outreach letters for its users. All you need to do is give it a simple command, and the AI software will get to work.
This is what came up when we asked ChatGPT to write four variants of the first outreach letter for online PR services: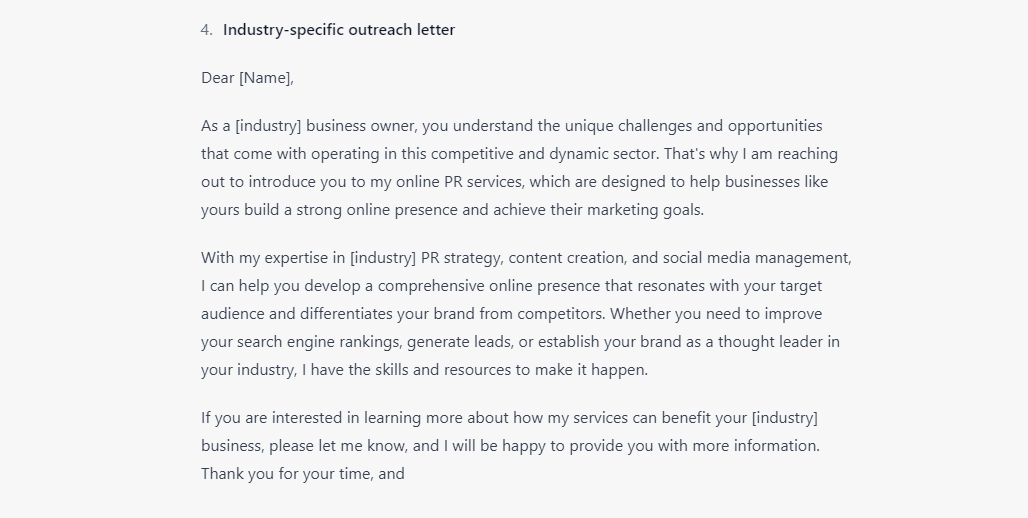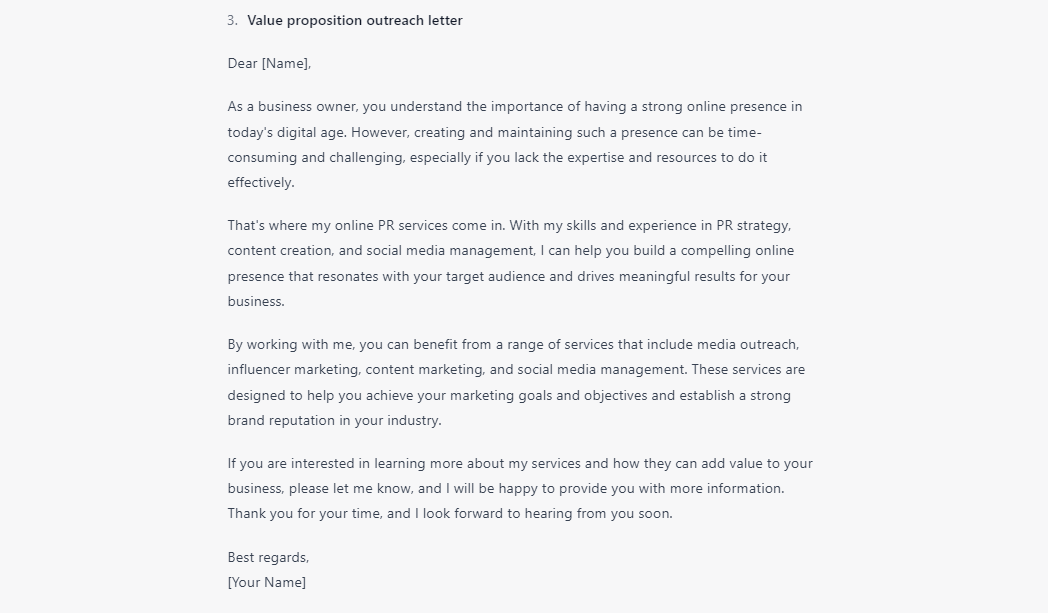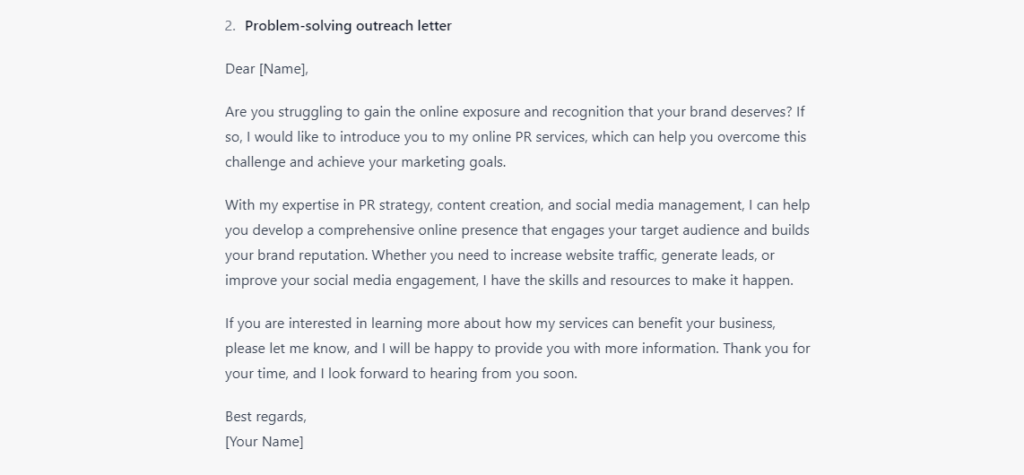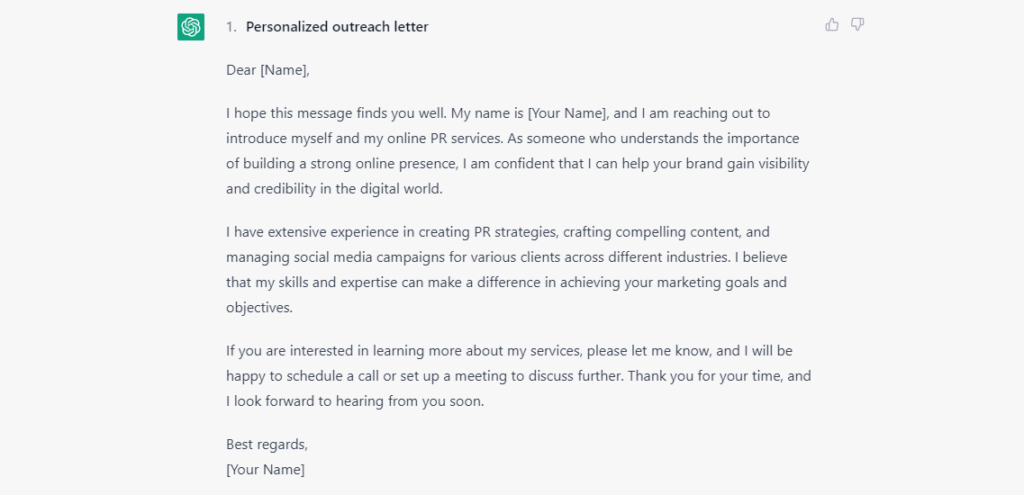 2.    Collecting Personal Blogs For Blogger Outreach
ChatGPT can also save you time and create a tailor-made list of personal blogs along with links to them in any niche you want. This way, you won't have to do the search yourself.
Here's what we got when we asked the tool to make a list of personal blogs with links to all the bloggers in the SEO niche: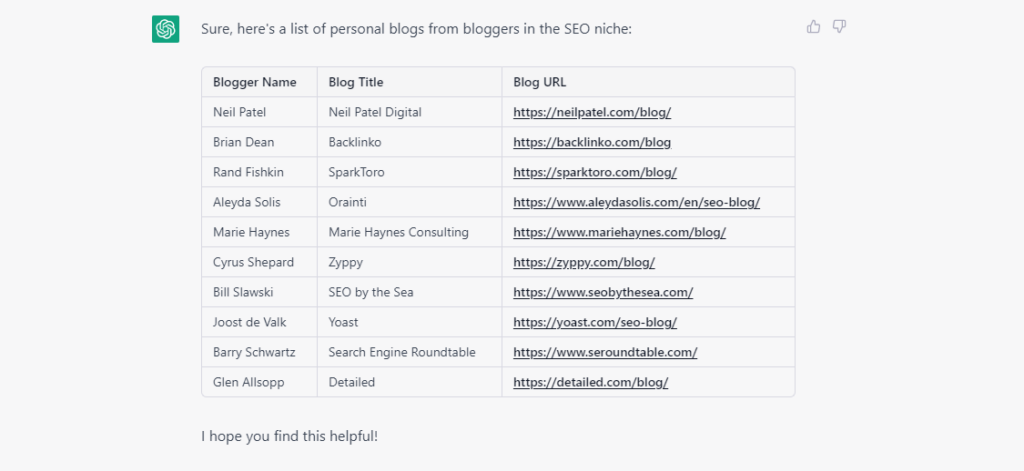 Amazing, isn't it?
3.    Blogging Opportunities For Guest Posts
Guest posting can improve your ranking and credibility. However, finding appropriate guest blogging opportunities requires a lot of work, especially when you are in a time crunch.
Well… ChatGPT can do that for you. All you need to do is ask it to find guest blogging opportunities for you.
ChatGPT found the following list of potential guest blogging opportunities for us for link insertion when we asked for it to: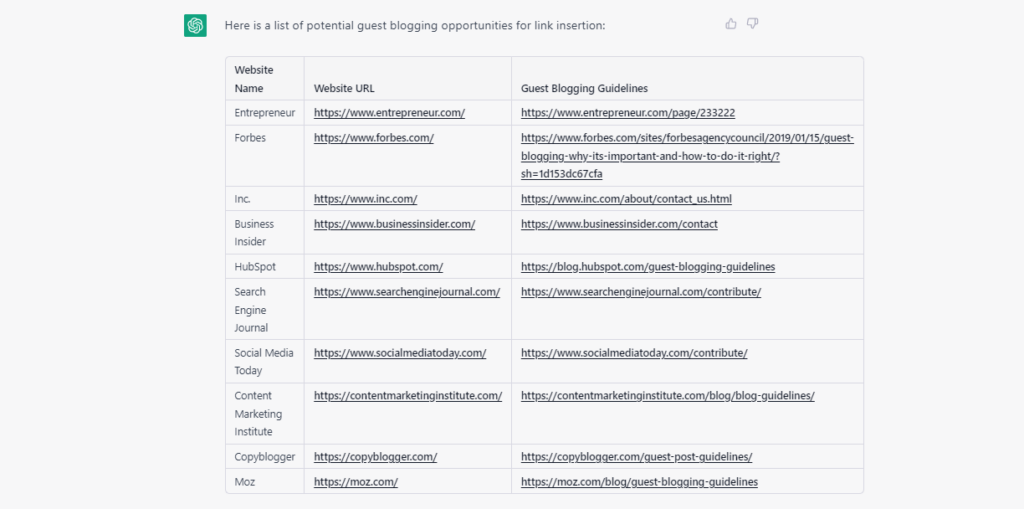 Plus, it also left us with a little life-saving tip at the end.

Nice, right?
4.    Designing Follow-Up Letters Using ChatGPT
Bloggers are busy bees, and your outreach email can get lost in the sea of other outreach emails swimming in their inboxes. You can use ChatGPT to write a witty follow-up letter that is sure to catch your prospect's attention.
This is what we got when we asked for a follow-up letter: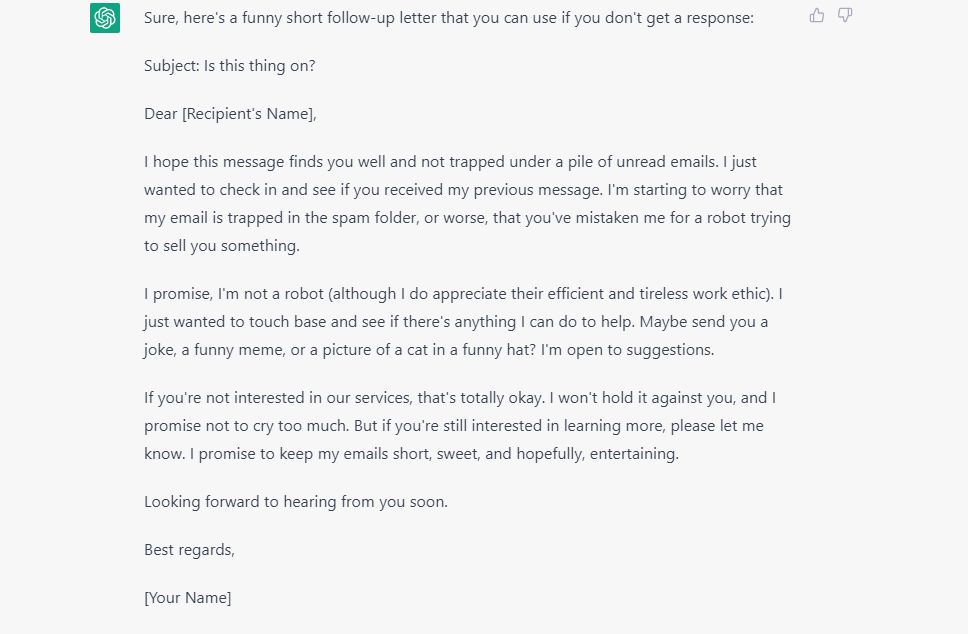 ChatGPT for Crowd Marketing
Crowd marketing, if done correctly, can increase sales by involving a large number of people. It utilizes social media marketing, content creation, and search engine optimization to get a verified lead generation.
We know that we can use ChatGPT for link building, but guess what? ChatGPT can do crowd marketing as well!
At this point, we are not even surprised!
Is there anything the software can't do?
ChatGPT does crowd marketing by finding forums, answering questions, and looking up links for Quality Assurance websites for its users:
1.    Finding Forums Via ChatGPT
You have to make your presence known in forums related to your niche. Please do not waste your time looking for them manually or asking your connections for help.
Head over to ChatGPT, and it will do the work for you.
We asked the AI tool to find forums that discuss content marketing for us. Here's how it did: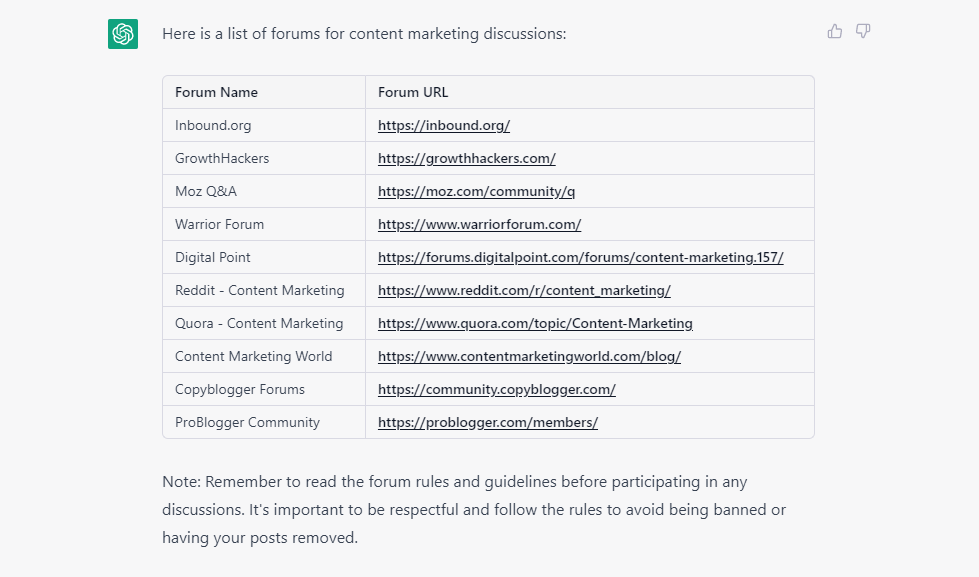 2.    Using ChatGPT to Answer Important Questions For You
Suppose, as a content creator, you need to know what to look for in a plagiarism detection tool when buying one. ChatGPT can find the answer for you.
Type in your request, and your wish will be ChatGPT's command.
We asked it what we should look for in plagiarism tools, and this is what we were answered with: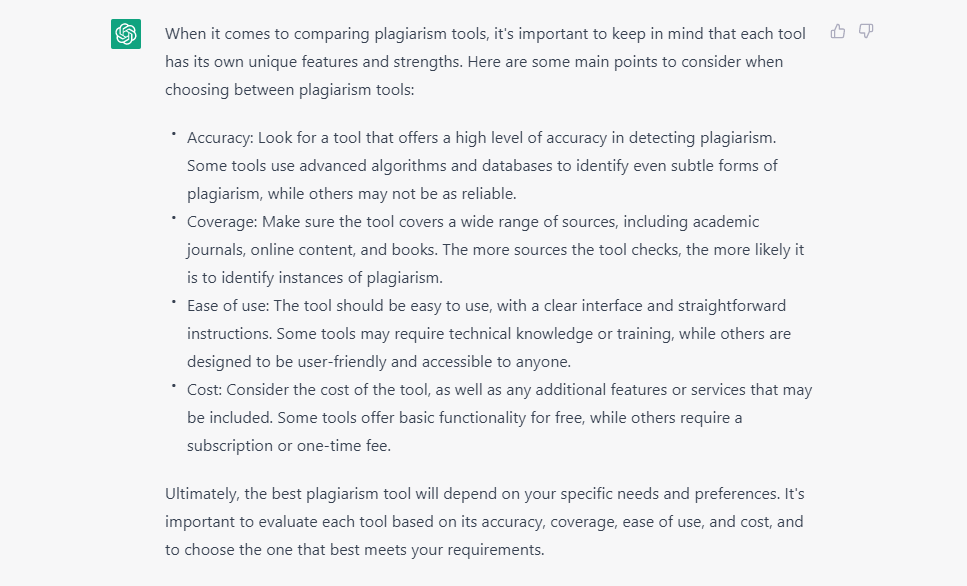 We then proceeded to make our questions more specific and asked which grammar-checking tool between Hemmingway and Grammarly is better: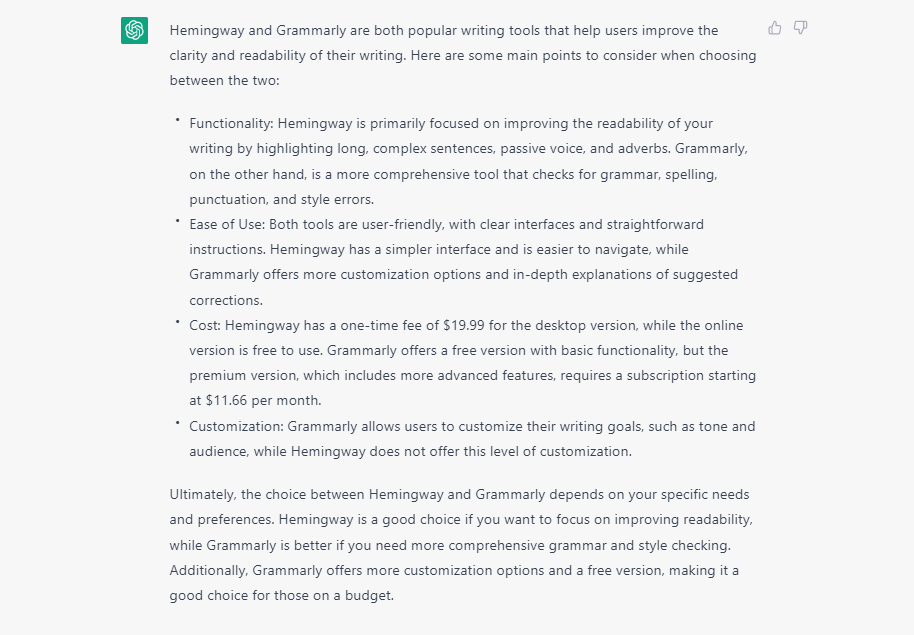 3.    Looking Up Links For Quality Assurance Websites
Another one of the many things that ChatGPT can do for you is look up quality assurance websites to help you with crowd marketing.
We decided to ask it for links to Quality Assurance websites for infographic creation along with links to all the sites, and ChatGPT delivered: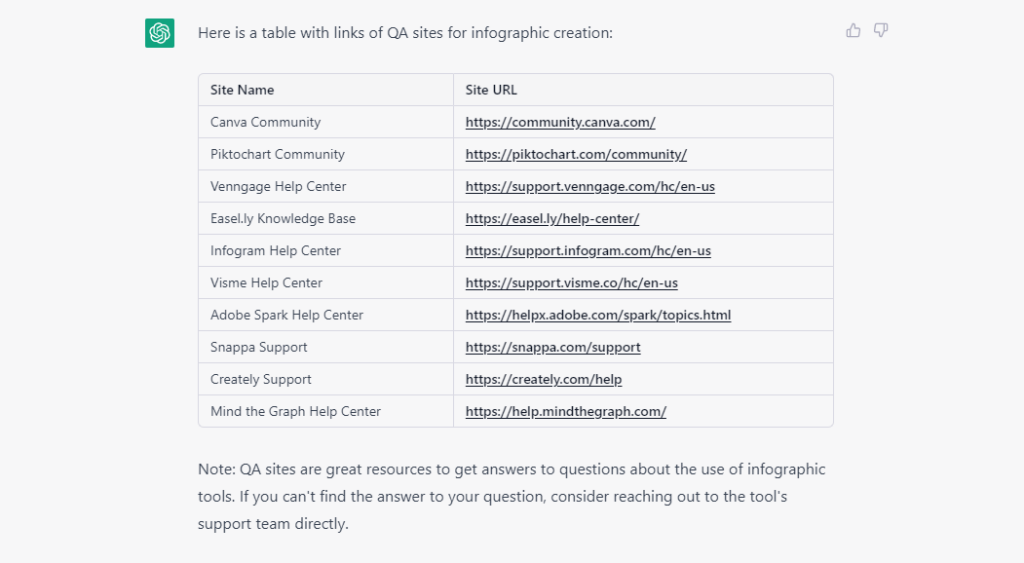 To get more detail, we asked ChatGPT to include descriptions of the sites as well. This was the result: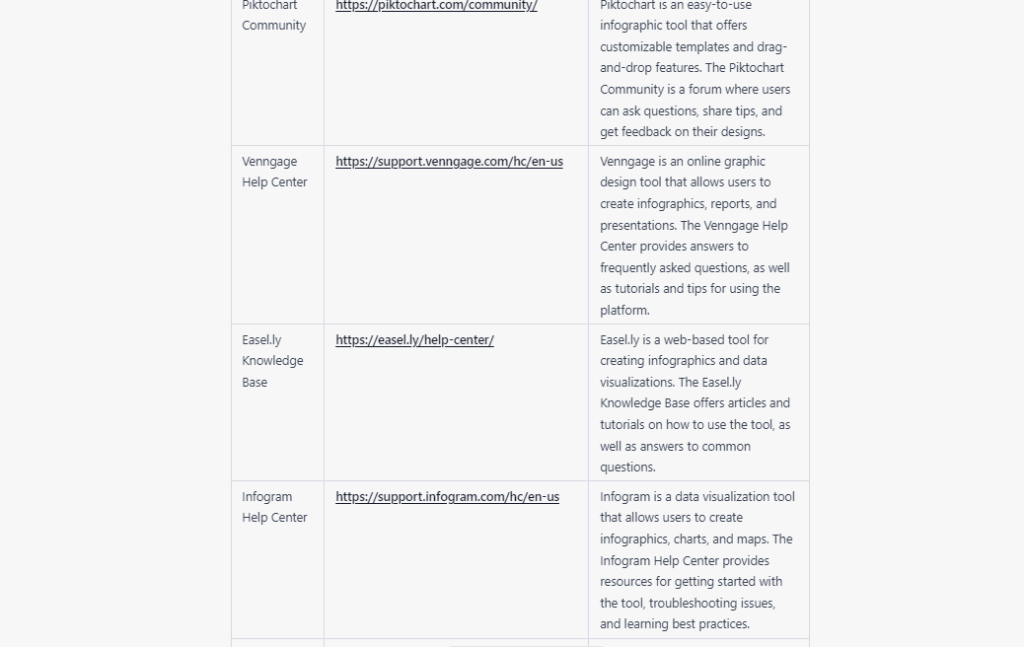 ChatGPT for Conducting Research And Designing A Link Building Strategy
People also use ChatGPT for link building and to create linking strategies that they can implement to organize, track, and optimize their links.
The right strategy can yield significant commercial benefits, such as an increase in sales and a rise in search engine ranks.
You can use ChatGPT to find link-building opportunities, create link building strategies, and find trusted backlinks:
1.    Finding Link Building Opportunities With ChatGPT
Good relationships are essential for good link-building. There are numerous opportunities to make new contacts, and ChatGPT can find them for you.
We used ChatGPT for link building. We asked it to find us link building opportunities for blog writing, and this is what we got: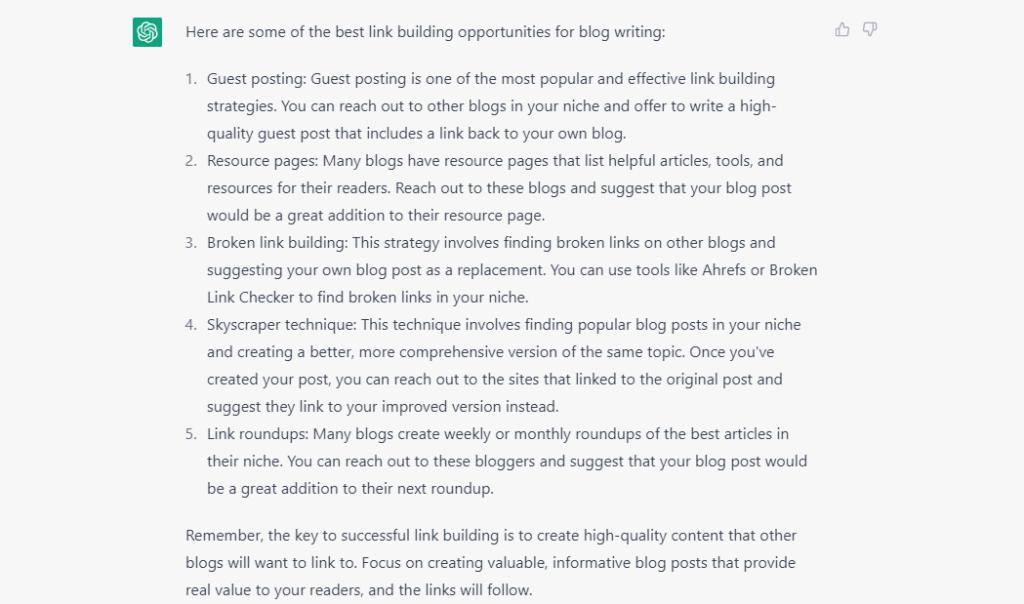 2.    Using ChatGPT to Create Link Building Strategies
If you use ChatGPT for link building correctly, it can create a full-fledged link building strategy for you, and you just have to follow it.
This was the result when we asked ChatGPT to create a link building strategy for us for digital marketing:
Since the above response was very vague and generic and quite similar to the link building opportunities prompt ChatGPT created earlier, we asked it to make a step-by-step strategy for us to build links in the field of sports marketing.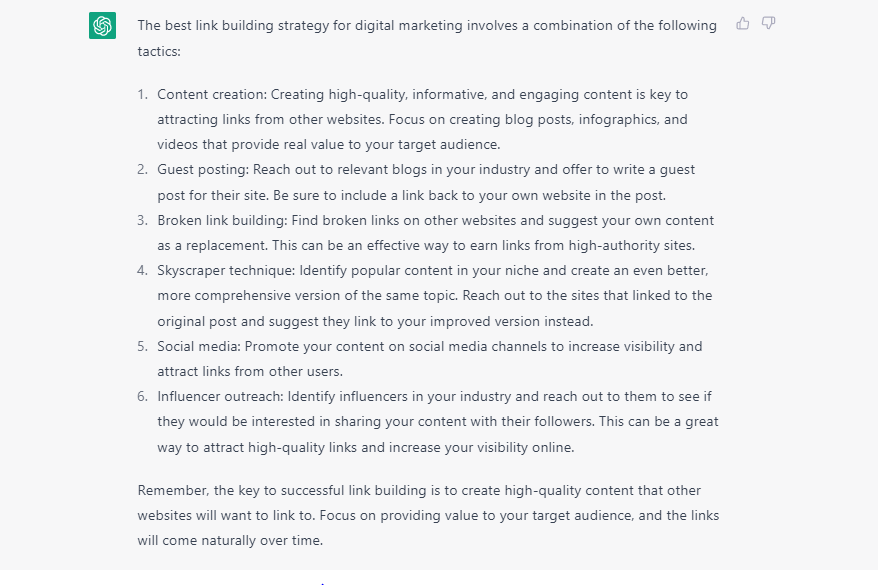 The results were better and more detailed. Even a beginner can follow these instructions: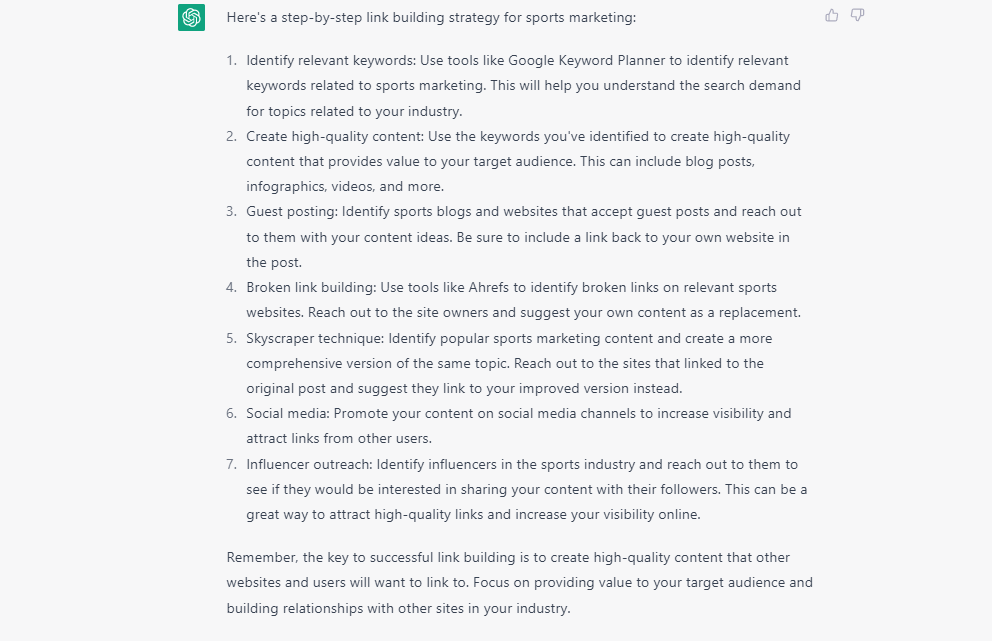 3.    Getting Trusted Backlinks Using ChatGPT
Backlinks help your SEO rankings because search engines consider the quality and quantity of links as authoritativeness and votes of confidence from other websites. As a result, the greater the number of backlinks your website has, the higher it can rank for search terms.
Trusted backlinks are not easy to find, however. But when using ChatGPT for linkbuilding, that should not be a problem anymore.
ChatGPT provided us with the following steps to follow to find backlinks for a media site: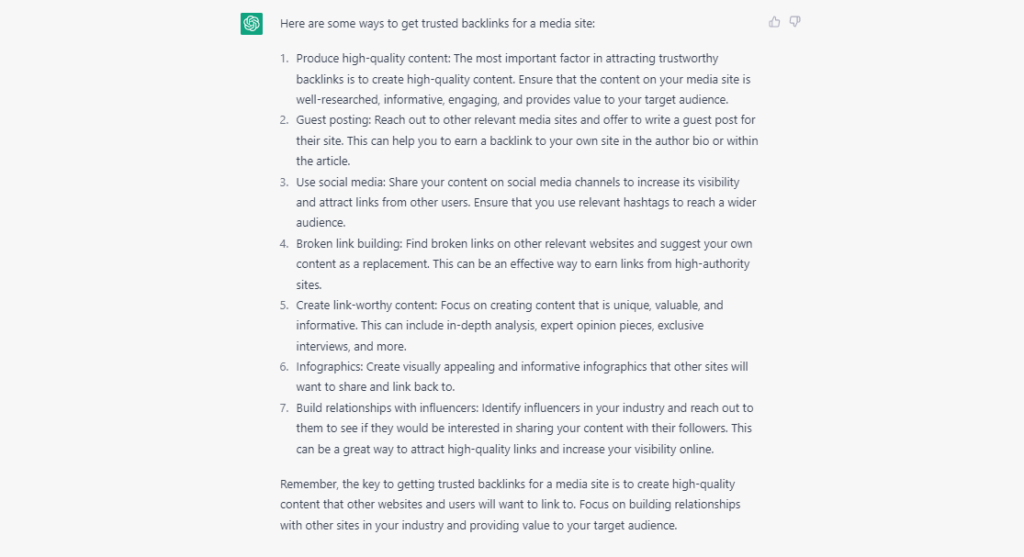 If you wanted to know, 'How can I build backlinks using ChatGPT for link building?', you have your answer.
Disadvantages of Using ChatGPT for Link Building
While ChatGPT can help you streamline the customer experience, analyze consumer insights, and automate tasks, it can have its limitations.
Let's find out:
Lacking Originality
You will notice when using ChatGPT to create content that it lacks originality. It regurgitates the same content, which you can see for yourself if you ask it to regenerate content a few times.
When it comes to SEO and content marketing, original content is king. Therefore, it would be foolish to rely solely on Chat GPT to create content. There is a high possibility that you will end up with a similar copy that others may also be using.
Missing Depth and Quality
Although Chat GPT is an excellent tool for creating content for building links, the content it creates often falls short of depth and quality.
If you cannot bring true value to your audiences, then there's no point. So, if you want to bring value-based content to your readers, Chat GPT will not make the cut.
It is as simple as that!
SEO Limitations
In order to rank high on search engines, you must use keywords strategically. This is where ChatGPT's major drawback lies.
It cannot place keywords in titles, headings, first paragraphs, conclusion, and meta descriptions, as well as integrate long tail keywords to make sure your content is SEO-optimized.
Lacks personalization and Creativity
Since AI tools like ChatGPT do not include real-life examples, it can be hard for your reader to truly connect with your content without having any examples to refer to.
Plus, content created by Chat GPT can feel as if it is too robotic. The absence of connection, empathy, and personalization will make it impossible to keep the readers engaged.
Can ChatGPT Replace Google?
It may seem highly likely that ChatGPT will replace Google in the near future because of its rising popularity. However, that is not the case.
Surprising, isn't it? Everyone assumed that Google's reign was over, but that is far from the truth.
So, why can't ChatGPT replace Google?
The biggest reason why Google does not need to worry about an AI tool is that machine learning systems are prone to hallucination. Hallucinations, in the case of ChatGPT, mean that it can generate prompts that are far from reality. In other words, ChatGPT creates a lot of content based on human language. This information can sometimes be inaccurate.
The only threat ChatGPT is posing for Google is that people are using ChatGPT to churn out mountains of spammy, low-quality content. This is costing Google A LOT of time, resulting in major algorithm updates.
At the end of the day, Google is Google! It is not going anywhere. However, we can expect its landscape to change in unexpected ways in the coming months.
Should You Use Chat GPT for Link Building?
ChatGPT is a powerful and intuitive tool that can help content marketers create content to help them with link building. However, it is important to realize that, at the end of the day, it is just an AI writing assistant. There are high risks of plagiarism and inaccurate information.
If you want to avoid any blunders, you can hire professionals to do the job for you and make sure that your SEO and link building efforts bear fruit.
Summing It Up
While Chat GPT can be a valuable tool for link building and SEO, you must keep the potential risks of using AI-generated content for building your brand persona. Google can penalize you if it detects spamming, keyword stuffing, or duplicate content.
However, this does not mean that you need to shun ChatGPT entirely. Just make sure that you use the AI tool responsibly and create unique content that provides value to the readers.
Lastly, monitor your website's performance on Google constantly and stay updated with any changes in its ranking.
If all else fails, you can always reach out to us, and we will help you reach your goals!