Having some content, images, and a mesh of grids is not enough to make your website the powerhouse for your business. You should work on different aspects of a website to make it an SEO booster. That's exactly what this guide is going to talk about:
       

Why you need website optimization for SEO

       

How to optimize a website for SEO

       

How to do SEO for website step by step

       

Many other effective tips and tricks
After reading this blog, you will be able to make your website a magnet for quality traffic because SERPs will be all yours.
So let's begin.
Why Some Websites Rank Better on SERPs Than Others?
The whole practice of search engine optimization (SEO) is based on finding the answer to this question.
Because:
Finding the answer to this question is the only way to survive the online competition on search engines.
If you are not somewhere on the top of search results, your best and amazing services are useless.
And if your competitors are winning the race on SERPs, they will outclass you despite their poor services than yours.
That's how things work online, and that's why you need to know how to optimize a website for SEO.
Why Should You Optimize a Website for SEO?
Google's SEO starter guide gives a pretty clear view of what is SEO and how it works.
"Search engine optimization (SEO) is often about making small modifications to parts of your website. When viewed individually, these changes might seem like incremental improvements, but when combined with other optimizations, they could have a noticeable impact on your site's user experience and performance in organic search results."
SEO might seem like a marketer's plush and Google's trick to becoming the online world's boss.
But online searchers' behavior says that it is the reality of the online world.
Most searchers stick to the first page, and the first search result takes the most of the traffic.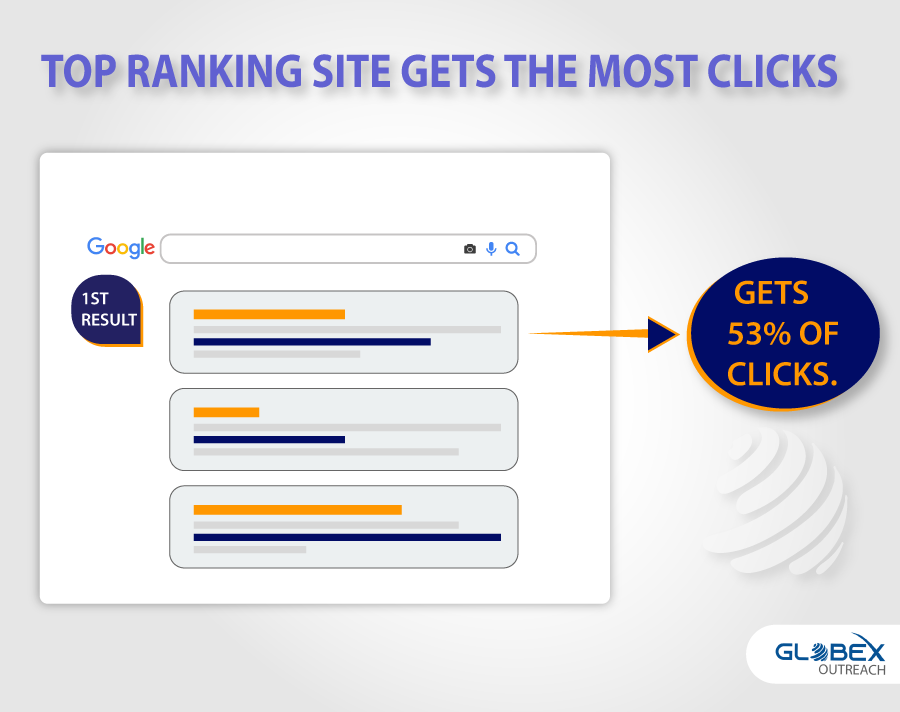 So finding the answer to how to make SEO optimized website is not just an option but a necessity for you.
The problem is:
SEO's world is always in a state of a stir.
We are two decades down since the inception of Google, and we are still struggling to find the answer to the question: why some websites do better on SERP than others?
If it had been the early days of Google, the answer would have been:
Because they add a lot of related keywords

Because they have a lot of links
But it's 2020, and now, Google is no more about keyword stuffing and counting just quantity of links, not quality.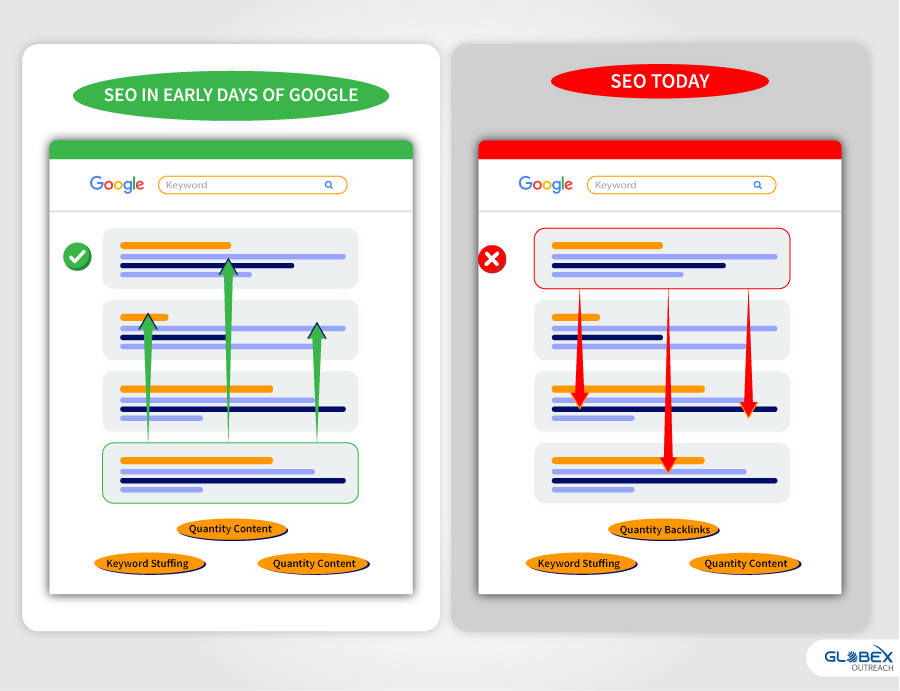 Now Google has become a lot smarter, and it uses at least 200 ranking factors to decide the fate of any website (some revealed, others unrevealed).
In this scenario, there is no single answer to how to make your site SEO optimized.
It is a mix and match of things – a bit of this and a bit of that.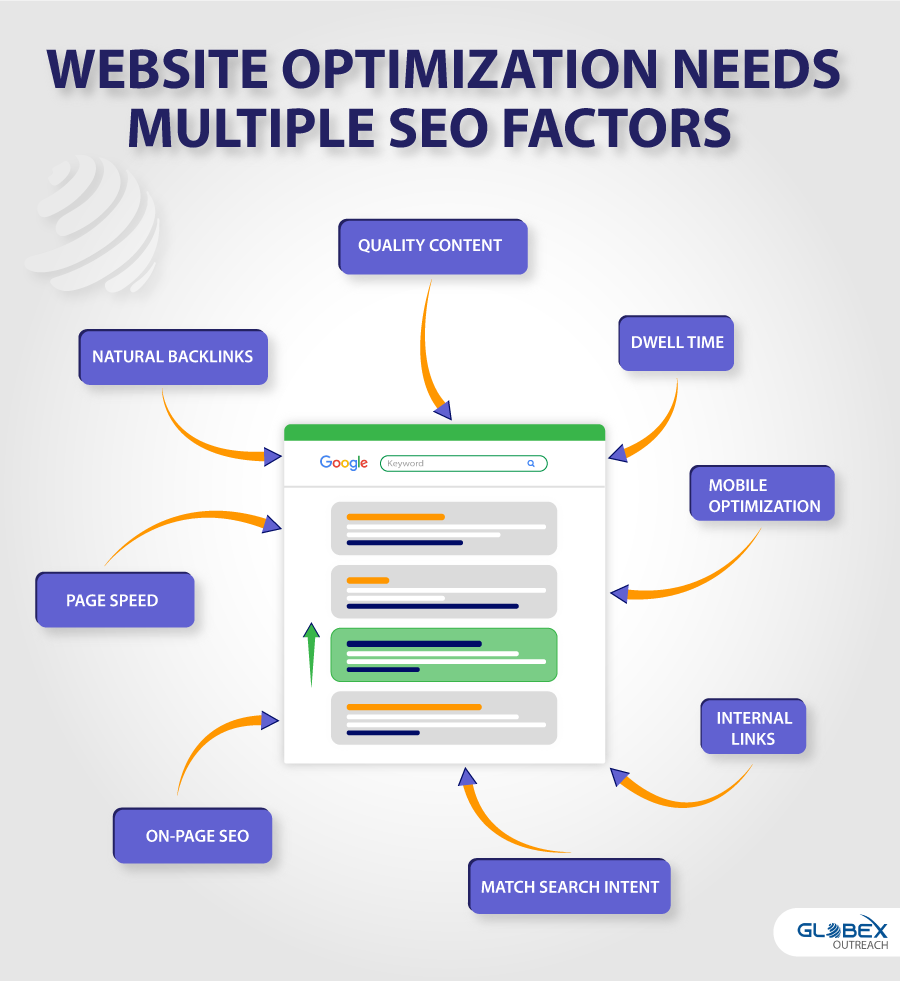 You can't say that, okay, doing this, and that will do the trick for you.
You have to work on many levels and with consistency. And… you have to do the right things.
So considering this…
…the best way to optimize your website for search engines is:
Find the sweet spot between SEO and website optimization.
SEO vs. Website Optimization – What's the Deal?
Question: Are SEO and website optimization different things?
Answer: Yes and no.
Search engine optimization and website optimization are two different forces, but they work together to give your online presence a boost.
SEO is about ranking your website higher to generate more traffic and get more visibility.
Whereas website optimization is about improving user experience, trigger leads conversion, and acquire more customers.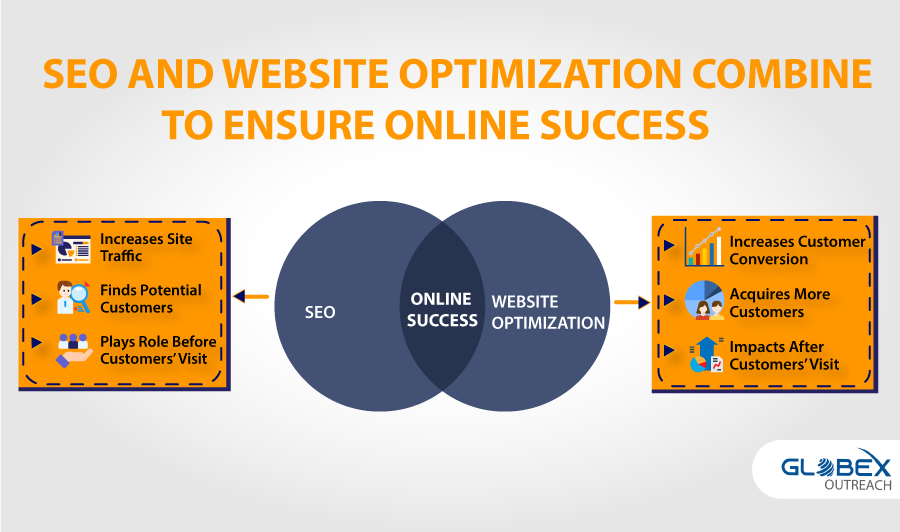 All your conversion tactics are useless if you don't get traffic.
No traffic + Best website experience = No Results!
But an increase in traffic to your site is useless if your site doesn't have any potential to convert it.
Good traffic flow + Poor website experience = No Results!
It means:
You need to work on both these factors simultaneously for better results.
This is also important because:
Now user experience also impacts SEO

Sites that give better experience also do good on SERPs.

Google analyzes user interaction with the site for SEO.
You can't wade your SEO way without working on website optimization.
So combine website optimization and effective SEO techniques to derive organic traffic.
That's the deal!
So:
When you ponder on the best way to do SEO, don't forget about working on how to do search engine optimization for a website.
Here are given some tips on how to optimize your site for SEO to play the winning stroke for online success.
Proven Tips on How to Optimize a Website for SEO


STEP#1: Put the Right Keywords on the Right Place 
Before, keyword selection was easy.
You could bring a few keywords out of thin air and sprinkle them here, there, everywhere on the page.
And the next day, your page used to start ranking high.
Not anymore.
Your safe heaven lies somewhere between putting the right keywords in the right place.
So the role of keywords in SEO depends on two things:
Keyword selection

Keyword placement
#1: Choose Keywords Wisely
Now, keyword selection is like a whole phenomenon.
Keywords are no more just a source to optimize your page for search queries.
Google reads your page and reviews keywords to check your website's relevance for a query.
Your content should have five main types of keywords:
Primary Keyword

: Main, focus keyword around which you want to optimize your content primarily.

Secondary Keywords

: Other search terms that your target audiences might be using to reach you.

Additional Keywords

: Different variants of the focus keyword.

LSI Keywords

: Terms that support the primary keyword and make your content more relevant.

Long Tail Keywords

: Very specific search terms that very focused searchers use.
Finding the best keywords that…
Your target audiences are using

Have the potential to do better on SERPs

Are less competitive
…can be a bit difficult.
But keyword research tools can help you here.
Here are some top keyword research tools and how they can help you: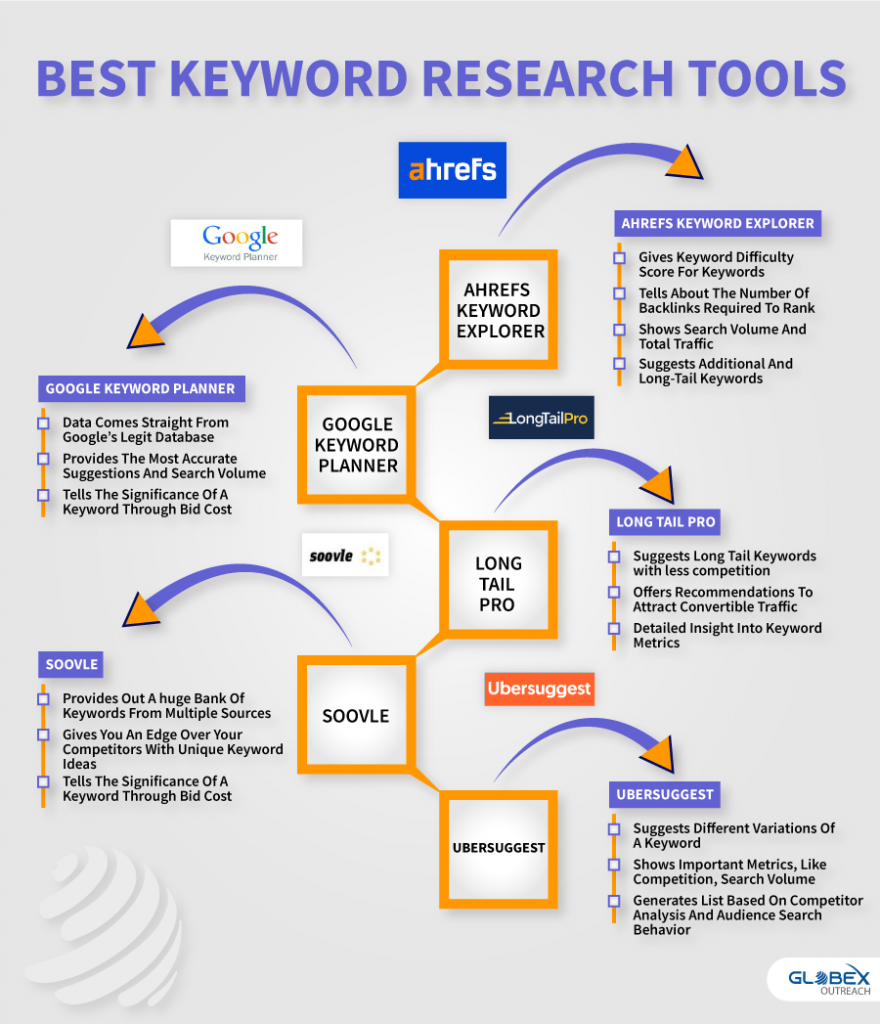 #2: Put Keywords Strategically
Keyword stuffing is wrong.
But adding keywords is essential.
It means that adding keywords matters, but where you add them matters more.
You can add keywords sparingly in the content, but…
Always add the keyword at the top.
Put the keyword around which you want to optimize your content in the heading and the first paragraph.
Why?
Because that's what Google counts for ranking.
For instance, these are top searches for the keyword 'content marketing strategy.'
Let's see how they have added the targeted keyword.
You can see that the keyword was used in the title as well as in the first paragraph.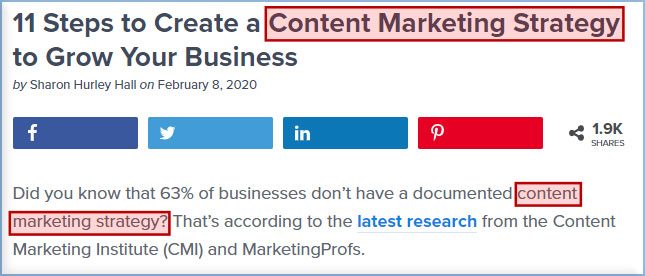 …as well as in the first paragraph.
Both things are at the top.
It proves that primary keyword cherries should be added at the top.
STEP # 2: Create Crazy Rich Content
Content is for SEO, what Newton is for Physics.
Like, seriously, you can't take the name of one without mentioning the other.
That's why now 90% of B2C marketers are developing a content strategy.
Feed your website valuable content that is:
Unique, original, and accurate

Creative and valuable for readers

Engaging and informative 
Don't throw content on your website just for the sake of adding content.
Make it a meaningful experience for the visitors.
Pick a case study of any successful SEO campaign, and you will realize that content has somehow played the role of the catalyst.
Need some inspiration? Here you go:
Brian Dean – Backlinko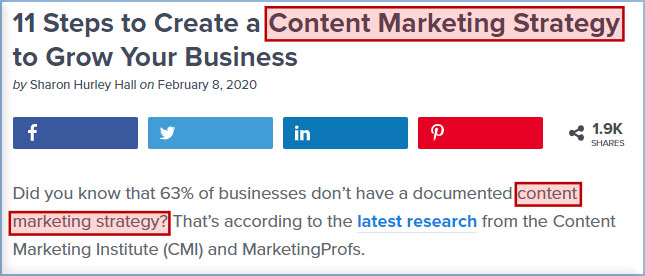 Brian Dean has a case study that tells how he boosted his organic traffic.
And what is that secret method?
Well, he used the Skyscraper Technique for link building to trigger his SEO efforts.
Then what happened after that? It brought desired results.
Now you might be thinking about how 'Content' fits into this case study?
The answer lies in the working of the skyscraper technique.
So this link building technique works on four basic principles:
Finding the best industry content for your targeted keyword.

Creating even better content than that content.

Outreaching people, linking to previous great content, with an engaging email.

Presenting your content as a better option

.
That's it!
And the result? Well, in the case of Brian Dean, he was able to increase his search traffic to 110%.
So what happened?
He created 'SUPER HIGH-QUALITY CONTENT' that was hard to find anywhere else.
See? High-quality content paved the way for amazing SEO benefits.
Nathan Gotch – Gotch SEO!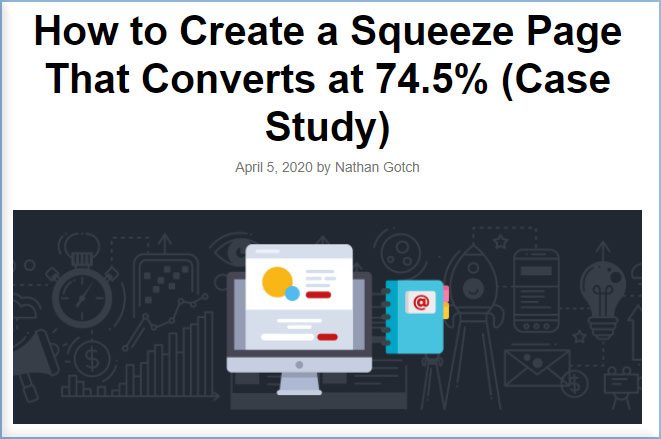 Nathan Gotch reveals on his blog how he converted his squeeze page into a conversion booster.
74.5% conversion through the squeeze page is pretty crazy because, according to Unbounce, 12% conversion means you are better than 90%.
So what did he actually do?
Before landing his prospects, he warmed up people with highly valuable content

.

Created catchy headlines that attracted readers.

Developed a super-effective CTA copy

.
What was the driving force behind all these three things? Yes, CONTENT!
Robbie Richard – Robbierichard.com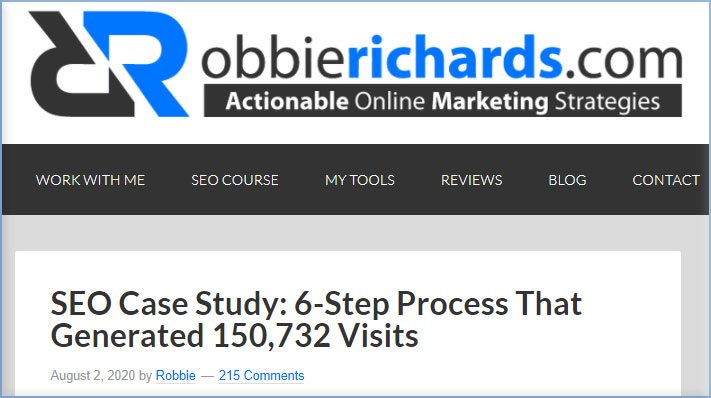 Robbie Richard shared on his blog a case study of one of his readers, showing how he boosted the traffic of his client to 150,732.
The 6-step process was simple:
Do keyword research for finding topics that do the best

Write fantastic content around those keywords

Fulfill basic One-page SEO requirements, including creating engaging title tag and meta description

Get a list of email subscribers

Promote your content with engaging emails

Build backlinks through various link building techniques
Now, from 1 to 6, you can see that 'content' has played a major or minor role in powering each step.
The Major Take Away?
Invest time, money, and strength in creating fantastic content because it will somehow pay you back in the form of:
So your every bit of time, money, and strength is worth spending on creating high-quality content that people and Google love.
STEP # 3: Create In-Depth Content
Lengthy content is a new parameter for quality content – and stats support it.
Most of the top-ranking content has an average of 1,140-1,285 words.
It means that those 500-700 words articles are not that helpful in boosting your SEO effort.
Even 1000+ word articles don't sound so amazing.
Google wants you to provide information-rich content to users that:
Answers visitors' all questions.

Clearly and accurately describe the subject or topic
For example, this is a top-ranking post for the keyword 'Content Marketing Strategy.'

Guess the total number of words of this blog?
Well, 3800+ words.
They are A LOT. But the content is performing well because each word is valuable and justifies the topic.
It means that if you want your content to do well on search engines, lengthy content is the way.
It will take a lot of time because…
You have to research like crazy
Create content intelligently
But this whole effort will be worth it.
STEP # 4: Optimize Your Images
Images and other visual content are an effective way to make your page super hit – 51%of B2B marketers believe in this fact.
It means that more and more people are focusing on creating images to make their content more appealing.
That marks the conversion potential of the site.
But this conversion point is also associated with the SEO thing.
If you are looking for an answer to how to implement SEO on our website, you also need to optimize your images.
But here is a problem: Google can't see your image. It reads.
Google is becoming very smart with its machine learning update. And this update is more significant than you think.
Still, there is always a gray area and the possibility that Google might not understand your image properly.
So the best practice is to facilitate Google in understanding your image, rather than testing its machine learning ability.

And that's not the only reason why you should be working on image optimization.
Now Google is also considering image optimization for ranking a page.
Well, that's what Google Webmaster Trends Analyst, Gary Illyes, said in his Reddit AMA session.
"Google Images and Video search is often overlooked, but they have massive potential."
So don't underestimate this fact when you are looking for how to optimize a website for SEO.
Here are some very simple tricks to optimize your image:
#1: Give a Proper Name to Your File
Don't name your image file' as 'image.'
Yes, your image is an image; we know that.
But Google wants to know what the image is about.

So give a proper name to your file.
And make sure that it relates to the image.
 #2: Use Descriptive Alt Text for Image
Google doesn't have kept people at the other end to read your text for indexing.
It has bots for this purpose – in other words, the machine system.
And you know, the machine is – a machine. It can't read and comprehend an image like humans.
It needs support for understanding any image – and Alt Text provides it.

But you shouldn't be doing two things:
Adding incomplete alt text.
Inserting a pool of keywords.

So what you should and shouldn't be doing is:
 #3: Use Unique Images
Copying stock images that multiple sites are using does no good for your SEO efforts.
They might visually appeal to readers, but Google doesn't get impressed with them.
So what is the right way?
Simple: create unique and relevant images for SEO purposes rather than going with 'free' or 'shutter stock' images.

We know that Google gives importance to mobile-friendly content.
Similarly, a mobile-friendly image is also vital for SEO.
Well, that's what Google is saying:
If you want to get the maximum benefits for your image creation efforts, make sure your image transits from desktop to mobile without distorting or expanding.
STEP # 5: Send Link Juice through Internal Links
Just recall why you develop backlinks?
To strengthen your link profile.
To give authority to your site.
To boost search engine ranking.

To make it appear like a valuable resource.
That's what internal links also do.
And it's super easy!
You just have to link one page to another page on the same domain.
And the linking page will send its juice, or authority, to the linked page. Simple!
But here is a trick:
Use relevant keywords to put an internal link because Google takes keywords to understand what the linked page is about.

And the more internal links a page gets, the more relevant it becomes for Google.
But wait!
You should remember a few things.
Things to Remember for Internal Linking:
The link is naturally placed within the content.

 

Using the same anchor text is good, but diversifying it is also important.

 

The link is coming from a relevant page.

T

here should not be too much linking that it looks spammy

.
THAT'S THE WAY!
STEP # 6: Focus on Link Building
Link building has long been in the ranking game, and it is not ready to go anywhere soon.
The only change is in the way Google analyzes these links.
Like before:
Google only focused on quantity

Spammy links were okay

Every link from any site was acceptable
But now:
Quality of links matters

Spammy links are not at all acceptable

Links from only high quality and niche relevant sites are valuable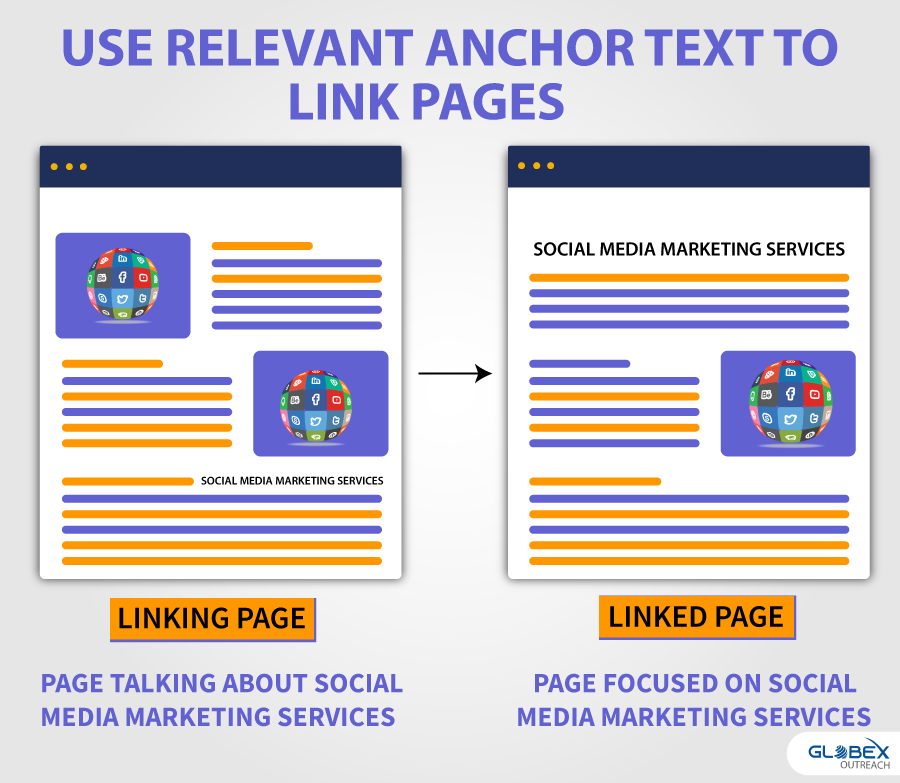 But it is okay if you can't trick Google.
There are many amazing link-building ways that you don't need to look for sneaky ways.
Here are my top two go-to link building ways, along with reasons why I love them.
#1: Link Roundups
In case you don't know about link roundups, here is your go:
"Link roundups are daily, weekly, or monthly roundups, mentioning links of the industry's best content and websites."
In easy words, building links through link roundups means getting mentioned on blogs that give the list of top content.
Visually, that's how sites mention link roundups:

And this definition gives an idea of why I like it.
You:
Get a quality link from a high-authority site.
Establish authority as you get a shout-out from an established blog.

Build credibility because you are mentioned under 'the best' list.
Besides that, if you really have something 'best' in your kitty, you can get a link easily.
#2: Copy Competitor's Backlinks
Copying your competitors' backlink profile is a super-easy way to know the source of getting backlinks.
And it is really easy.
You just need to put your competitor's URL in the backlink analysis tool, and… bang!
You get the secret of their success.
Like, go to Ahrefs Site Explorer.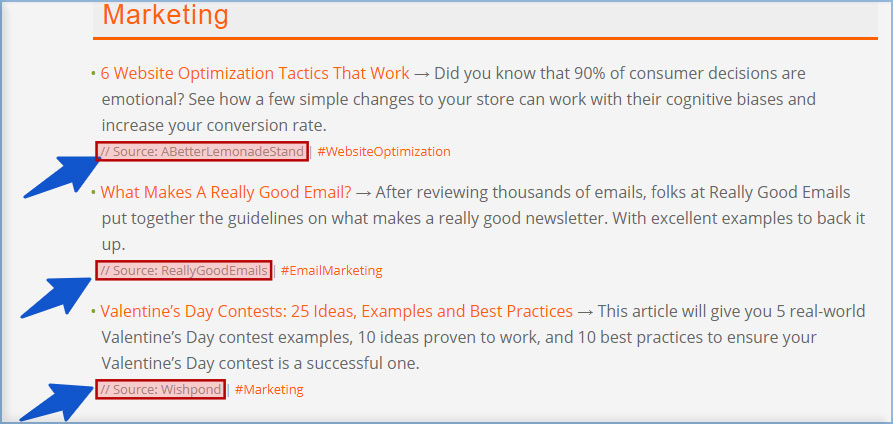 Type in the URL of your competitors, and you will get the secret of their ranking.

After getting the backlink profile, you can select worth pitching sites linking to your competitor.
If you also have fantastic linkable content, you can manage to get a link.
Why do I like this technique?
Well, who doesn't like getting good things without putting in much effort? Significantly, when your competitors test them.
Eh…?
#3: Broken Link Claim
Being an internet user, I can tell you that only a few things are as annoying during internet surfing as hitting a broken link is.
Recall all those times when you clicked on a mentioned link, but you ended up on an error 404 page.
That's a very irritating situation. But that irritating situation can become a great link building opportunity for an SEO person. 
Sometimes, the website owners remove a page or redirect it to another URL due to whatsoever reason.
Good for them, but what about all those backlinks linking to these pages?
You can guess where we are going: You can pitch your link in place of those broken links.
The trick is simple:
You can find these broken links.

Create relevant content (if you don't have it already)

Reach out to the site with the broken link

Pitch your link in place of the broken link
SIMPLE!
You just need to come up with a powerful broken link reclamation email.
Like this one:
Hi [site owner's name],

I just read your awesome article here: [article's URL].

You have done a great job.

But I have found your article is linking to a broken link.

Here's the excerpt where you mentioned me:

[mention the excerpt from the section with the link]

It can give a poor experience to your readers.

I have a similar article on the same topic. Here are three value-driven points you will find in this article:

[POINT 1]

[POINT 2]

[POINT 3]

I was wondering would you like to replace the broken link with this fresh resource?

Here is it's link: [URL of your article].

It will surely enhance the experience and value quotient of your site's visitors. 

Have a nice day.

Cheers,

[Your name]
Why do I like it?
Mostly, this technique will help you win the link because you are:
Actually helping site owners

Giving them a better option
So why wouldn't they give you a link?
But you should focus on three important things:
Write a compelling subject line

Choose outreaching site wisely so that you don't have to compete with other emails

Explicitly tell why you deserve this link
If you do that, you are most likely to get the link.
STEP # 7: Focus on Mobile-First Policy
In 2021, 55.55% of Google traffic comes from mobiles and 43% from the desktop.
So there is no wonder that Google has adopted the policy of mobile-first for ranking any website.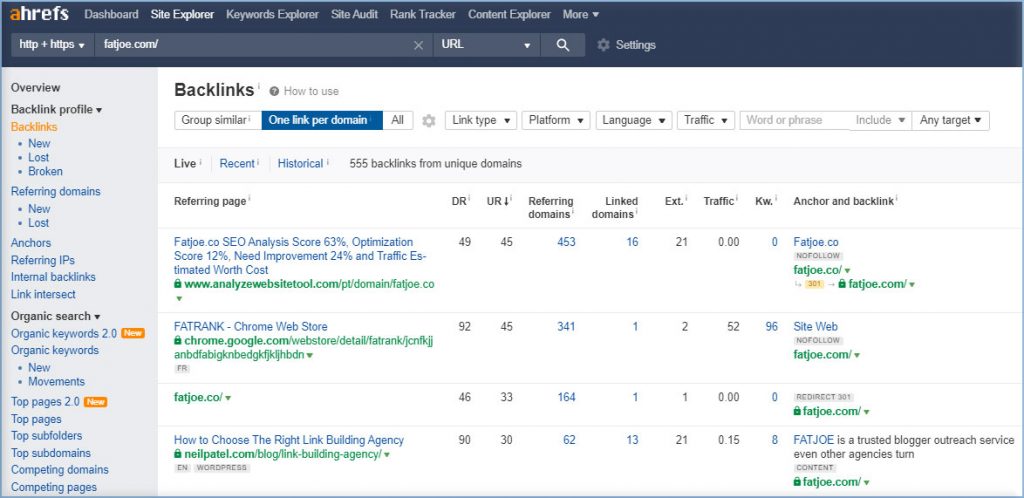 The mobile-first policy means:
Google's bots crawl the mobile version of a site before any other device version.
Mobile version means:
Your page should properly fit into the small screen of the mobile and give a seamless user experience.
It is way too crucial for a higher ranking than you think.

Here are a few tips to prepare mobile-friendly website content according to Google for the best experience:
Meta Robots Tags

: Use the same meta robots tags for the mobile and desktop site versions.
Content

: Content on your mobile site should be the same as your desktop site.
Headings

: Use the same clear and meaningful headings on the mobile and the desktop site.
Structured Data

: Use the same structured data as you do for the desktop site.
Appropriate Image

: Use high-quality images that are not too small and should have a high resolution on the mobile site.
Alt-Text:

Alt-text for images on the mobile site should be the same as on the desktop site.
Structured Data for Video:

Make sure that the structured data for the mobile and desktop sites is the same.
Image Content

: Ensure the same captions, titles, filenames, and descriptions relevant to the mobile site's images as you do for the desktop site.
URL

: Your mobile version shouldn't have fragment URLs.
Enough Capacity

: Make sure that your mobile site has enough capacity to handle a potential increase in crawl rate on the mobile version of your site.
STEP # 8: Increase Your Page's Loading Speed
The slow and steady website never wins the race.
It neither impresses visitors, nor Google likes it.
Users can bear a page's loading tantrum to only 3 seconds.
If it takes more than 3 seconds, users abandon that site – forever. They will never visit that site again.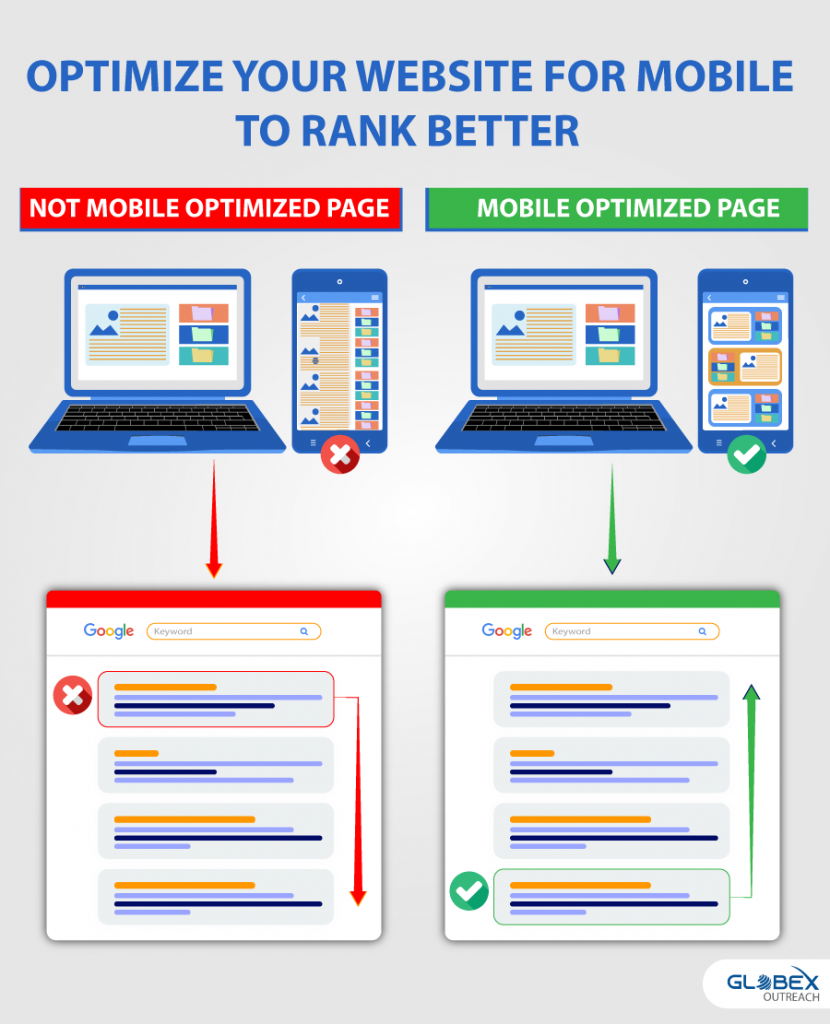 Besides that, page speed is a direct and indirect SEO factor.
Directly, it is a factor Google's algorithms use to determine the rankings of a site.

Indirectly, it impacts other ranking factors like dwell time and bounce rate.
So this way or that way, Page Speed should be part of your strategy for website optimization for SEO.
Here is how you can use optimize your website's speed:
Compress Images

: Use the right file format for images and compress them to use on the web.
Server Response Time

: Reduce the server response time under 200ms through fast routing, improved application logic, and fast database queries.
Landing Page Redirects

: Reduce landing page redirects because they increase the HTTP request-response recycle's time.
Minification of Resources

: Remove unwanted and useless resources like unused codes and using shorter code names.
Compress HTTP Requests

: Use gzip compression on your server to reduce the transferred response's size.
BONUS TIP:  Write a Unique Title Tag and Meta Description
Do you think the best way to SEO a website only takes place on the site?
Nah!
Website optimization for conversion begins when the user first sees your site's appearance on search engine research pages – so does SEO of the site.
You are right: I am talking about meta tags.
It is seriously heartbreaking to see how some people handle their title tags and meta descriptions carelessly.
Paying some attention to creating high-quality title tags and unique meta descriptions can give a free boost to your on-page SEO.

You can see that both of them make up an essential part of on-page SEO, and Google also wants you to give importance to them.
It means that you should:
Write descriptive and concise titles

that tell the users what your page is about

Create a

unique title tag for each page

of your site
…and you shouldn't:
Do keyword stuffing that involves unnecessary addition of keywords.
That's the story of the title tags.
And Google expects you to treat meta descriptions in the same way – the right way.
So what should you be doing with the meta description?
Google clearly asks you to write:
Different descriptions for different pages.
Informative and factually correct content.
Descriptions without long strings of keywords.
Quality descriptions that are readable and understandable.
And this is not beneficial for SEO only.
It also improves the quantity and quality of your traffic.
And Google also acknowledges it.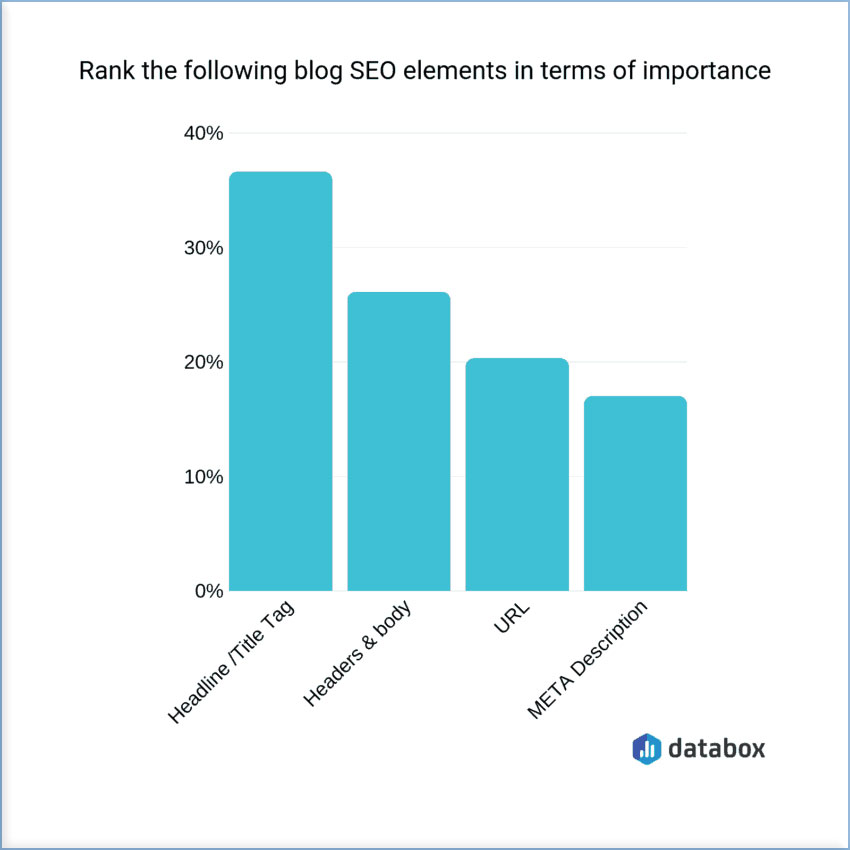 It means that good quality title tags can improve your site's CTR (click-through rate), which is another important SEO factor!
Understandably, people read the title tag and the meta description to decide whether your link is worth clicking on or not.
After all, no one has time to click useless articles. They want the best value for their time.
Here is what you should add in your meta description to make it a 'clicking' trap:
Topic Summary

: A brief description that summarizes your topic.

Important Excerpt

: The most informative and striking excerpt of your content.

Striking Facts

: Engaging facts that capture attention.

Distinct Point

: Interesting point related to the topic that most people don't know.

Triggering Question

: Thought-provoking question that intrigues people to read your content to find its answer.
In short, do whatever it takes you to grab prospects' attention, except creating this kind of description…

Vague. Incomprehensible. Boring. Poor.
This is a big, fat NO!
Conclusion
The quest to grab a place on the first page of Google seems pretty legit when you know that only top searches get the cherry.
Most of the traffic goes to the first search page only. It shows that you have to buckle up to manage your place in the top 5 organic rankings.
Businesses are spending millions to keep a hold on top rankings.
So it is hard for new businesses or small businesses with fewer budgets to dethrone well-established businesses.
But the good thing about SEO is that if you keep on walking the straight path with consistency, strategy, and fairness, you can change your bottom line gradually.
And this all starts with finding the answer to the question: how to optimize a website for SEO.
Follow the tips given in this guide to turn your website into an SEO booster, along with making it a lead magnet.
Clearly, this blog doesn't give out everything on how a site can be optimized for search engines. But it does give a roadmap that can take you to better rankings on SERPs. 
Tell us something about your experience of website optimization for SEO…