In case, you have been wondering how to write guest post the right way, this post is going to help you.
In this guide you will find simple and compact answers to:
How this guide is unlike any other article on guest post publishing
Why guest post blogging still works
Essential tips on effective guest post writing
Mistakes to avoid for impactful results
After reading this blog, you will know how you can change your online success dream with just guest posting technique.
So without waiting any further, let's begin.
How is this Blog Different from Other Guides to Write Guest Post?
Yes, another blog on guest posting.
Because why not? When there are so many benefits of guest post posting…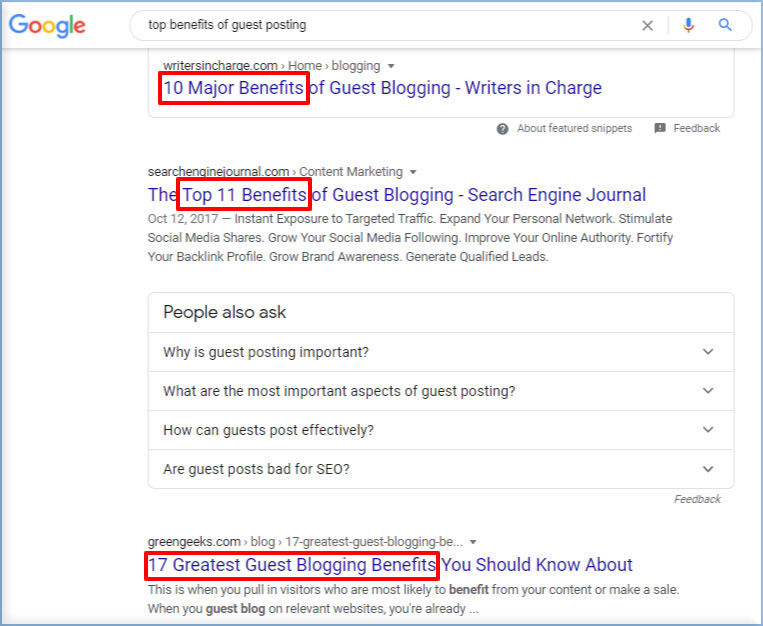 …then why not tell everyone what they are missing out on?
You would have read many posts on how to write guest post.
And they would have talked about different basic guest post writing steps.
But here is a complete list of guest posting steps that is hard to find anywhere else.
STEP # 1: Define your goal
STEP # 2: Make an effective guest post strategy
STEP # 3: Find the best guest blogging opportunities
STEP # 4: Vet the list based on essential metrics
STEP # 5: Research about the selected bloggers
STEP # 6: Make a pre-outreach connection
STEP # 7: Pitch the bloggers
STEP # 8: Create awesome content
STEP # 9: Get it published in a prominent place
STEP # 10: Promote it on social media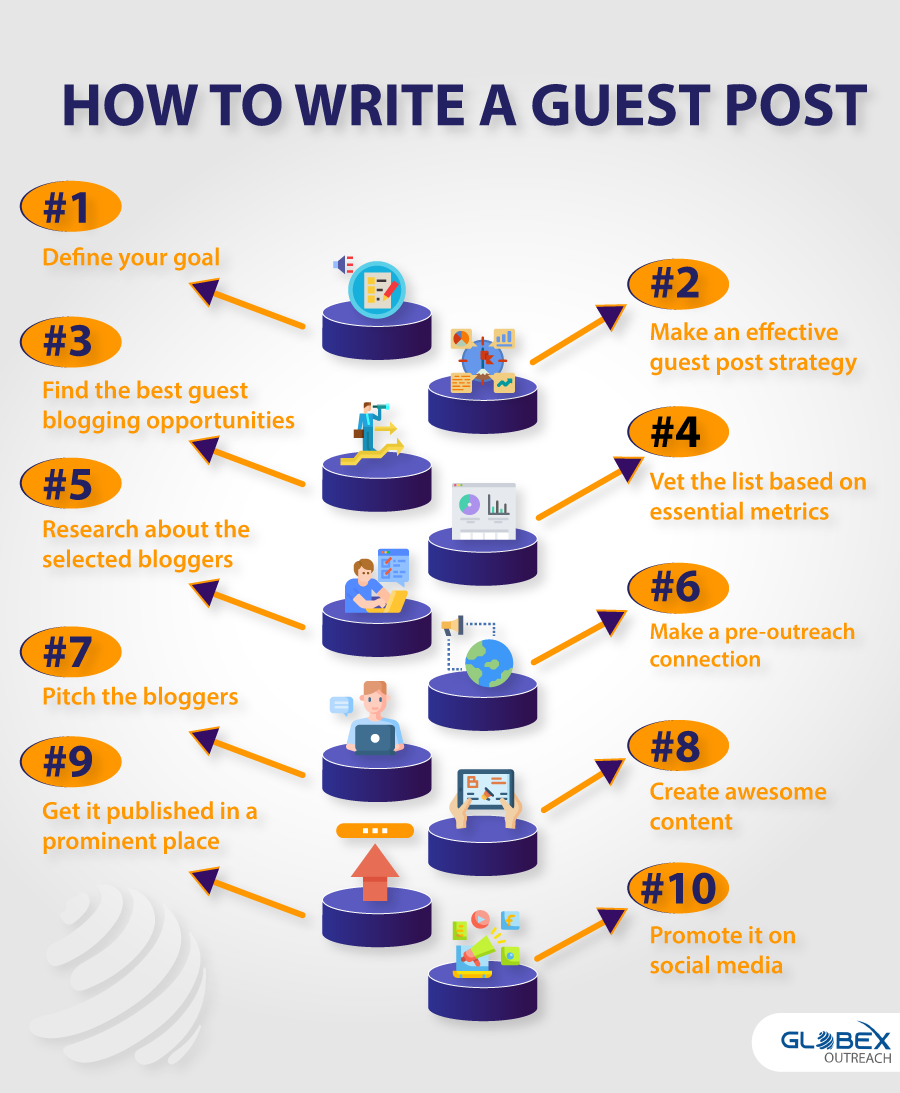 This is literally the most in-depth guest blog posting method that only a few guides tell.
Most articles don't give out full steps.
Wait… that's not the only mistake that most posts on the guest posting guide make.
They only talk about the positives of blog post writing or what you should do to write a good blog post.
But nobody talks about writing blog post tips about what mistakes you should avoid.
Not here. This blog is going to talk about both:
What you SHOULD and SHOULDN'T do for guest post blog writing.
But before that, let's find out why you need to learn how to write blog posts for SEO.
(HINT: A new take on benefits of guest post blogging that you haven't heard before)
Why People Still Hire Guest Blog Writing Service?
Whenever you read articles on the benefits of guest blogging, they mostly talk about a couple of things:
Guest posting is a link building technique that helps you get quality links and more traffic. That's it. Full stop.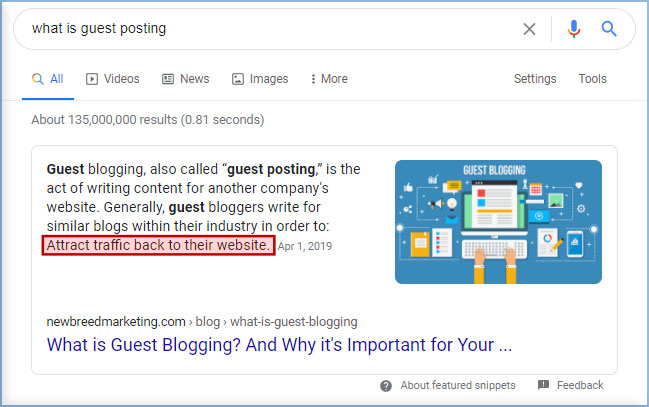 That's true. But honestly, this take on why to write guest post has become dull and boring.
So if you feel fed up with hearing the same thing again and again, let's take a bit of a logical take on why you should write a guest blog.
Here we go:
Just imagine that you are shouting in a box, expecting that the person standing at the other end of the street will hear you.
But the other person doesn't hear you.
You shout even louder.
But still, your voice can't reach the other end.
Sad!
Want to try a few more times? Sure.
You can try it as many times as you want, but let me tell you that nobody will hear you.
The reasons are simple:
There is a huge distance between you and your target audience.

You are shouting with a barrier in front of your mouth.
Sounds understandable. Well, this can happen to you in the online world as well.
No one will hear you, right!
The same is the case when you have a low traffic flow, no brand credibility, low SERP rankings, inconsiderable credibility.
No matter how good content you produce or how top-quality services you have, they are useless because nobody will know about them.
So you have two options here:
Option 1: You can sit and wait for ages to get your voice heard (there is no guarantee if your voice will ever get heard or not).
Option 2: Find another source so that others can hear your voice.
Which option are you going to choose?
Needless to say that you would go with option number 2.
That's where you can leverage a guest blog writing service that can help you win a guest post on a quality blog.
So a guest post gives you the opportunity to write on someone else's blog that is having…
A huge traffic flow

Your targeted audience

An established authority in the market

People like to hear their voice
…and take the help of the other guest blogging site to fuel your business.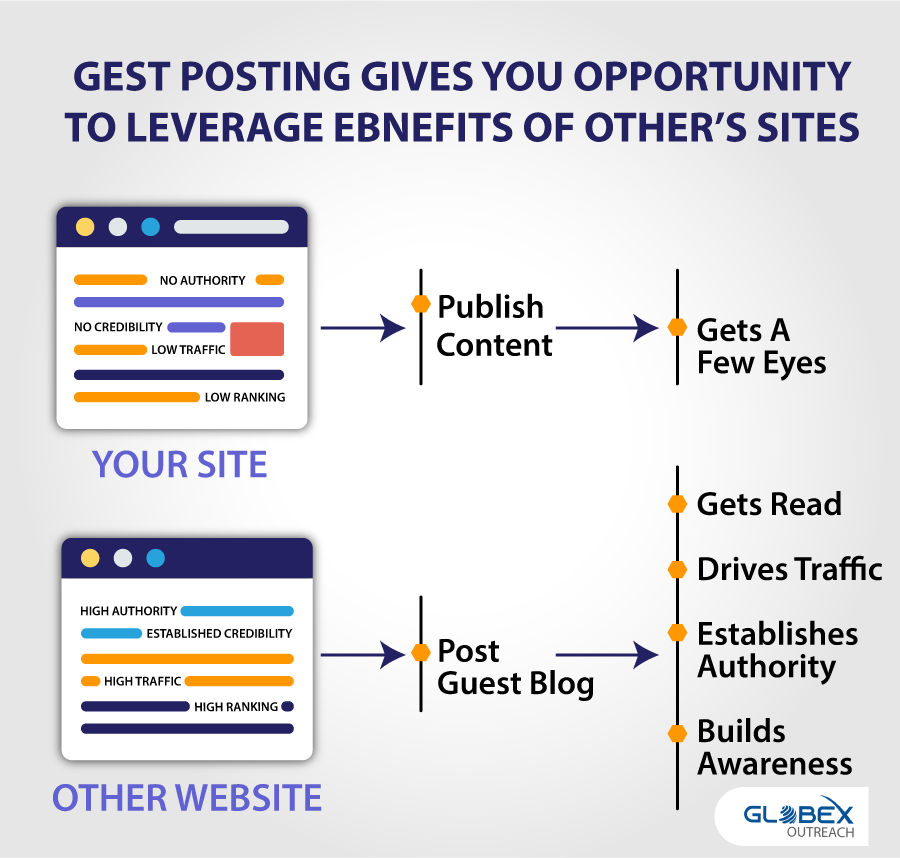 So when you post your content on other's blogs that are already doing well, your voice also gets heard on behalf of them.
That's what doing a guest post blogging does:
Gives you an opportunity to enjoy and share the perks of others HARD WORK without spending a lot of budget on the marketing.
It even sounds so good.
But remember:
Guest post publishing isn't about reaching out to a guest blogger, writing content, and getting your work published.
It requires a lot of attention to details and other factors to really become a published guest post writer.
Important Tips on How to Write Blog Posts
From finding the best bloggers accepting guest posts, following guest post writing guidelines, to creating the best guest post content, you have to follow many things to get your content published.
So we can divide writing a blog post tips into three MAIN sections:
How to find blogs that accept guest posts

How to write a guest post pitch

How to write engaging blog posts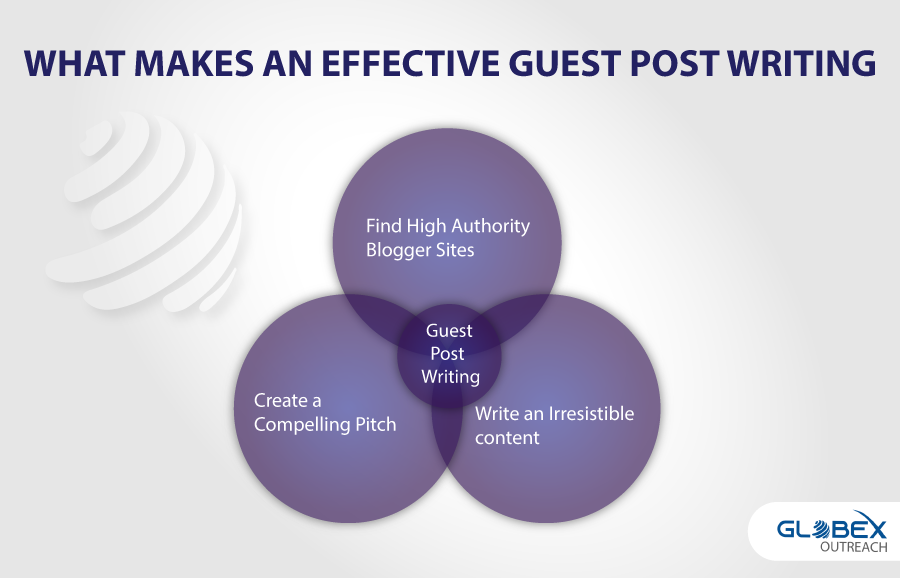 Each of these three main giants has many other important points that combine together to make your guest blogging campaign a successful venture.
Here are proven blog post writing tips that we ourselves follow to write guest post articles for our clients.
TIP # 1: Consider Important Factors for Outreaching
You can use different blogger outreach techniques to find the prospects.
Like you can:
Use Google search string

Search through Google search bar

Check competitors' profile

Find through social searches

Check out blogging communities

Hire a blogger outreach agency

Follow Google's recommendations
No doubt, this will give you a huge list of guest blogging sites.
But the question is: Are all these found guest posting opportunities worth giving a try?
Answer: no.
Here is an example.
I just wrote 'write for us,' and I found a huge number of sites that accept guest posts.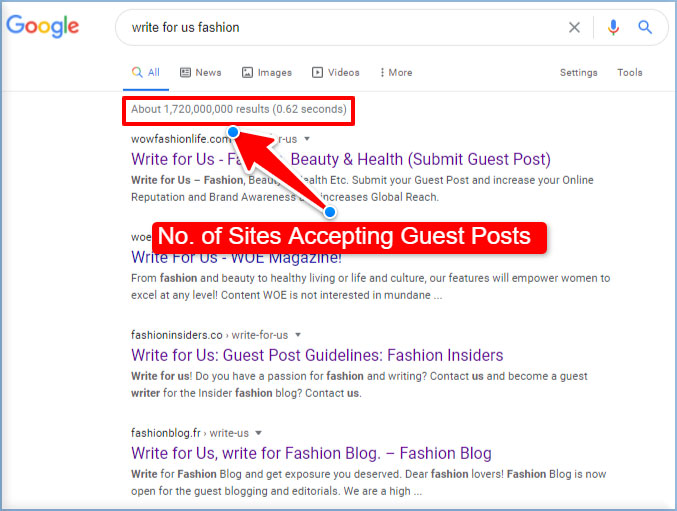 But are all these sites worth pitching for guest posting?
This little experiment might answer your question: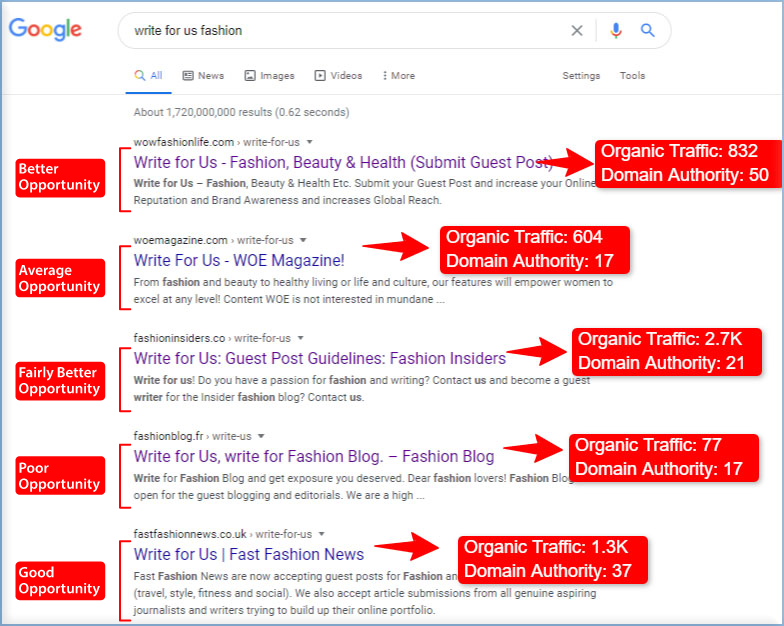 Do you think that all these sites appearing in the search results are good to submit a guest post?
NO! And what defines it:
Their relevant metrics.
A website with 77 organic traffic and 17 DA can do more harm to your site than any good.
So don't pitch the very first opportunity you encounter just because you are desperate to write guest post.
Consider these important factors to choose a site:
#1: Domain Authority
In a lay man's language, domain authority refers to the strength of a website.
If you get a link from a high DA site, it will give a push to your site with more strength.
Whereas a site with a low DA will not have enough strength to give your website a powerful push.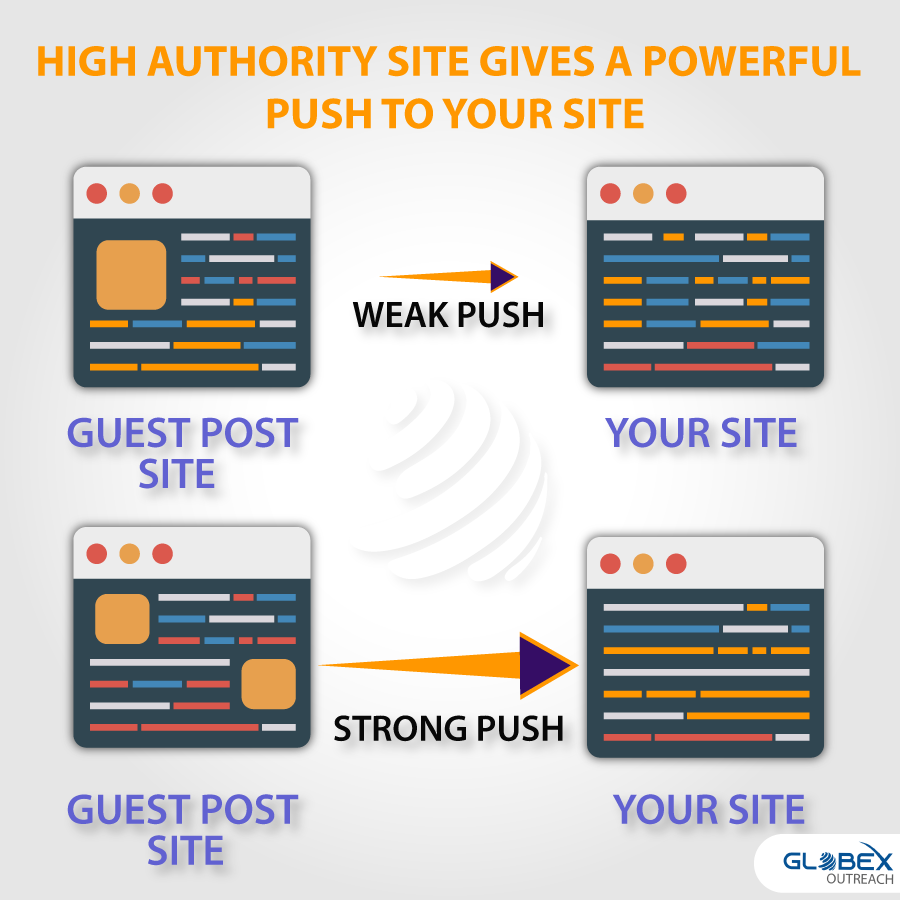 So always pitch sites that have a high DA rather than a site that itself is struggling to establish authority.
#2: Relevancy
Relevant guest posting sites are your savior to save you from falling into the pit of black hat link building practices.
If you don't do guest posting on a relevant site and link back to your site through that post, Google takes it as a red flag that something is fishy here.
Obviously, why would a health blog link to a clothing brand?
It doesn't make sense, and Google also understands it.
So always pitch relevant sites.
#3: High Traffic Flow
High DA is great, relevancy is amazing, but high traffic flow is also not less important.
If you place your content on a low traffic site, you might get a high-quality backlink, but you will not get brand awareness and high traffic – an important factor of every guest posting opportunity.
And you know what it means to get high traffic on your website?
Yes, more qualified leads, higher conversion, and more revenue. The perfect formula for business success.
Instead of just focusing on domain authority, don't forget to focus on traffic flow metrics before pitching.
#4: Domain Age
Domain age simply means how long that domain has existed.
It matters because more domain age is a sign of the trustability and reliability of a website.
A new website is less credible for Google because it has not yet proven its worth.
A link from such a website will not help you much in leveraging guest post blogging benefits.
So do consider how long a domain has been in the game before giving it a try.
These are just a few factors to consider guest posting sites.
There are many other factors like SSL certification, penalty-free site, and much more that you should consider.
TIP # 2: Develop an Actionable Guest Posting Strategy
Most people and I really mean it, MOST PEOPLE don't focus on developing a guest post strategy – including big marketers.
That's why all the backlinks end up the readers on the home page, product page, or another blog.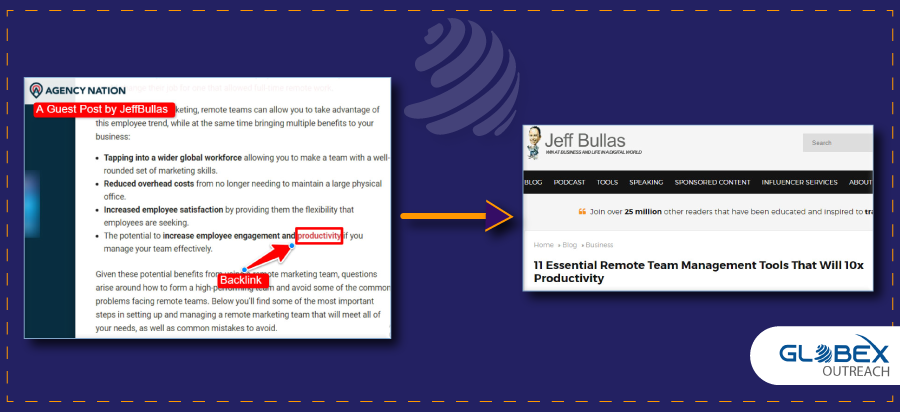 In other words, the main focus of most of the guest posts is to increase ranking and traffic.
That all is GOOD.
But wouldn't that be better if you turn your guest blog action-oriented rather than just a mass of content having a link to your site?
And how can you do it?
Instead of backlinking to random pages; here, there, everywhere; link to pages that:
Have more meaningful content

Need to enhance their authority

Can drive actions from the visitors

Are helpful to trigger your sales funnel
You have to do guest posting for SEO or to drive traffic, but it is even more amazing if you write guest post to fetch multi-faceted benefits.
TIP # 3: Make Your Own Brand with Unique Voice
Do you know what all the successful guest bloggers do?
They write guest blog posts with a branding perspective in their mind.
So what happens with that?
They actually become a brand.
One of the best ways to do it is by:
Establishing a unique content voice and writing style.
In a world full of content, having a distinct voice gives you an opportunity to get heard.
For example, here are different excerpts of Jeff Bullas guest blogs on different sites…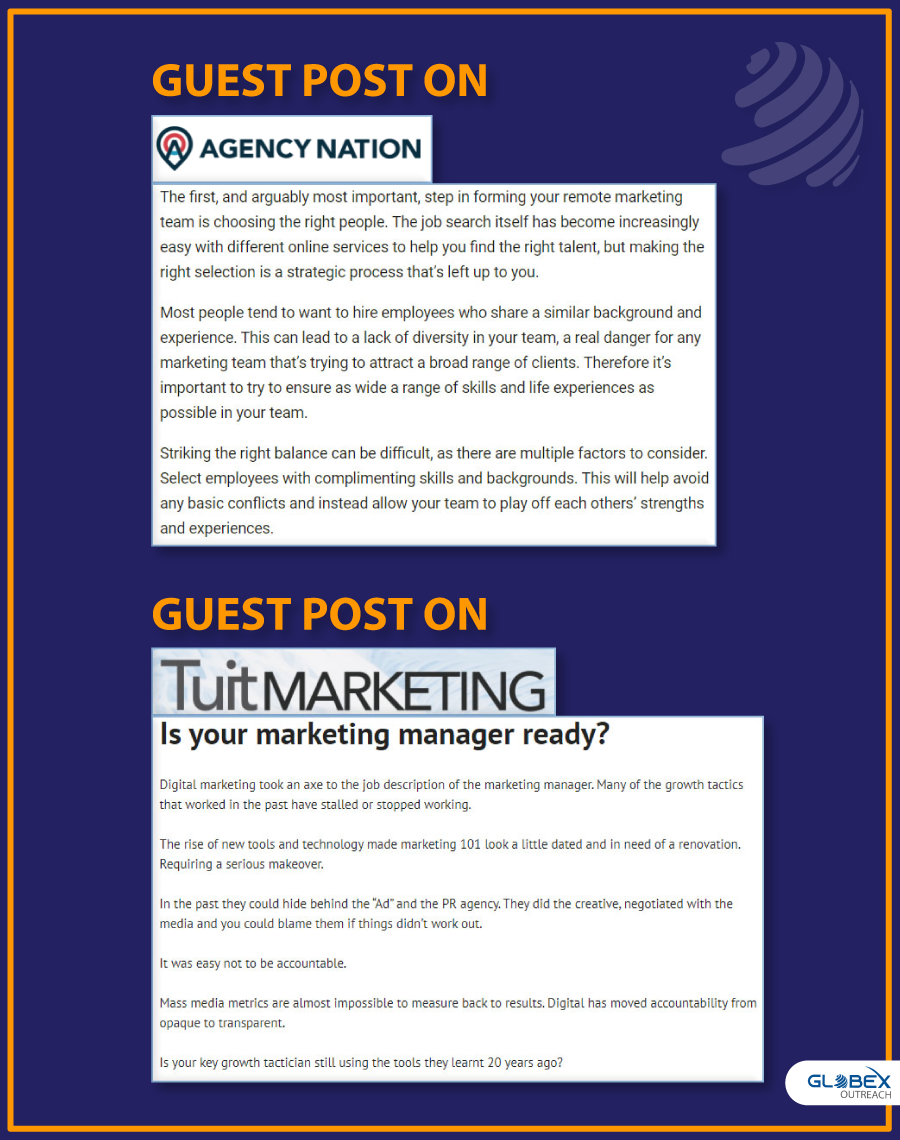 You can see that he has a particular writing style that is:
Informative

Argumentative

A bit creative
So if you are a frequent reader of big marketers' content, you can tell right away: Okay, fine, this is Jeff's work.
A clear and distinct voice does exactly that:
It gives you a firm and prominent placement rather than tagging you a random guy doing guest blogging to get a bit of traffic.
You will become an authority with a firm, distinct voice.
TIP # 4: Use Blog Post Writing Tools
The market is flooding with many blogger outreach tools and guest blog writing tools and for all the right reasons.
These tools can become your savior for:
Finding the best prospects

Measuring the metrics of sites

Managing the campaigns

Doing outreach at scale

Drafting a compelling email

Sending a follow up

Getting ideas for the topics

Knowing topics doing well in the industry

Conducting competitor analysis
Just imagine if you had to do all this manually. It will take months.
But your time and efforts cut down to the bare minimum if you do all these using tools.
Here is given a list of tools for guest posting to save your day: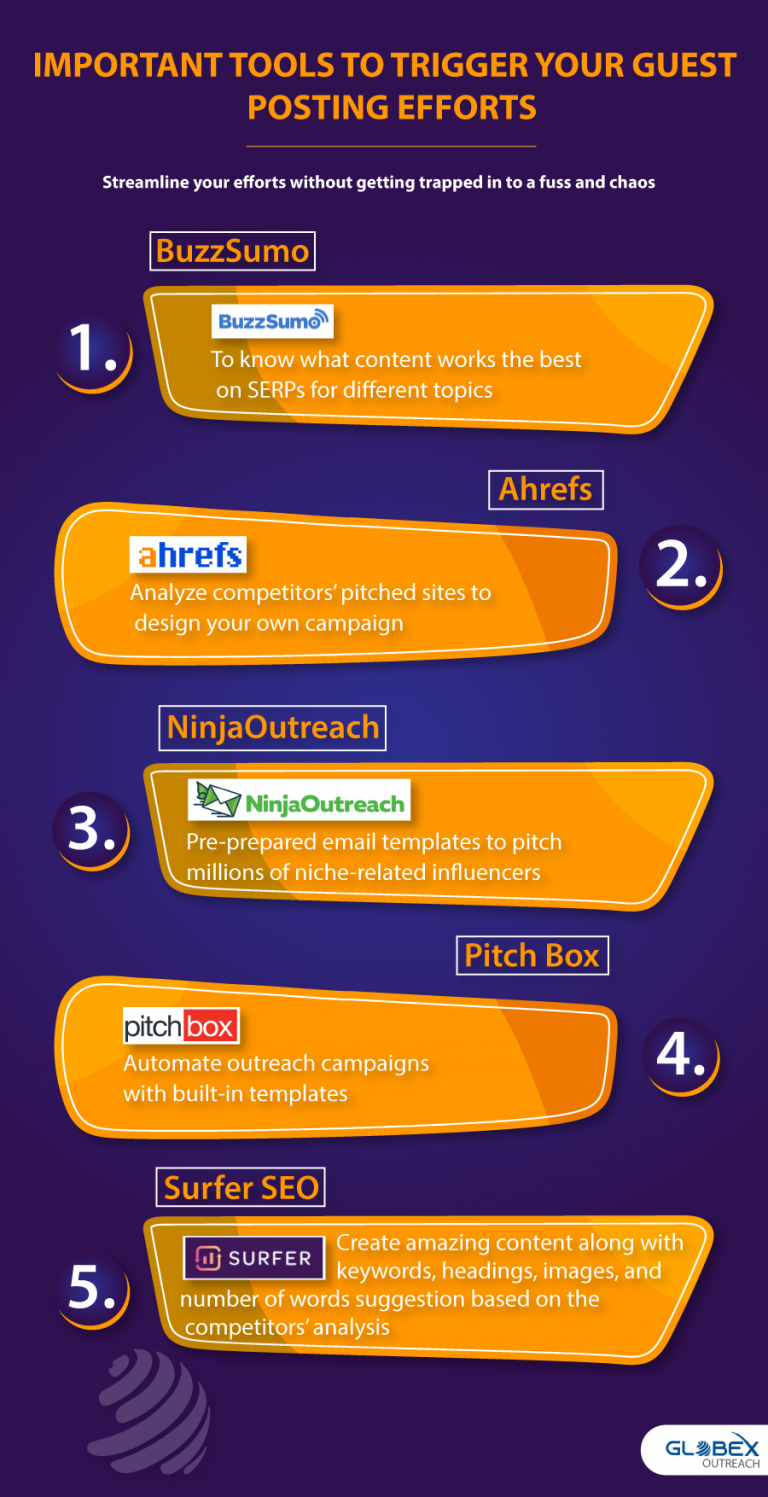 Using these tools free you from worries, like:
Where to write blog posts

What is the best outreach email template

What is your competitors' guest blog posting strategy
TIP # 5: Turn Your Cold Outreach Email into Warm Email
Just imagine that you have spent hundreds of dollars on buying guest post writing tools.
You have also invested time in finding the best prospects.
Also, wrote an awesome email
And… finally, you pitch out an email and wait with the belief that you will get a response soon.
But that soon never comes.
And you start blaming all those people and the blog post writing guide that said guest posting is the best digital marketing technique.
Well, what if you really did everything in the best possible way. But actually, the issue is that your email didn't get read?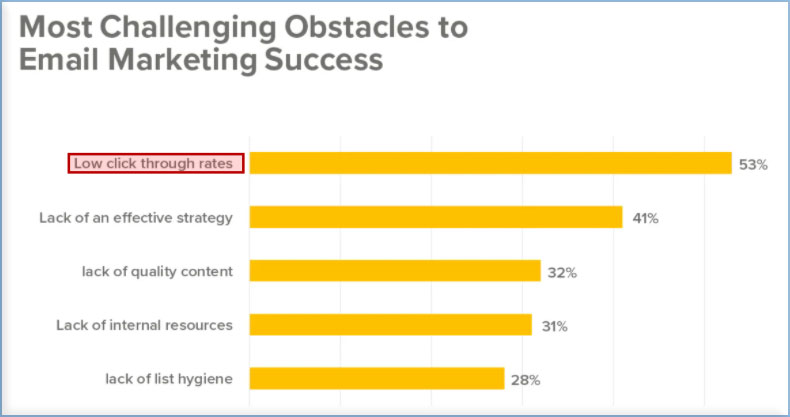 Source: Ascend2
In a survey by Ascend2, 53% of marketers said that they face the problem of low click-through rate.
The reason is that influential bloggers get many email pitches every day, and they don't have time to open each and every email.
On top of that, if your email is a cold email, then the chances of getting clicked and read get even lesser.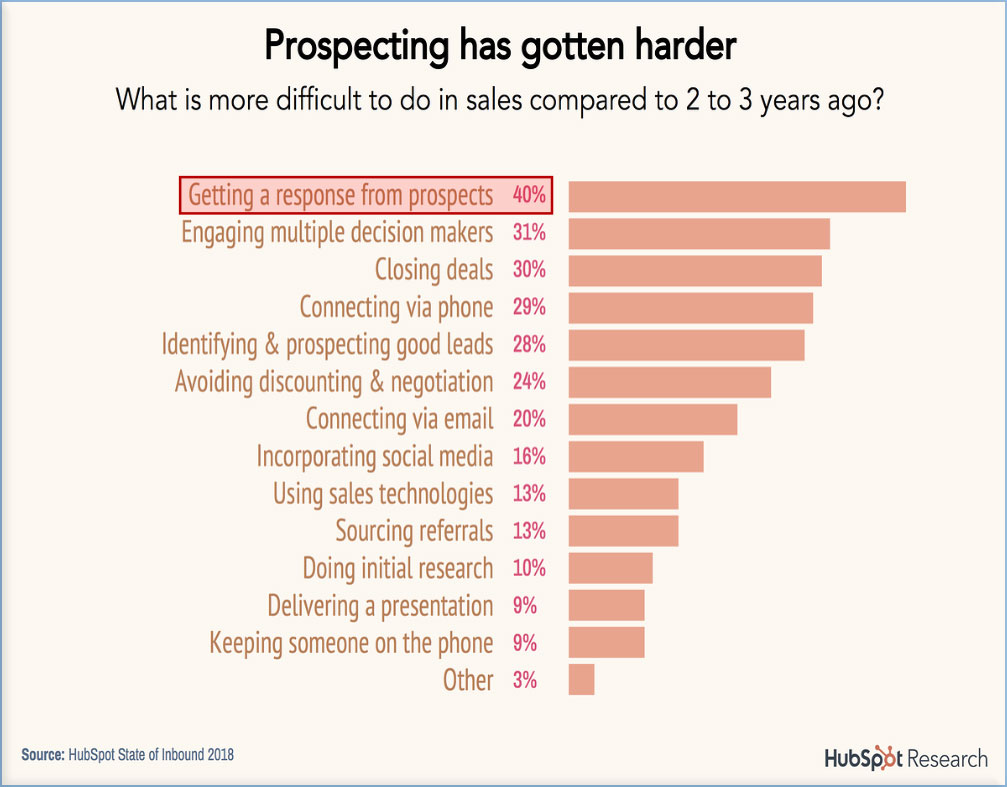 So when the CTR of emails has decreased so much and prospecting has become so hard, does it mean email outreach is dead?
The answer is 'no.' But it has definitely become harder.
Your only safe end is:
To turn your cold emails into warm emails.
This is not easy.
It requires a bit of pre-outreach efforts: connect with the bloggers beforehand.
Here is what you can do to establish a relationship with the bloggers before sending an email:
Send an email of appreciation to them

Share their work on social media

Comment on their posts and blogs

Follow on social media

Tag them in your work

Ask questions on social media
This method is called COMING ON THE RADAR.
Once the blogger becomes familiar with your name, it becomes easier to secure a response from the blogger.
TIP # 6: Be Genuine in Your Email Pitch
Let's admit that everybody can't write a compelling email.
Even many ace content writers fail at creating a compelling email pitch.
That's why many outreachers take the help of email templates.
You can find many blogger outreach templates online that are an easy solution for all those people who don't know how to start, convince, and end an email that drives results.
But do you know what happens if you use these over-used email templates?
You get rejected, simply.
Influential bloggers get so many emails every day that they don't even bother to read all those emails beginning with:
"Hi, I am your big fan."
You are a big fan or a small bracket fan; bloggers will simply OVERLOOK your email.
So if you don't want to see this doomed fate, which you surely don't want to, so send a genuine email that sounds real.
Like here is an example of a lifeless outreach email template:
Hi [name],

I hope you are doing well. My name is [name], and I work for the company [name of the company].

I found your website [URL], and it looked awesome to me to get a backlink. So I was wondering if it is possible for you to give a backlink to our site [URL]?

I will be very glad. We can negotiate further if you agree to do it.

Looking forward to hearing from you soon.

Regards,
Just reading out any such outreach email is such a headache.
It has no life and crisp.

It is too generic.

Not at all personalized.
In short, it has nothing that can appeal to anyone to give a link.
Whereas this is another example of an outreach email:
Hey [name],

Assuming that you have opened this email and reading it (thank you, BTW!), I want to say straight away that it is an outreach email [let's be honest].

I am contacting you on behalf of our company [name of the company] that offers link building services. But right now we need this favor from you.

Our marketing team has seen that you write for premium websites and we need EXACTLY that. So this email is to ask you: Can you pitch our business in one of your awesome piece of content?

To be honest, I have never read your article before. But based on that, you write articles for the premium sites; I know your blogs will also be awesome. And I will be glad if you can pitch our company contextually within the content, awesomely (if that is a term; Grammarly didn't highlight it as red, so I think it is! Err…).

Let us know if we can patch up a collaboration for good.

Looking forward to your reply (genuinely!).

Cheers (this way and that way!),
TIP # 7: Add Value into Your Content
Even if you are doing guest posting marketing just for the sake of getting traffic and backlinks, don't produce trash.
You might have heard that guest posting is dead.
Do you know why we get to hear that? Because of those writers who write guest post just for the sake of writing a guest blog post.
A content with…
Low quality

No detailed information

Poor message delivery

No additive value

Grammatical issues
…can neither make Google happy nor the readers.
Here is an example of two articles on the same topic, "Beat a DUI".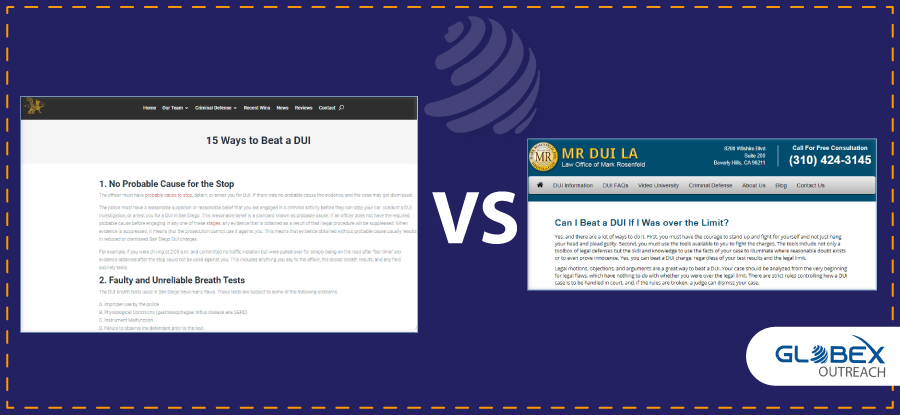 You can see that there is a hell of a difference between both types of content.
One type of post is a mass of words, and the readers have to struggle to find important points from it.
Whereas the other type of article is more meaningful, well-structured, and informative.
Which article do you think readers will love to read and find informative?
For sure, the first type of article.
So make sure that you just don't write guest post; you craft it properly and make it a powerful gulp of information and value.
TIP # 8: Write a Guest Post with Long-Term Goals
Writing a good guest post doesn't mean that it will keep on giving you benefits for a long time if:
You write it with short-term goals.
If you write:
Fantastic content

Add visual elements

Induce high value

Make it informative
…but you focus on a trending topic rather than an evergreen topic, it won't work.
What will happen?
People will read it for a few days; you will also get traffic. But after a few days, you will stop getting traffic.
Why? Because they will lose interest in it.
So broaden your goals instead of focusing on timely benefits.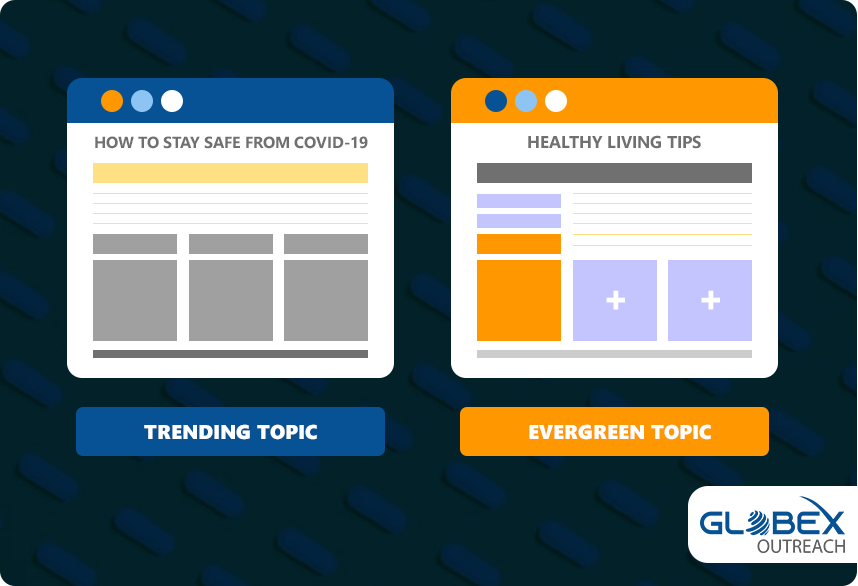 Remember that quality content never dies; it matures with time and accumulates more benefits for your business.
The same is the case with a quality guest post.
If you write it with a 5-10 years' strategy in your head, it will give you long-lasting benefits.
People will keep on reading your content.
Your website will receive more traffic.
You won't have to invest much in other tactics to enhance brand awareness.
You will keep on generating qualified leads.
See? You can get so many benefits with just one technique:
Avail every guest posting opportunity with long-term goals in mind.
IMPORTANT! Always pitch sites that promise to keep your link up for a long time. Otherwise, all your hard work will go in vain.
TIP # 9: Optimize Your Content with the Relevant Anchor Text
One of the biggest mistakes that most guest post writers do is:
They don't focus on optimizing their content.
Don't just create content to place a link or get traffic; turn it into a jackpot for you:
Rank it high on Google.
While you focus on how to write a blog post outline, you should also pay attention to your keyword research.
Here your choice of anchor text can play a big role in your ranking.
Anchor text is the word, phrase, or sentence you use to insert your backlink.
Here is an example.
Larry Kim wrote a guest post on Small Business Trends, and he gave a backlink to his another guest post on Inc.
That's great.
But what is even better is that he used the relevant anchor text 'chatbot' to link to the content that was all about Facebook Messenger Chatbot.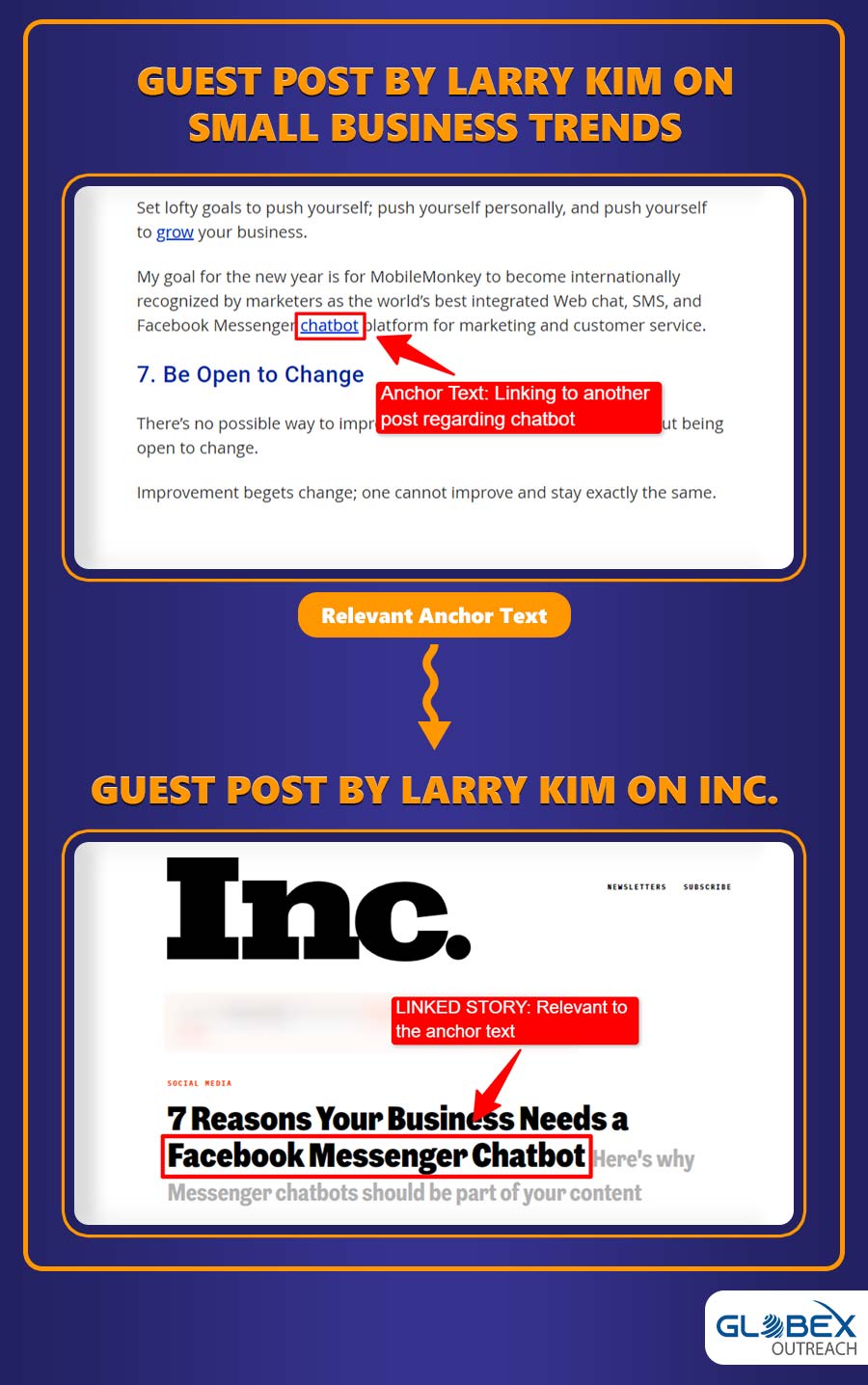 That's a very important element.
TIP # 10: Write a Compelling Author Bio
Most guest blogging sites allow you to give your author bio when you write guest post.
Now you can use it in two ways:
Way # 1: Fill out this important place with some random thoughts—a bit of this and a bit of that.
Way # 2: You can use the author bio to promote yourself, your business, or whatever you do.
You might be saying: obviously, all the people will go with the second way.
I wish it was true, but it isn't.
People seriously talk about random things in their author bio, like where do they live, what do they like to do in their free time, what is their pet's name, and what they like to eat, etc.
I mean, well…
Let me show you an example:

Seriously?
What a reader has to do with it if you are living your best life in Panama, Bahamas, or Ethiopia?
Now here is an example of a meaningful author bio.

This is seriously an impactful punch.
This author bio:
Is simple and to-the-point

Clearly tells all the achievements of the author

Explains what he does

Shows why the words of this person are worth reading
That's what you should also do:
Turn your author bio into a mini promotional campaign of your brand and yourself to leverage a free promotional ride along with getting a backlink.
Now you know what you should do to write a guest post, pitch influential bloggers, select the best-suited sites.
Next, as promised, it is time to discuss some common guest posting mistakes that many writers make, but you shouldn't.
Common Guest Posting Mistakes You Should Avoid
Here are some of the biggest guest blog posting mistakes that you should avoid.
(HINT! They can really turn into a big blunder if not avoided)
MISTAKE # 1: Not Checking Guest Post Guidelines
You know your target should be to publish guest posts on quality blogs.
And do you know why these blogs are quality blogs?
Because they have kept a particular standard of what type of posts they should publish.
They don't let everyone and every type of content get a place on their blogs.
So they have made well-defined guest posting guidelines.
If you qualify for these guidelines, you will get a place.
If not, you will not get the opportunity to be their guest author.
They have a separate, fully dedicated page for these guidelines under the title of 'Write for Us' or 'Become a Writer.'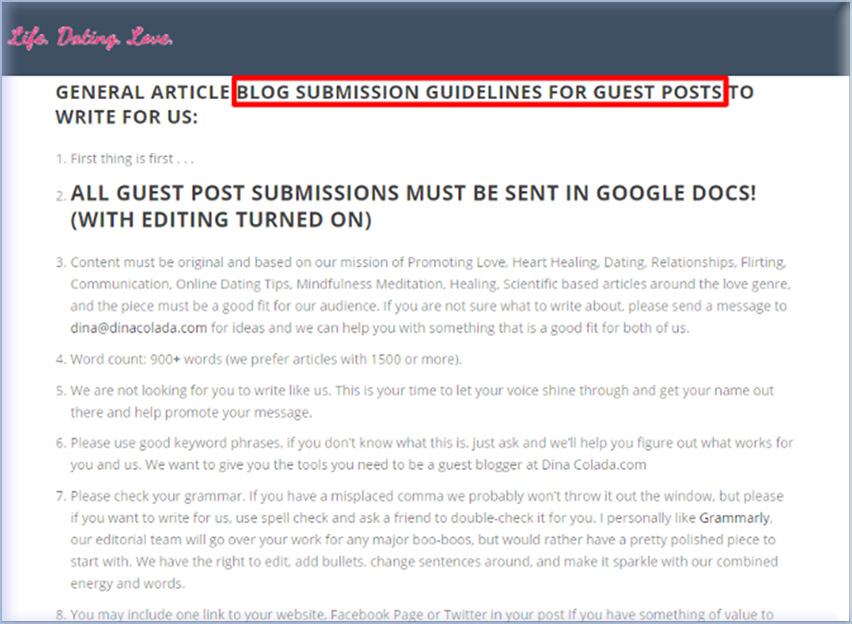 Unfortunately, many newbies skip this important point of checking guidelines and pitch and create guest blog posts without knowing what they should be doing.
Result?
Their content gets rejected.
Hope you don't want to be among them, so don't make this common mistake.
MISTAKE # 2: Not Replying to Comments
How you connect with your readers can play an important role in defining how you will build your readership.
Online people want a personalized experience from you.
They like it when you show your concern or acknowledge their presence.
Obviously, you can't send flowers of gratitude to everyone's place, but what you can surely do is that you can reply to their comments on your post.
Some writers do it, while others don't.
For example, here is an example of a barren comment section with no response.
Now, let's see an example where the author has replied to almost every comment.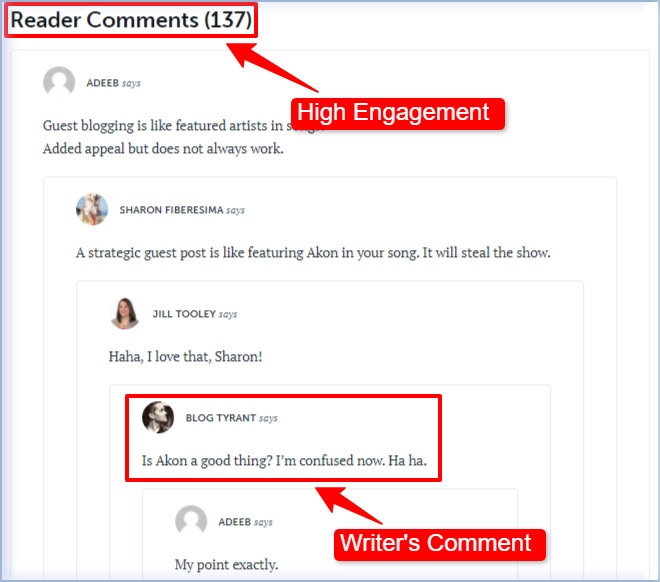 Seriously, this personalized experience can move anyone's heart.
So don't be like the first example dude. Be like the second one: reply to your reader's comment in a friendly and warm way.
MISTAKE # 3: Not Promoting on Social Media
In the online world, more is always less.
You write guest post, get a link, and also referral traffic of the blogging site.
But isn't it better if your work can also get a bit of social media buzz, more traffic, and a good name?
Promoting your guest posting effort on social media can help you get all this.
This is also important because some guest blogging sites don't let you give an author's bio.
So when nobody knows that you are writing for other top-quality blogs, how will you establish your authority.
Again, social media can help you.
That's why big names in the industry always have a strong social media presence, and they post their work on it.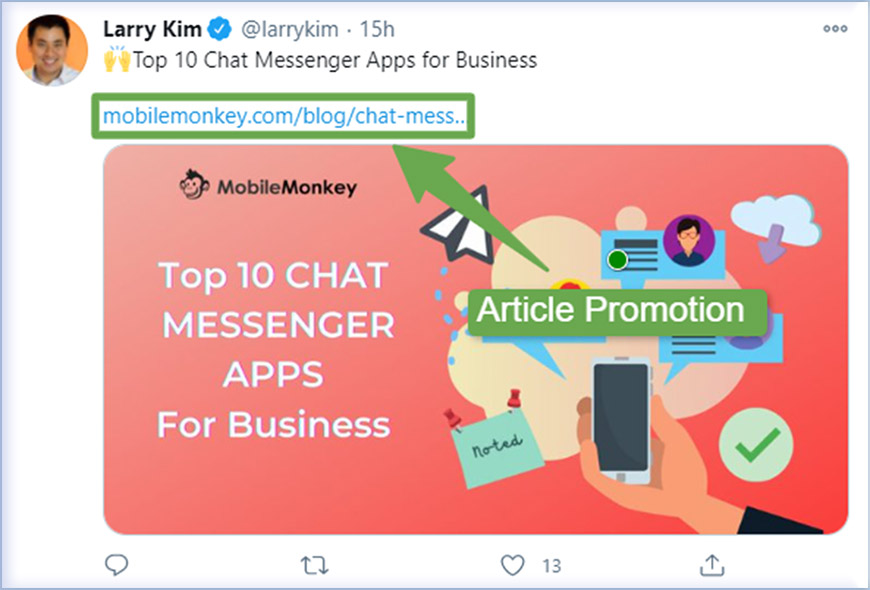 Incorporate social media platforms effectively into your guest posting strategy to fetch some additional benefits that are always welcomed.
MISTAKE # 4: Not Writing Guest Blogs Frequently
Most people don't understand the performance of doing guest blogging frequently.
Remember that building quality links is a continuous process.
You can't live in peace with just a few links.
So writing quality guest blogs is a continuous process.
That's why many biggies of the industries write guest blogs on a regular basis.
Like Larry Kim writes a lot of guest blogs despite the fact that he has already earned a huge name in the industry.
His website WordStream and app MobileMoney are really very popular. But still, he invests time in creating amazing guest posts.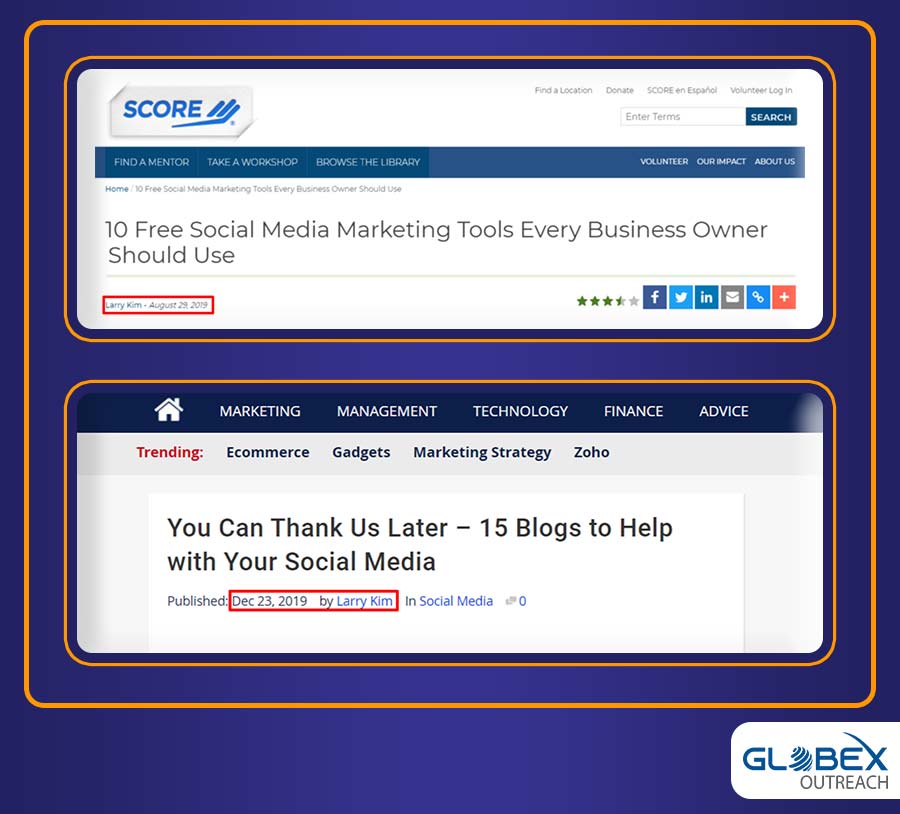 That's what keeps his app MobileMonkey in the game and so popular.
So if you are not investing time in writing guest blog posts and not doing them frequently, it is time that you start doing it now – for better outcomes.
MISTAKE # 5: Not Measuring KPIs
KPI measurement is one of the most neglected steps of guest blogging strategy despite that it should be a constant part.
They keep on exerting efforts but don't know what they are getting from this effort.
That's why you need to measure KPIs.
What are KPIs?
Key performance indicators are signs that tell whether your campaign achieved your target goals or not.
KPIs are not only to measure the results of your PPC campaigns.
Every digital effort that you do, including writing blog posts, needs to be checked if you don't want to throw your efforts and money outside the window.
Here are some of the KPIs that you can check: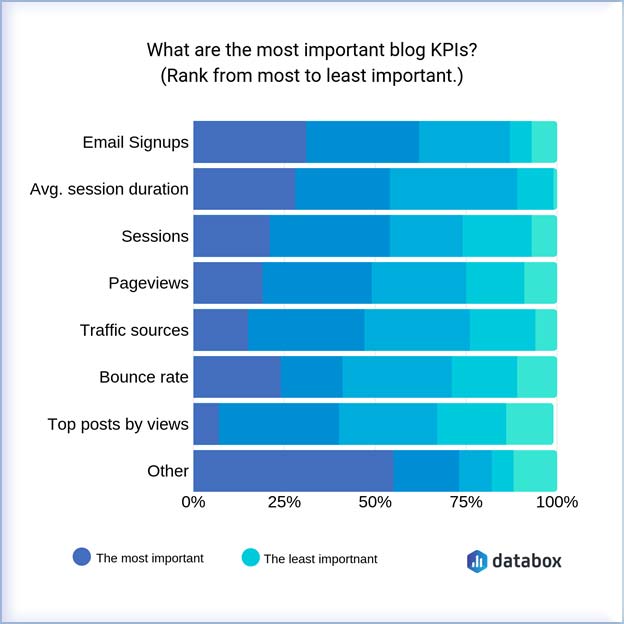 Once you keep an eye on the performance of your posts, you can find out:
What you should do to improve content's performance

Are you putting efforts in the right direction

What you are missing out on

Are you tapping on the right topics

Where were you lacking
Finding answers to these questions can help you improve your content, achievement of goals, and drive better results.
Conclusion
All those people who say that the guest blogging process is dead don't know one thing:
It is not just a link building technique but also a way to enhance social engagement, build brand awareness, and get referral traffic.
So it is not going anywhere.
But how you write guest post matters in defining whether you will be able to get expected benefits or not.
Here is a short recap of what you should be doing:
Check out metrics of the outreached sites before pitching

Develop a strategy that drives meaningful actions from the readers

Create your own signature tone and voice to stand out

Take the help of guest posting tools to make things easier

Build a pre-outreach relationship with the bloggers to come in their good books

Don't use outdated email templates that don't gain attention

Write valuable content, not something to write just for the sake of writing

Focus on fetching long-lasting goals

Optimize your content with a proper keyword research

Write an awesome and meaningful author bio that attracts readers
If you write guest post with all these things in your mind, no one can stop you from becoming a rockstar in the guest blog posting world.
Now it's your turn. Do share with us how this blog helped you out to ace out your strategy and bring 'the best' elements in your guest post campaign.
Let's guest blog happily because it is worth it!