The world of SEO is in a constant state of a stir.
Reason? Because Google's engineers are all the time busy, creating something to shake the SEO world.
In fact, Google rolls out hundreds of updates every year. Only in 2018, Google reportedly rolled out around 3, 234 updates. That means an average of almost 9 per day.
With so much going on in the SEO's landscape, it is hard to predict what makes a site rank higher than the others.
But despite all the uncertainty surrounding the SEO world, a few factors certainly work for ranking a site.
Link building is one of them!
In this post, I have brought an extended insight into the world of link building to boost your SEO efforts for good.
You are also going to get a bonus of 3 link building strategies that guarantee quality links!
So, let's begin our journey.
What is Link Building?
"Link building is the process of getting backlinks from other websites to your own website. And backlinks are links coming from one page of a website to a page on another website."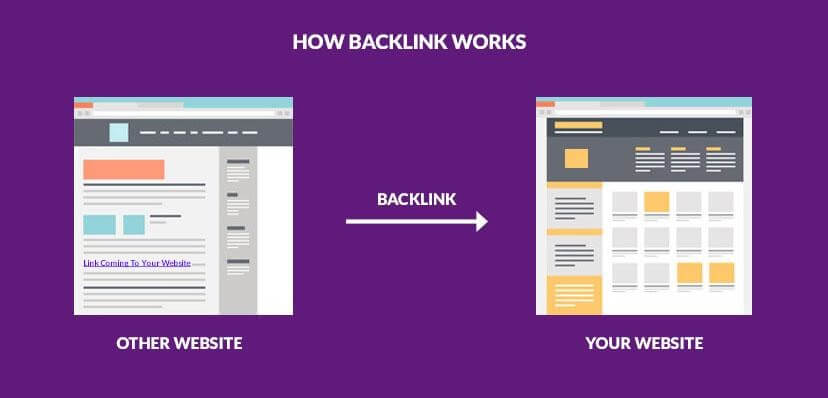 Backlinks are in the SEO game since the initial days of Google.
Larry Page invented PageRank that measured a page's quality for ranking based on the number of it's backlinks.
More backlinks you had, the higher you would rank.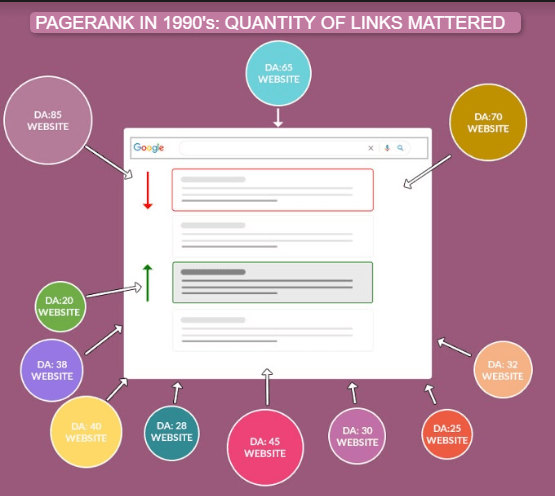 It changed the face of the search market and marked backlinks as a significant SEO factor.
It means that link building is a critical SEO practice that you just can't avoid.
Now you may ask why link building is important for SEO.
The reason is simple:
Google takes backlink as a signal of a page's popularity.
More backlinks are taken as if a page is a popular and useful source for others. So, it gets ranked.
That's why when we are almost three decades down since the PageRank era, backlinks still stay as a strong SEO factor.
In fact, backlinks are one of the two most important ranking factors, as mentioned by Andrey Lipattsev, Google's Search Quality Senior Strategist.
But all backlinks are not the same.
Types of Link Building
There are three types of links based on the way you earn them through different types of link building in SEO.
1. Natural Editorial Links – the Love of Google
If you ask me which links Google prefers?
Without any second thought, I would say natural editorial links.
Natural editorial links are like a heavenly bestowed blessing for any website because people give them naturally.
But why would people give you a link without even asking?
Obviously, no one is sitting on the internet to do charity or some good deeds by helping others in becoming successful.
Well, here is when the actual quest begins.
Getting this type of holy link is not easy. In fact, this is one of the hardest jobs for any SEO expert.
To get such types of links, you should…
Produce high-quality content
Have something worth sharing
Have something that others lack
Provide them value
Besides having valuable and novel content, you also need to make people aware of your existence.
Do you know that WordPress users post over 2 million blogs every day? And these numbers are for 2016 and just for WordPress users.
So, in the sea of content, it is hard to get attention from other bloggers even if you have produced something amazing.
But if you have managed to attract others, it will turn into a jackpot for you.
It will not only improve your search engine's rankings but will also drive traffic to your site and kick-boost sales.
Wait!
The best thing is yet to come…
If you have produced valuable and high-quality content, managed to attract bloggers' attention, it will yield valuable results for a long time to come.
You don't have to worry about the link juice; it will keep on flowing even if you forget about it or stop making efforts to get links.
For instance, this article was published in 2014. Almost 6 years ago.

But you can see that it still manages to get a few backlinks.
And what is even better? Google loves such links, and these links are more likely to stand the test of time.
Why? Because they…
Are natural
Don't clash with Google's link building policy
Are editorially placed
Are meant to provide value to users
In other words: They are good to go!
You can see that this blog is ranking second on Google – even after 6 years.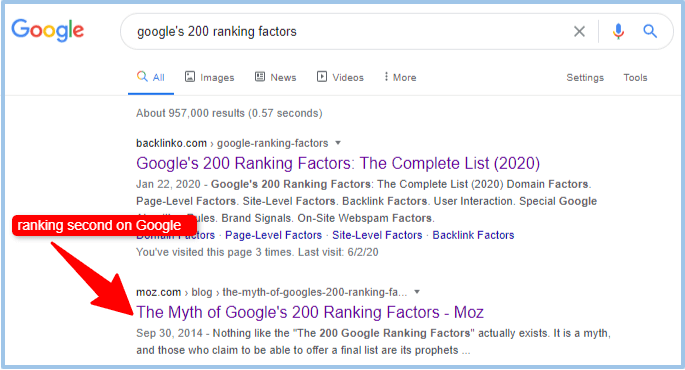 See? Natural links can do the trick!
2. Manually Outreached Links – Reaching Out to Bloggers
This link building practice is one of the widely used link building techniques. And it also works!
In simple words, manual outreach link building means manually approaching webmasters and bloggers to ask them for a link.
But you can't contact every blogger you encounter because getting a link is not the only purpose.
You have to get quality links. Full stop!
If you are not getting quality links, all your efforts are useless.
Besides that, you should not clash with the link scheme practices mentioned in the Google guide.
It means that you should not…
buy links
exchange rewards (goods & services) for links
send a gift to get links
exchange links

If you do any one of these practices, it wouldn't be considered as manual outreach, and Google's system will catch you.
And it is never a good option to be in bad books of Google.
The critical thing to remember here is that there is a slight difference between the manually outreached links and spammy links.
You need to keep that difference to stay on the safe end.
3.   Self-Created, Non-Editorial Links – Not a Good Idea
When it is about doing things to grab the top position on the search engines, there is always one of the two things:
There is a right way.
And there is a wrong way.
You should always focus on the right ways.
And avoid self-created links because they fall into the bracket of black hat SEO practices – a wrong way.
Here are some black hat link building techniques indicated by Google:

So, what does it mean?
You should avoid optimized links in:
Blog comments
Press releases
Article directories
Advertorials
Infographics
Embeddable widgets
Forum signatures
Guestbooks
After the core Penguin update, Google devalues and penalizes such sites involved in any one of the link building tactics mentioned above.
The story is simple: Old days of PageRank are gone.
Before, the wrong ways were also the right ways because they were acceptable for Google. But not anymore!
No more PBNs, link schemes, and tricks to ditch search engines.
With so many algorithms and Google updates, there is no space for 'wrong ways.'
So, definitely, you are left with no choice but to go for the 'right ways' if you don't want to get swept by Google's Penguin.
Besides that…
Now Google doesn't consider all kinds of backlinks important because all types of links are not weighted equally.
The quantity of links has been replaced by the quality of links.
Besides that, here is what else it means to have a high-quality link.
QUALITY 1: Linking Site is a High Authority Site
Google gives more value to links coming from high authority sites rather than low authority sites.
Authority of a linking site is an essential determinant for Google to decide whether the link is a high-quality site or not.
This is called 'Domain Authority.
The more a site has domain authority, the more valuable its link becomes.
In other words, the previous face of PageRank has changed. Quality has replaced quantity.
Now, things work like this: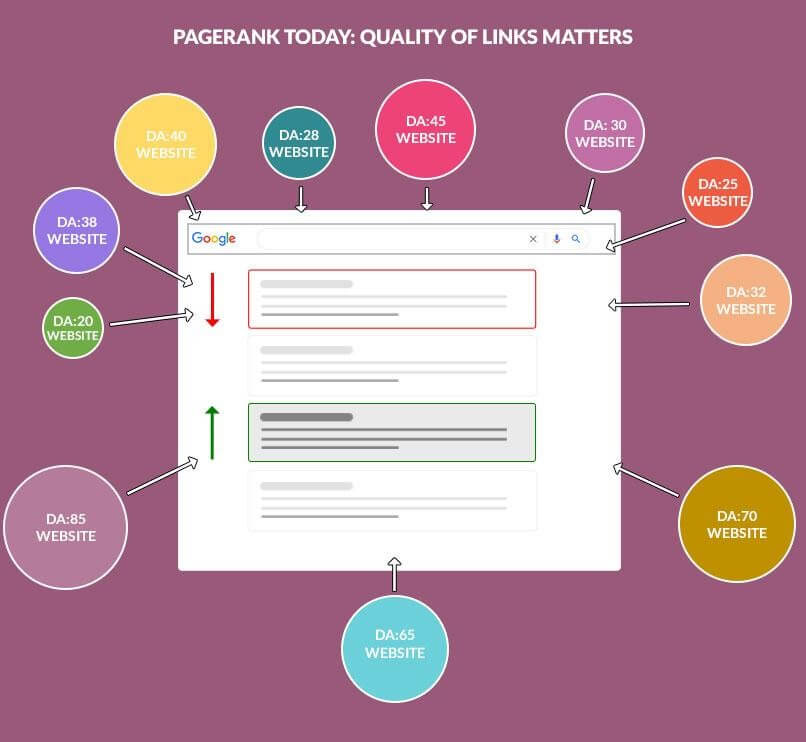 Reason? Well, it's simple.
Links are like votes. You know votes of higher-ups matter more in finalizing a decision rather than a random person's.
Similarly, Google considers votes of high DA sites more worthy than low authority sites' votes.
When a site links to your website, it also transfers its authority to your site.
Resultantly, your site also becomes authoritative for Google.
QUALITY 2: Link is Coming from a Niche-Specific Site
Sites link out to your site due to one of the following reasons:
If they want to give a reference to the given information.
If they want to give an example to elaborate on something.
If they have to enhance readers' knowledge on a subject matter.
This is all possible if their site is related to your site.
Like, if you have published an article related to different types of furniture, which articles are likely to link to your article?
Obviously, articles about lifestyle, home improvement, and décor rather than articles talking about digital marketing, SEO, or criminal lawyer.

QUALITY 3: Link is Coming from a New Site
Do you count the vote of a person twice?
Hopefully, your answer is 'no.' The same is the case with Google.
Google gives more value to a link if it is coming from high authority, niche-specific, and a NEW site.
Getting a link from the same site, again and again, does no good for your SEO efforts.
Why?
Because Google only gives value to the first link coming from a site.
Second, and third links from the same website don't contain the equal value even if the site has a high domain authority.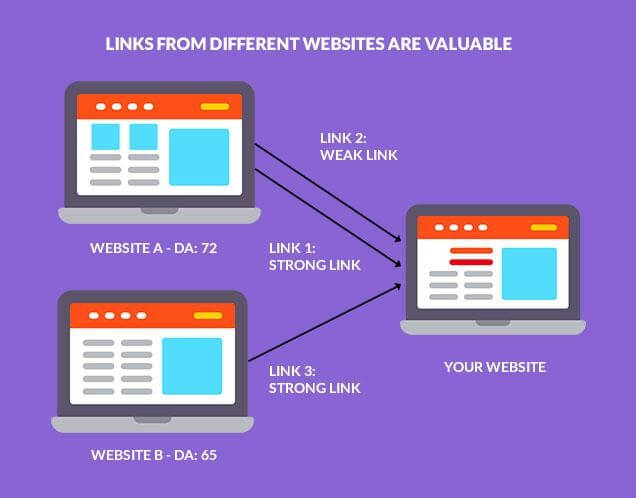 The best practice is to diversify your link profile.
The more diversified link profile you have, the better it is for your SEO efforts.
In fact, a study shows that the number of sites linking to your website is directly correlated with the Google ranking.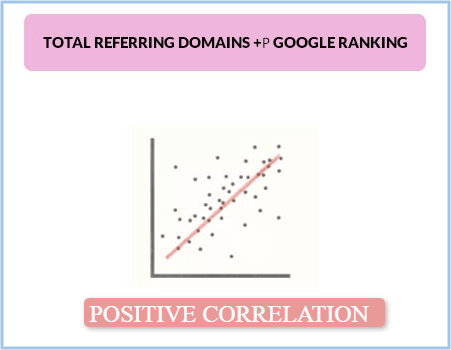 It means greater the number of referring domains; the higher will be your Google ranking.
QUALITY 4: Link's Anchor Text is a Keyword
Here, things get a bit tricky.
In case you don't know,
"Anchor text is a clickable word, words, or phrase, with an embedded link of the linked site."
There are varied opinions on what type of anchor text you should use to get the best results, along with avoiding Google's wrath.
Google considers keyword-rich anchor texts as a link scheme practice.

But using the right anchor text is also important.
Why?
Because Google uses it to understand what the linked page is about and for which keyword it should be ranked.
As explained in a research paper of Google's founders:
"The text of links is treated in a special way in our search engine. Most search engines associate the text of a link with the page that the link is on. In addition, we associate it with the page the link points to. This has several advantages. First, anchors often provide more accurate descriptions of web pages than the pages themselves. Second, anchors may exist for documents which cannot be indexed by a text-based search engine, such as images, programs, and databases."
It shows that an anchor text is not 'just a text used for linking.'
It is a valuable indicator that Google uses to understand the nature and topic of a page.
So, it is good to use the keyword as the anchor text because it not only helps Google to understand the page but may also help in improving the ranking for the keyword.
A study by Ahrefs found a correlation between the percentage of exact match anchor text and Google ranking.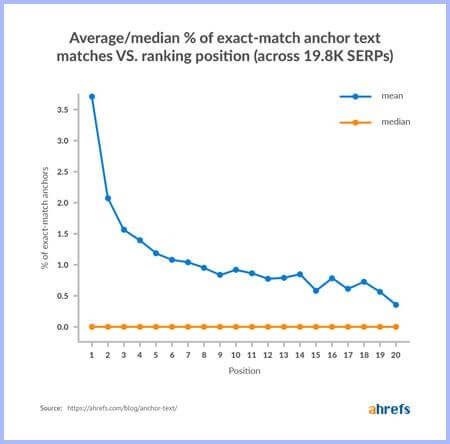 Now, you think that it is the best idea to use the exact-match keyword in every link building effort. Right?
Well, not really.
Remember, we talked about how Google considers using excessive keyword-rich anchor text as a link scheme?
That's where the tricky part begins.
The best practice is to use keyword-related anchor texts, but avoid going over the board that it starts looking spammy.
Better be safe than sorry!
QUALITY 5: Link is Placed on the Right Spot
Now we know that Google doesn't give equal weightage to links coming from different sites.
Similarly, Google also has different criteria for measuring the significance of links placed within the content.
A link placed within the content, surrounded by relevant content, is more valuable than the link placed in a sidebar, footer, or at the bottom in the author's bio.
Take it as a classroom.
You know students sitting on the front, and in the middle get more attention than backbenchers and sideliners.
That's what happens here. An editorially placed link takes all the love of Google, leaving little to no love for backbencher and sideliner links.
So, what should you be doing?
Simple: Place your link at the top or in the middle of the content to get the love of Google.

QUALITY 6: Link is Coming Naturally to Your Site
Google is not dumb. It is way too smarter than you think.
It has many signals to catch sneaky links (Obviously, it hasn't disclosed those signals!).
It understands right away if a backlink is coming naturally or not.
And sometimes, finding unnatural backlinks is not rocket science.
Here are two such examples:
If an anchor text is not naturally placed…
It is no brainer to understand that if someone is naturally linking to your site, then anchor text should be placed naturally.
That's where the idea of 'editorially placed anchor text' comes in.
Look up an example:
Here, BreathingHappy has given backlinks to some companies.

What's going on here?
The writer is giving some pretty good suggestions to its readers to buy good food by providing links to some good companies.
It is all-natural and clean.
And it is okay for Google as well because why would Google bother if someone is providing value to its readers?
Now, look at this anchor text:

You can tell right away that something is fishy here.
It looks forcefully added. No?
If you can tell that, then Google can also sense it.
Result?
Not very promising.
If a page is getting too many links…
Let's take an example to understand this point.
For instance, you run an SEO blog, and you have posted various blogs talking about different dimensions of SEO, like link building, content marketing, guest posting, etc.
So, what looks more natural? All blogs getting some links or only one blog getting many links?
Yes, Google can also figure it out.
Understandably, if you have written a fantastic piece of content, you want to blow it out.
But always keep things moderate and do link building.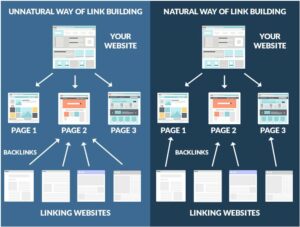 These are just a few indicators of unnatural link building practices.
Google looks up various factors in deciding whether a link is good or bad.
If a link is valuable, you are good to go.
And if a link is bad, then Google doesn't give you any notification or say anything. It just ignores the link!
Well, that's what John Muller said:
"If we recognize them, we can just ignore them – no need to have you do anything in most cases."
Some Best Link Building Practices to Save Your Day
We have talked about some traits of valuable links, but the real struggle is to get those links.
You can't buy them.
You can't unnaturally build them.
You can't get involved in tricking the PageRank.
And… people don't link to you on their own.
Unfortunately, people need to know that you exist to link to you.
So, winning the SEO world is not all about writing good content, and then waiting for the people to link to your content.
You have to make an effort to get a link – safe, clean, and legit effort.
But remember that every link building effort is not fruitful.
So, here I have come up with three link building ways that have a higher possibility of winning a link than others.
❖   Broken Link Building
Ever encountered that annoying Error 404 page?
I know it is one of the most annoying things on the internet, but it can turn into your savior for link building.

That's the key behind the idea of broken link building.
If you are thinking about how to do broken link building, then don't worry.
The trick is simple.
Step 1: Find resource pages in your niche.
Step 2: See if any one of them has a broken link.
Step 3: Email the owner about the broken link.
Step 4: Offer your link as a replacement.
You can find your niche-specific resource pages easily.
For instance, if your niche is home décor, you can use these strings to find resource pages:
"home décor" + "resource page"
"home décor" + "sites recommendation"
"home décor" + "recommended sites"
"home décor" + "links"
"home décor" + "resources"
Don't stick to only one search string. Try out different strings to get an exhaustive list of resource pages.
To give you an idea, a resource page looks like this: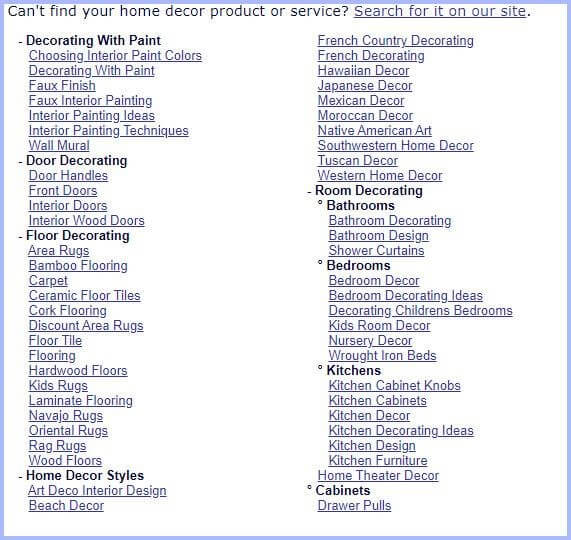 Once you find the required resource pages, you can see if any one of them has a broken link.
You can find broken links through the Ahrefs site explorer feature.

Go to site explorer > add the link > click the 'broken' link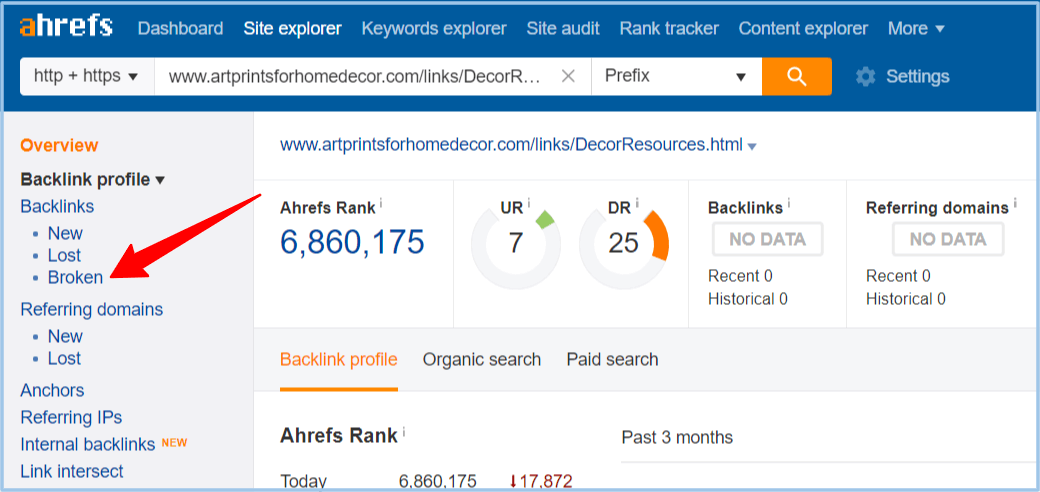 Remember that it might be hard to find a broken link. So, you have to put a bit of effort here and try out different resource pages.
But once you locate broken links on a page, it can be a bullseye for you.
After that, you can send an email to the site owner, tell them about the broken link, and request a link.
If your email gets read, there is a high chance that you may end up getting a link.
The reason is simple:
You are telling them about an error.
And also offering a solution.
And people love both these things.
❖    Link Roundups
Like resource pages, link roundups are also an effective resource of getting a link.
Why?
Because link roundups are there to get links. They are looking out for you to give a link.
If you qualify the criteria, you can get a link because that's what they do.
In case you don't know what link roundups are:
Link roundups are weekly or monthly curated links of topics/sites in a particular niche.
They are fantastic sources to get a link through these steps:
Step 1: Look up your niche-specific link roundups.
Step 2: Email the owner and request to add you.
Step 3: Get a link.
You can find out link roundups using strings you used for finding resource pages.
For instance, for your 'home décor' niche, you can use these search strings:
"home décor" + "link roundup"
"home décor" + "weekly roundup"
"home décor" + "monthly roundup"
"home décor" + "weekly link"
They look like this: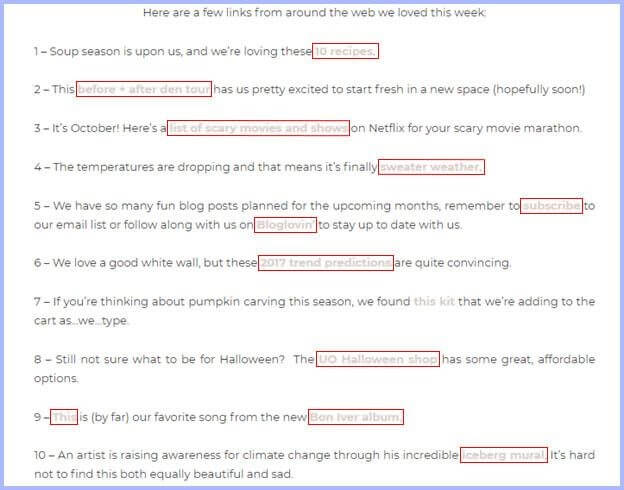 Don't end things after getting a couple of roundups.
You need a handful of options because you don't know the possibility of how many emails will get read.
After getting a list of names, reach out to them.
But make sure that your content is worth getting mentioned in these roundups.
If it is, then the link is yours.
❖    Guest Posting
With so many link building options, people think that guest posting is dead.
Well, it is not.
In fact, I have written a whole post that shows how we boosted businesses of our 100+ agency clients through guest posting.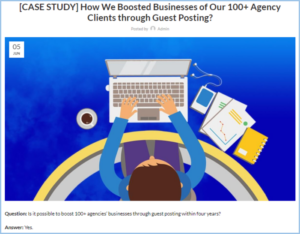 So, guest posting is not at all dead, and it still works great for link building if you carry it out in the right way.
But guest posting is a bit tricky because it comes up with some rules.
Always manually outreach sites.
Select high-quality sites.
Create amazing content.
Place an editorial link.
Select only niche-specific sites.
All these things make guest posting a bit lengthy process:
Step 1: Manually outreach the best niche-specific sites.
Step 2: Create an awesome article with an editorial link to your site.
Step 3: Get your post published.
Apparently, it might look super easy. But honestly, it can be a bit of time taking.
The biggest hurdle is where to publish your content?
There is a hard way and a short cut.
The hard way is to search blogs accepting guest posts through Google.
Just type: "list of – your niche – blogs that accept guest posts."
But it can be time taking because you might get the list of websites, but you will have to check that they are high authority sites or not.
Pretty complicated – right?
That's why we all live for shortcuts.
So, here you go…
First, find out the guy in your industry who is doing guest posting a lot.
Once you find that dude, you can easily see where he is guest blogging.
You can use Ahrefs Content Explorer to find out the backlink profile of your competitor, and find out from where they got those links.

Results look like this: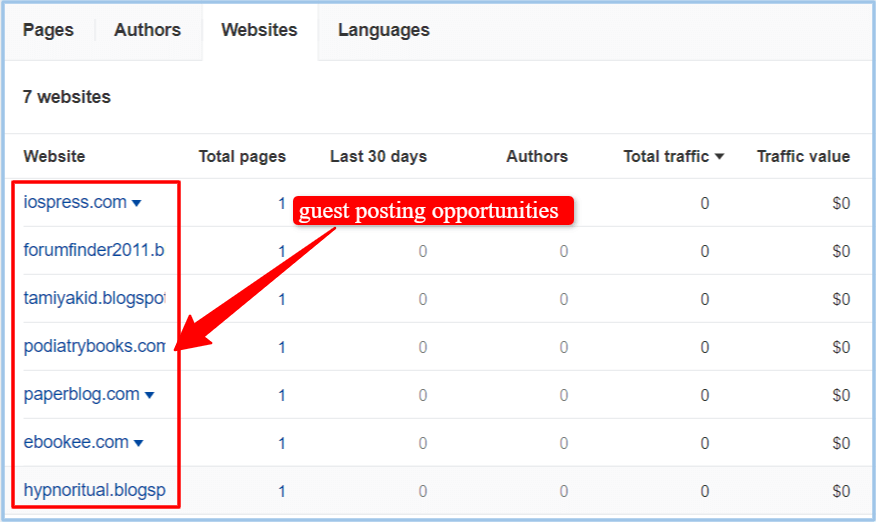 GREAT!
It can help you find out where they are doing guest posting… so can you!
Conclusion
Now we have got past the question of how important is link building for SEO. Because we know that it is crucial… very, very important.
But the secret lies in the way you build links.
Links are like votes, so Google only counts valuable links.
The good thing is that there are many link building strategies that you can employ to get high quality and editorially placed links without pinching PageRank.
It requires effort, time, and focus, but at the end of the day, everything is worth it.
Google has clear priorities: it focuses on quality more than quantity.
So, getting a quality link is better than bagging 1000 low-quality links.
Once you get a good backlink profile, good things start flowing towards you – high search engine ranking is a part of it.