In this blog, I am going to unfold:
• What will SEO look like in 2021
• Advanced SEO techniques to drive results
• Many thoughtful tips and tricks
• What to include in your SEO strategy.
After reading this blog, you will know how you can achieve new heights of success in 2020 with effective and viable SEO tactics and methods.
Without any delay, let's begin.
A few years ago, SEO's world was like a dressing room where marketers every day had to deal with the question: black hat or white hat?
But this question started fading in 2011 when Google began rolling out major updates to implement quality control measures on SEO tactics and methods.
First came Panda to crackdown on duplicate, thin, and plagiarized content, along with keyword stuffing and spamming.

Then it was the turn of Penguin to clamp down on spammy, irrelevant, and manipulative content.

Now, if you ask this question from marketers: white hat or black hat? You will hardly hear them saying black hat.
Marketers know that no matter which SEO strategies and tactics are in the loop, only the white hat techniques can be part of their SEO dress code. No black hat!
So, if you are a beginner in the dense world of SEO, get ready to fill your closet with only White Hats because Black Hat is ban here.
But before we dig out advanced SEO tactics and strategy that work, let's see what black hat SEO is and why you need to avoid it?
What is Black Hat SEO?
Everyone wants to win the race of rankings and capture the top place on SERP.
Because:
That's where all the limelight and cherries of the cake are.
So everyone wants to achieve the top position quickly and without much effort.
But that's where wrong things started entering into the SEO world.
Sneaky SEO tactics and covert search engine strategies became SEO marketers' favorite because they were:
Time-efficient
Easy to implement
Hassle-free
So these sneaky SEO practices took over the sky of SEO:
Keyword Stuffing
Content Automation
Duplication and plagiarism
Shady Links
PBNs
…and everything that Google now hates became popular back then.
And they actually used to work! But not anymore…
Google has a clear policy about link building, and it is unlike anything that marketers used to do before.
You can't scam the system – paid links, link schemes, and comment spam – no, not anymore!

Links are important for Google; in fact, they are one of the top factors Google considers to rank your site.
Obviously, links are like votes, and no candidate can win a contest without valuable and the highest votes.
But links only work if you don't trick the system and go for shady practices.
So here the question arises…
Question: Which SEO tactics and strategies should you implement?
Answer: White hat SEO practices.
White hat SEO means using only the best SEO techniques and tactics for the site optimization that don't go against Google's optimization guidelines.
According to Google's guidelines, the center of your SEO activities should be to:
Avoid deceptive or manipulative behavior
Provide a much better user experience
Create unique, valuable, and engaging content
Invest in making your website stand out
In short, it is totally the opposite of black hat techniques.
So if you visually analyze white hat SEO vs. black hat SEO, here is how it looks…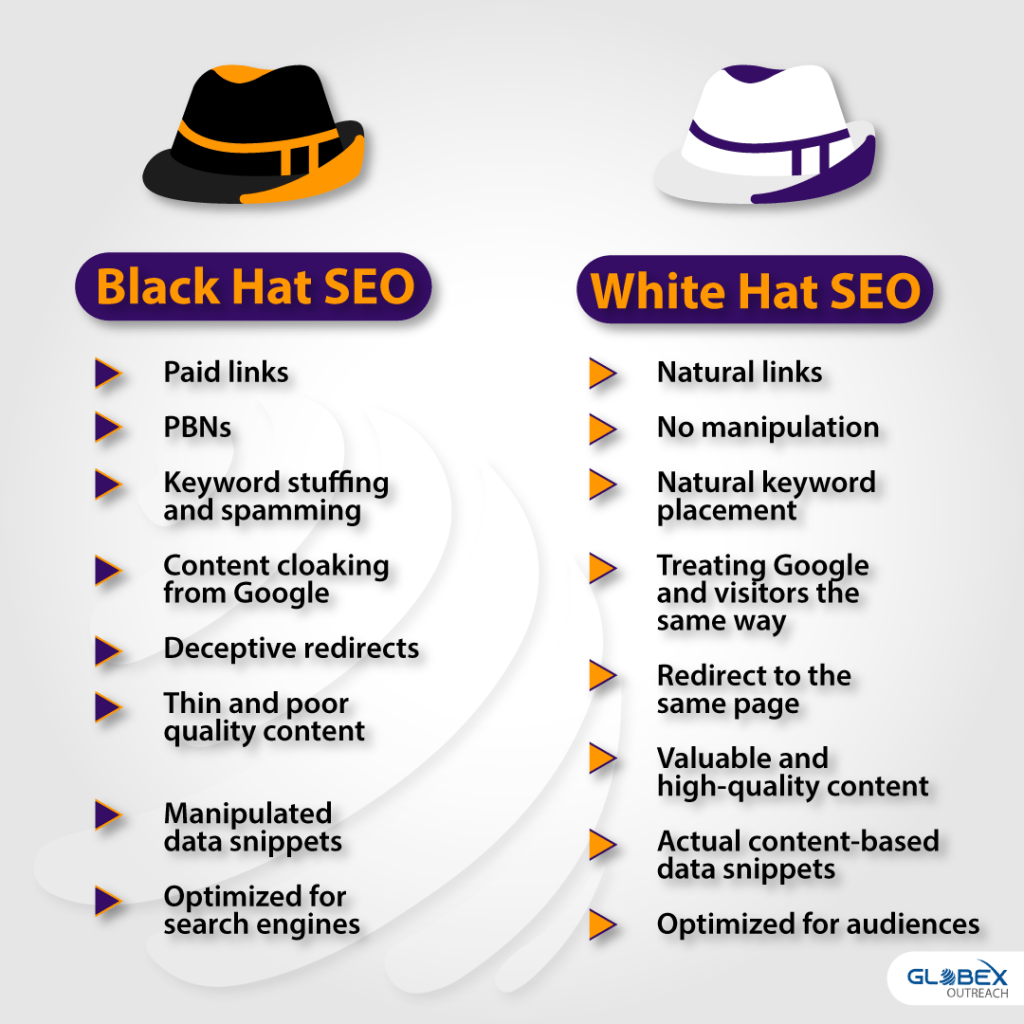 So if you ask how to avoid black hat SEO practices?
The answer is simple: Do exactly the opposite!
Go for white hat SEO strategies.
SEO Methods and Tactics to Plan Your SEO Strategy 2021
Okay, now you know that SEO is important for your business. But it can also be a bit costly.
So we have come up with affordable SEO for small business ideas that you can use without breaking the bank. These ideas can take you closer to better performance on SERPs without selling a leg and an arm.
If you don't want to see yourself searching: "How to reverse the Google penalty?" here are some SEO techniques for 2021 to save your day.
TACTIC# 1: Produce Amazing Content that Google and Readers Love Equally
I can't emphasize enough the significance of high-quality content for SEO.
Like, seriously, it can become a crazy catalyst for all your SEO efforts on so many levels that you can call it a Goldmine for SEO.
High-quality content is What Google Loves…
Google is obsessed with high-quality content.
In fact, according to Andrey Lipattsev, Search Quality Senior Strategist at Google, high-quality content is one of the top signals for Google algorithms.
If Google is receiving a signal of 'high-quality content' from your website, get ready to enjoy a free ride to top rankings through your content.
But you might be wondering what high-quality content is?
When we think about high-quality content, the first thing that appears in our mind is:
A grammatically correct content with no syntax errors.
It's true! This is one of the factors.
But the best SEO techniques of 2021 say that Google also considers many other factors to tag content as high-quality.
Like…
Satisfying users' intent
No-Plagiarism
Highly engaging content
No bait and trap
In-depth content
Easy readability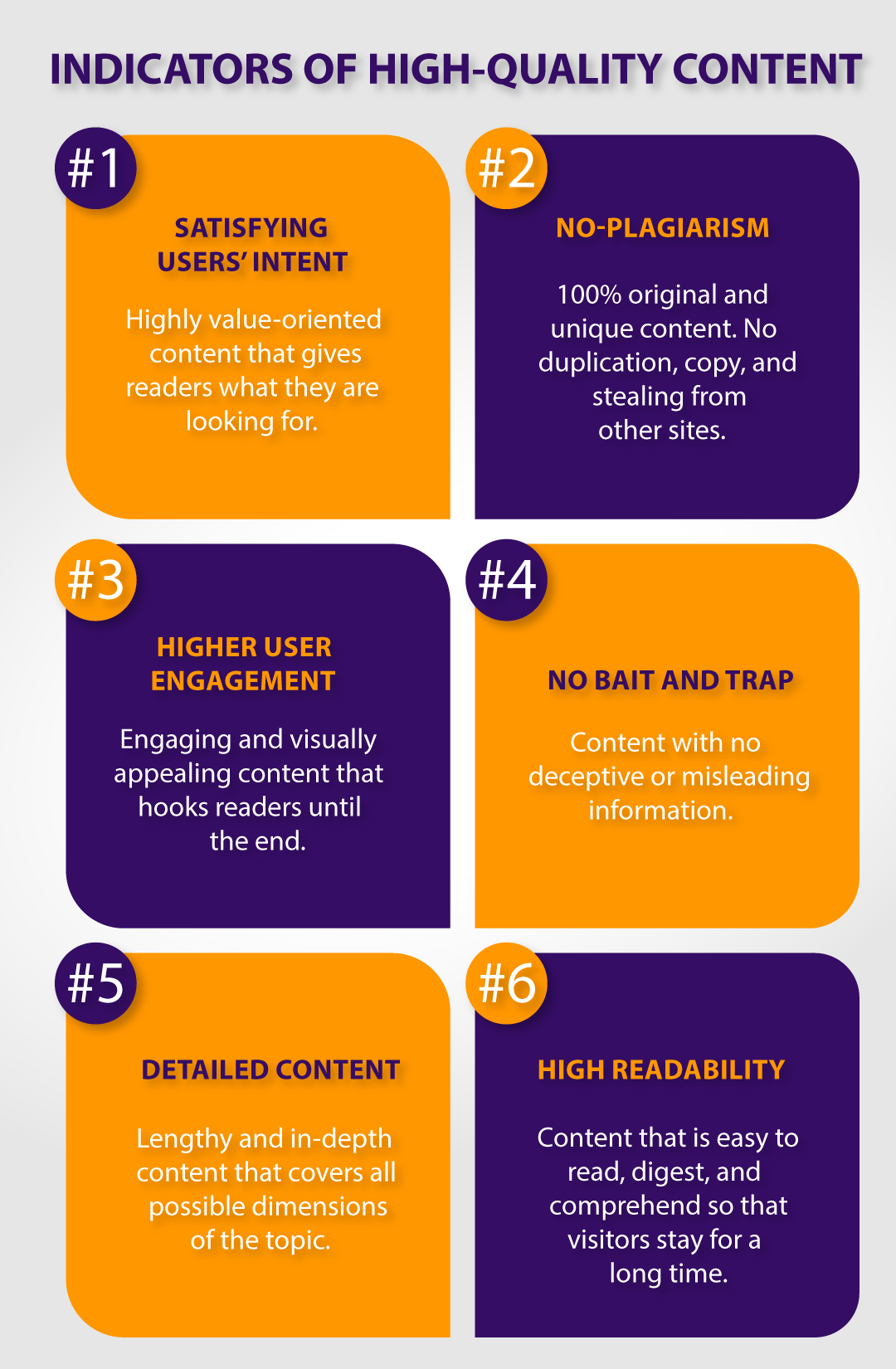 Satisfying Users' Intent: Highly value-oriented content that gives readers what they are looking for.
No-Plagiarism: 100% original and unique content. No duplication, copy, and stealing from other sites.
Higher User Engagement: Engaging and visually appealing content that hooks readers until the end.
No Bait and Trap: Content with no deceptive or misleading information.
Detailed Content: Lengthy and in-depth content that covers all possible dimensions of the topic.
High Readability: Content that is easy to read, digest, and comprehend so that visitors stay for a long time.
If you publish amazing content that qualifies to the above criteria, slowly, but gradually you will make some space in the heart of Google.
And once you manage to become Google's love, you become unstoppable, practically.
People love linking to high-quality content…
Question: If you have to prove your point in your argument, you refer to an intellectual's quote or the guy next door's?
Hopefully, your answer is the former. The same is the case with fantastic content.
Besides being the love of Google, amazing content automatically gets people's attention.
That's why high-quality content becomes a linkable asset for your site.
If your content offers…
High value
Readability
Depth
Uniqueness
Engagement
Accuracy
…people will automatically like linking to your site.
That's where SEO and content tactics marry sweetly.
Natural links to your site strengthen your link profile, giving Google another pretty cool reason to rank your site.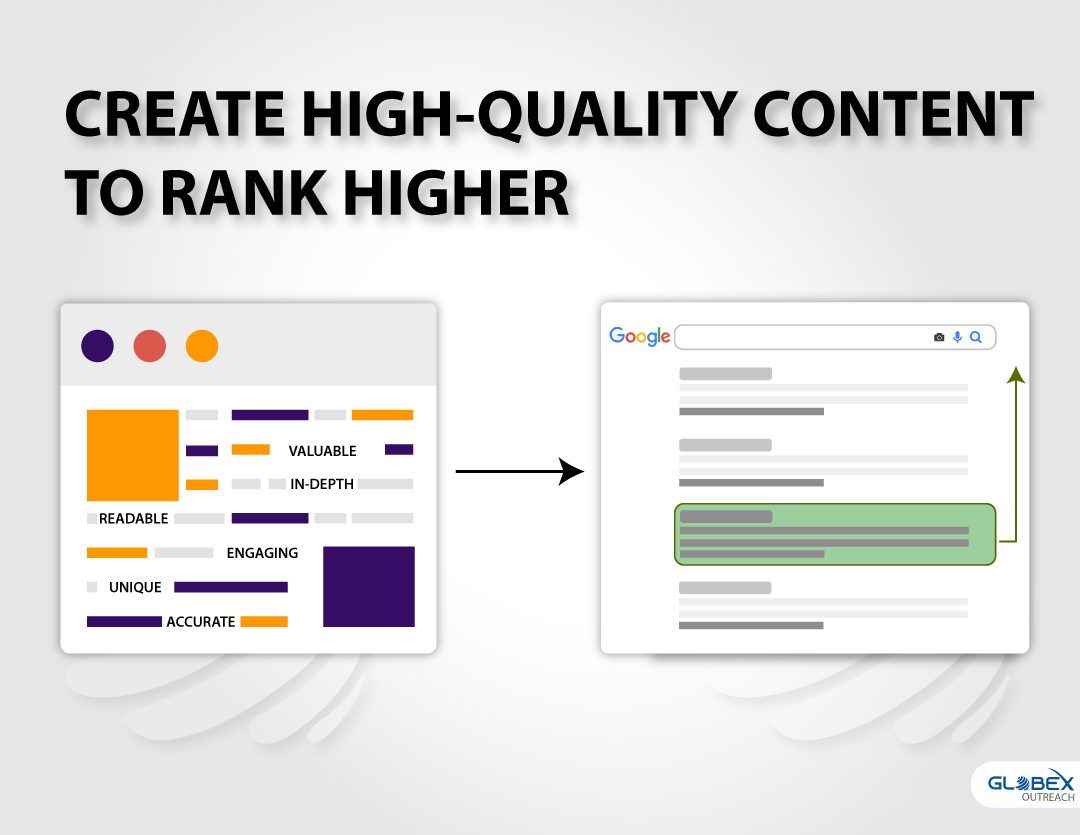 Amazing content can do all this for your rankings single-handedly, so you don't need to think about wearing any shady hat.
TACTIC # 2: Choose and Place Your Keywords Smartly
If you enter into SEO's world, you mostly get to hear a few basic things, and one of them is 'no keyword stuffing.'
Yes, you shouldn't stuff keywords, but it doesn't mean that you shouldn't add keywords at all.
Here is what keyword stuffing looks like:

Forget about Google; even a reader will not like to read such content where you get bombarded with the same words in every line.
But adding keywords is essential.
In fact, if there wouldn't be any keyword, how on earth will you appear in front of your target audience?
Keywords are basically words through which your prospects try to search for you.
No related keywords = no reaching out to your prospects.
Simple!
That's what Google says about keywords:

So adding keywords is very much into SEO tactics and methods because it enhances the relevancy to search queries.
But which keywords you add matter a lot.
That's how tactical SEO the theory and practice of search marketing looks like. It is complicated!
First, obviously, you should add relevant keywords.
If you are offering house cleaning services, you should add relevant keywords.
Second, try to focus on keywords with less competition.
Today, the competition is pretty tough, and everyone wants to reach the top.
In this tough scene, if you aim for more generic keywords, things can get pretty hard.
Instead, go for long-tail keywords.  They are not only easy to rank but also have a 3-5% higher click-through rate, according to SmartInsights.
Here is how you can find long-tail keywords without much effort.
#1:Get into People's Head
Sit on people's end and start thinking questions that buyers might ask about your product.
This is a common point between SEO and SEM tactics:
Try to use keywords that people use to search for you.
For example, if you offer press release writing services, buyers might be thinking:
What is a press release?
How to choose a press release writer?
What are the benefits of a press release?
Why do I need a press release?
These questions can turn into pretty good long-tail keywords because that's how your prospects are searching for you.
#2: Take Help of Google Suggest
What can be better than asking Google itself about how people are searching? I mean, who knows it better than Google?
And it is a super-easy way to get a hunch of your plausible keywords.
Open Google browser and type your main keyword.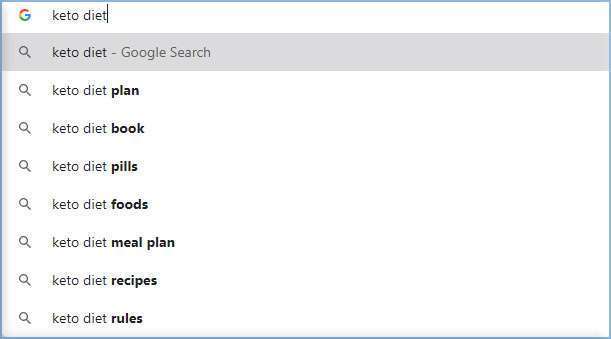 See? Google starts suggesting a list of related long-tail keywords.
It gives you a handful of relevant keywords.
It cuts down the guesswork from the middle.
Obviously, if Google is suggesting these keywords, it is pretty sure that people are searching for them.
#3: See Google's Related Searches
Just like Google Suggest, Google related searches are also an effective way to add a few more keywords to your list.
Scroll down your first organic search page, and you will see a list of blue highlighted related keywords.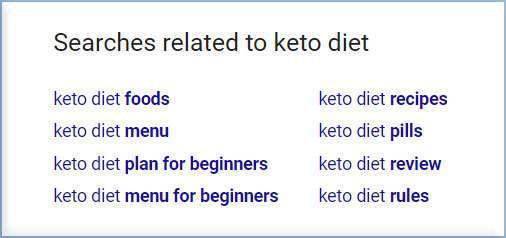 You can put them on your list without worrying as the heading itself is giving you surety that they are 'related searches' of the keto diet.
#4: Steal Keywords of Competitors
You don't always have to go against the stream to stand out.
Sometimes, flowing with the flow of the stream is also okay. At least it stands true in terms of keywords.
Find out your competitors' articles that are similar to your main keyword and copy the long-tail keywords of those articles. Simple!
You can use tools like Ahrefs and SEMrush to find your competitors' keywords.
But we have another proven way for you:
Go to Google and enter your target keywords.
For instance, your keyword is 'home décor.'
You get various searches, check 5-7 top searches, and… bang!
You have discovered the goldmines of long-tail keywords.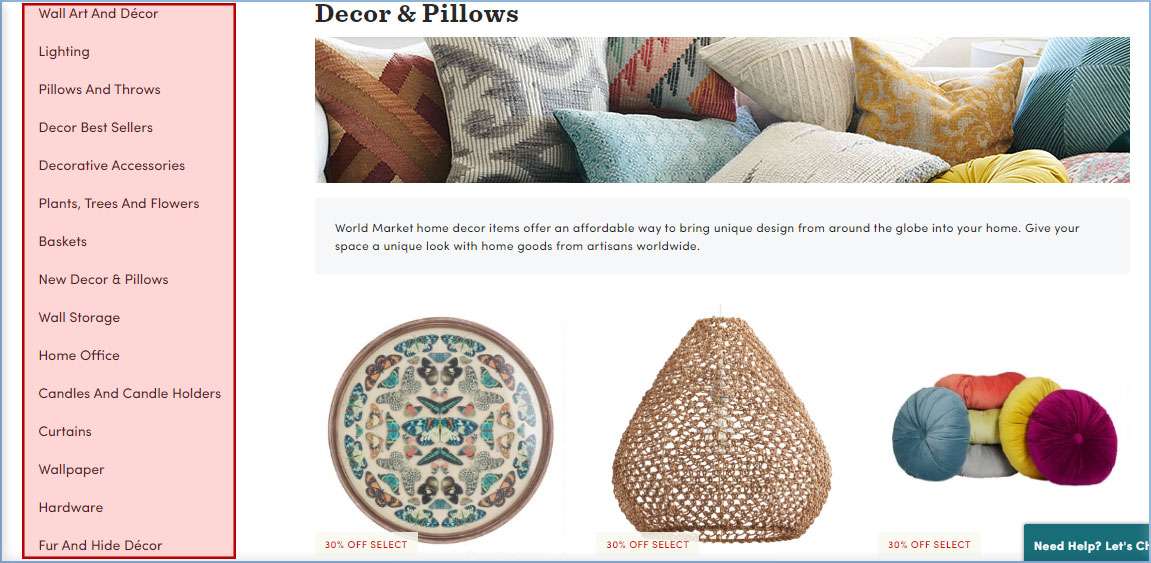 This way, you can get a hand on time-tested keywords that your prospects are actually using to search.
Third, don't forget to add LSI keywords.
LSI keywords tell Google what your topic is all about.
Even if your title is saying that your page is about making 'Mango Smoothie,' Google still wants to see whether your content is actually telling about the recipe of mango smoothie.
That's where LSI keywords help out that are one of the advanced SEO tactics and methods to win the race of rankings tactfully.
For instance:
LSI keywords for mango milkshake are related things that you use to make a smoothie
Like milk, mango, grinder, sugar, ice, curd, honey, and all other things you need to make a mango smoothie.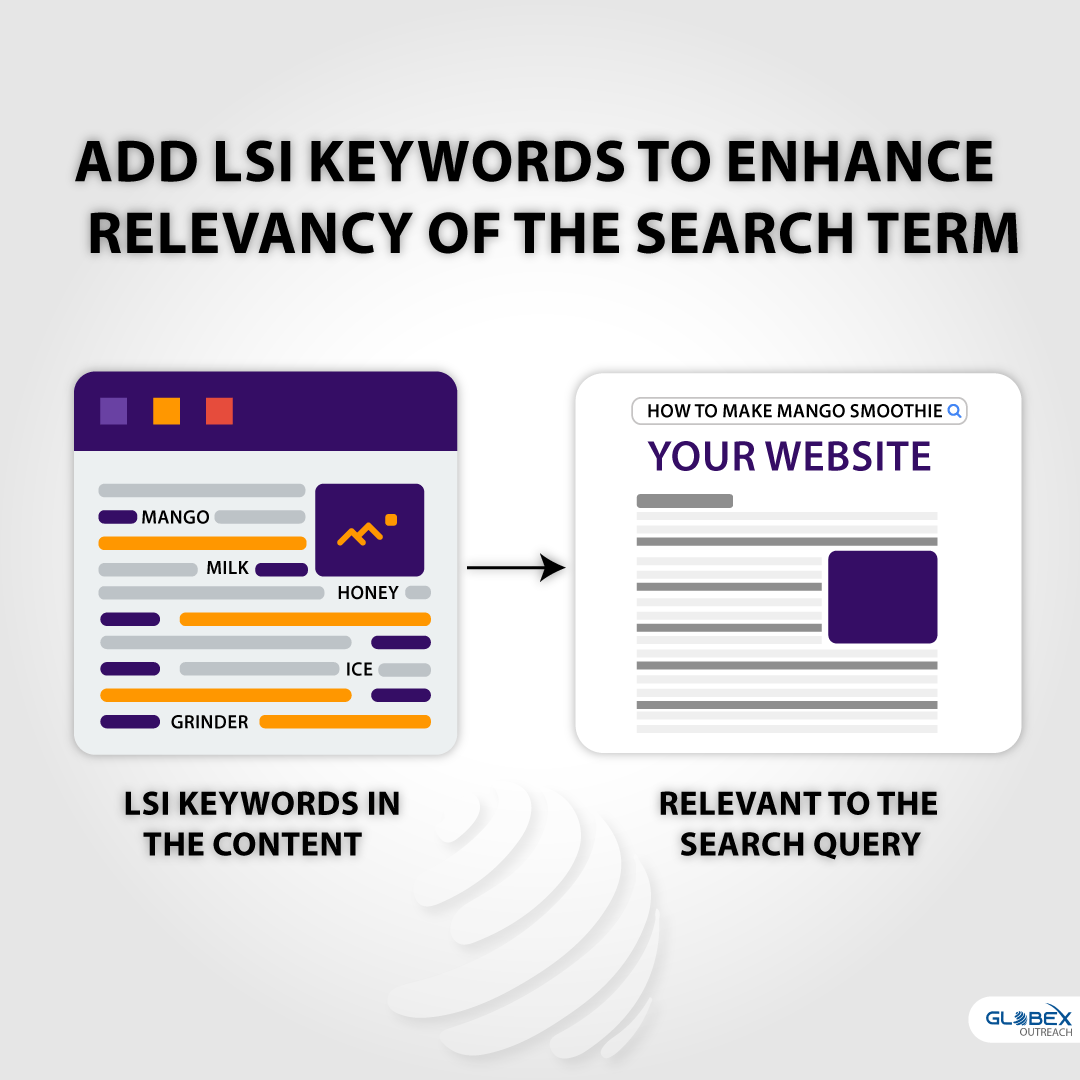 These keywords will tell Google: Okay, fine! This dude's page content is actually talking about mango smoothie. Let's rank it!
TACTIC # 3: Work on Your On-Page SEO
Google has a full guide that tells you about the do's and don'ts of on-page SEO and how you can use it effectively to boost your page.
Let's break it down one by one.
#1. Make Your URL Easy to Read
The first thing that Google uses to understand your page is neither your title nor your content.
It is your URL.
But unfortunately, most people don't work on their URL.

Google clearly asks to make your URL descriptive, not the useless 'ajdalkl93uqn3ndw' kind of thing because Google is not yet smart enough to understand this language (in case it really is a language – that I doubt!).
Now you can work on your URLs in one of the following ways:
Method 1: Turn your URL into a short description of what your page is all about.

Or make your URL keyword rich.
Method 2: Add the main keyword to your URL.

Method 3: Put the full title in your URL.
Either of the way Google will know what your page is about. Simple!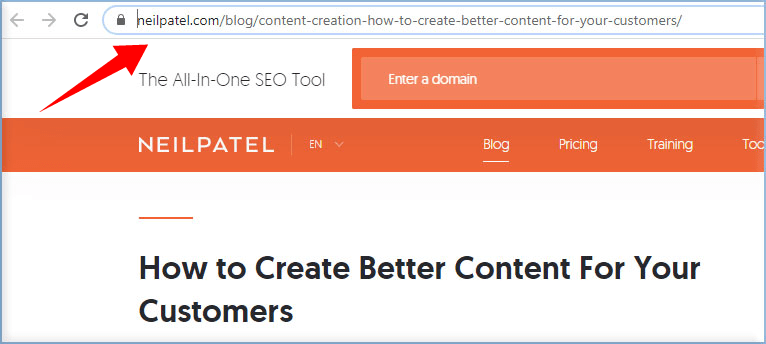 #2.       Make Your Title Relevant
The title of your page plays two roles:
It tells what the content is about.
It grabs the attention of your readers.
So, your title is very important from the search engines' point of view and from the readers' end as well.

Besides creating an informative and engaging title, it is also important that your title is not deceptive and vague.
Well, that's what Google wants…

Use your target keyword in the title for ranking.
Put your keyword in Google, and see almost all the top searches have that keyword in their title tag.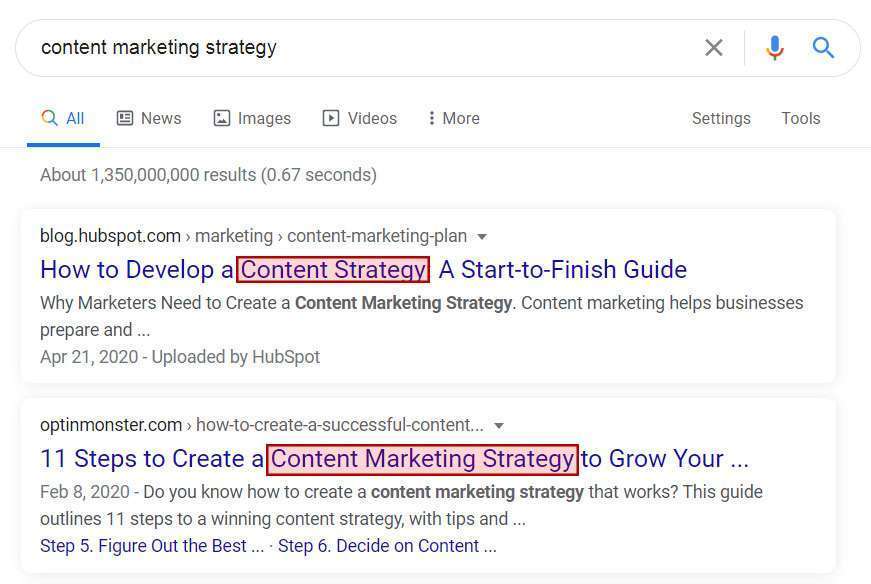 #3.       Write Your Meta Description Smartly
Google's key behind ranking any page is how helpful that page is for readers.
That's why Google wants your meta description to be a good; short punch of information.

Now here is the trick.
You can make these one or two sentences of meta description a boost for your ranking by adding the keyword in it.
I searched the keyword 'content marketing strategy,' and that's what I found: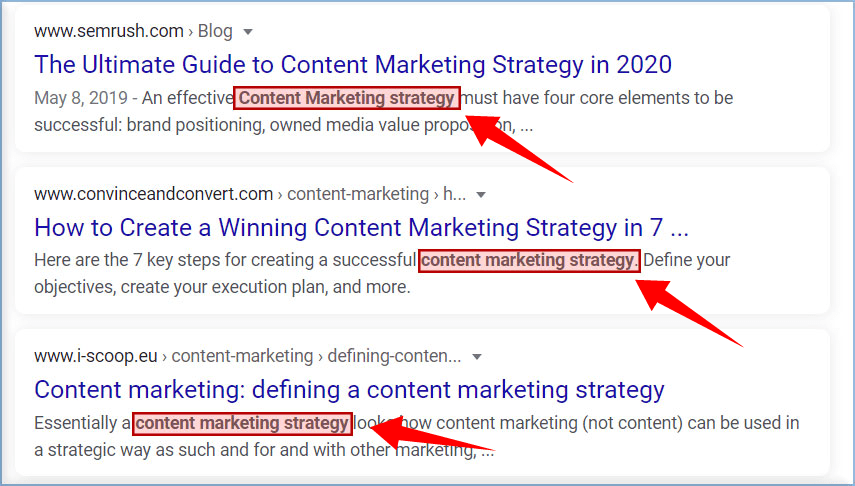 You can see all the top-ranking pages have the main keyword in their meta tags.
So, that's what you should also be doing.
TACTIC # 4: Reduce Your Bounce Rate
Google counts how much time visitors are spending on your site.
If they are spending more time, it means your page is what they were looking for.
So, Google will rank it higher.
If they click out quickly after their visit, it means that your page is not serving visitors well.
Result? Google will shove your page down in rankings.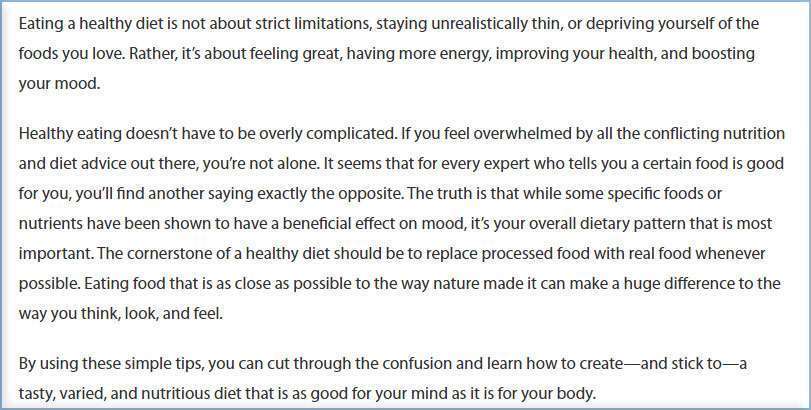 So, you should work on increasing the dwell time of visitors.
Now you might be asking: how to reduce bounce rate?
Well, a few tricks can help you here.
#1.       Write In-depth Content
The popular perception is that writing short content helps in reducing the bounce rate because:
People neither have time to read long content nor do they find it interesting.
That's a wrong perception, and here is the proof.
Let's do a bit of mathematics.
According to search metrics, research shows that usually, top-ranking content has an average of 1,140-1,285 words.
And according to RankBrain, content is ranked when it has a low bounce rate.
So, it means that if content with a low bounce rate is more likely to rank and lengthy content is topping the ranks, it also means that people are also staying on the lengthy content page.
Sounds complicated?
Well, simply put, it means that people are reading lengthy content.
But, indeed, people can't read this kind of content.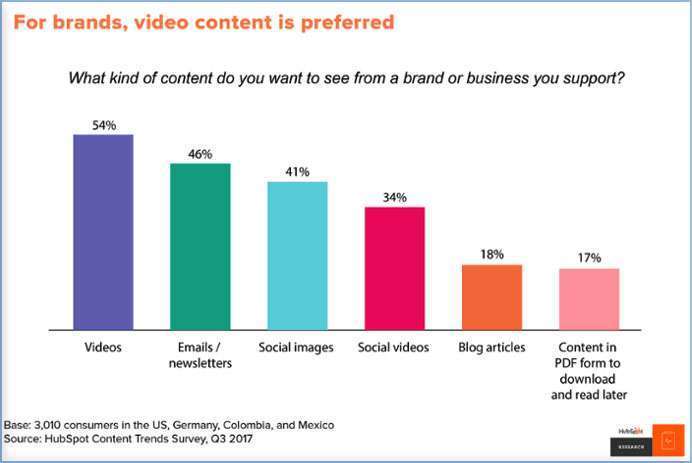 You feel dizzy while looking at it, even.
So make your content presentable. That takes us to our next trick.
2.       Make your Content Visually Appealing
Let's be honest; we all love content with visual elements.
Your visitors also expect you to feed their aesthetics well, along with feeding their brains.

That's why, according to Optinmonster, blogs with images receive 94% more viewers.
If you want to get more visitors and hold them on for a long time,  adding visual content is the way.
#3.       Work on Creating Engaging Introduction
You worked on your title and managed to intrigue your visitor to click on your link? Now what?
Clicking on the link is not a guarantee that the visitor will also read your content.
The visitor decides within 3 seconds whether your page is worth spending time or not.
You just have 3 seconds to grab visitors' attention.
Obviously, for that, you have to make your introduction appealing.
It doesn't matter if you have placed amazing content in the middle of the page because it is useless if the reader will click out before reaching there.
So always work on your introduction.
To help you more, let's see examples of introductions from different sites.
Method 1: Get attention by Solving a Problem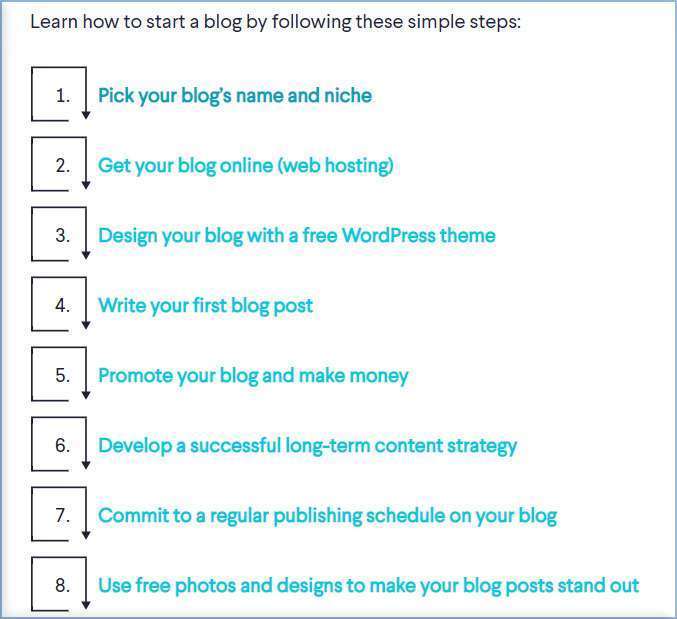 One way to compel readers to read your content is by addressing their issues and how you can possibly solve them.
Method 2: Give a Brief of Content
How can you stop worrying about what if readers miss out on all the good stuff placed at the bottom – that you created with so much effort?
Well, there is a simple way:
Tell them in the starting what you have got for them in the middle.

Now you have given them a list at the starting of everything you have got for them.
It becomes not only an excellent introduction but also a good promoter of your rest of the content.
Method 3: Impress them with Facts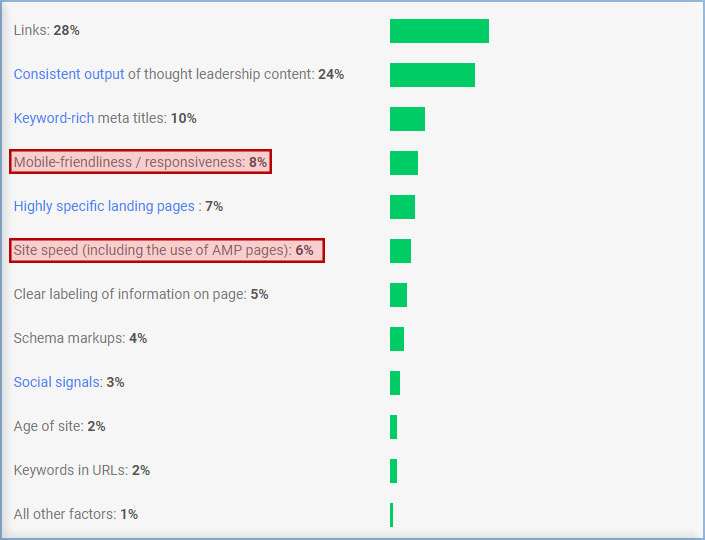 Another way is to impress them with relevant facts that trigger them to read your content further.
TACTIC 5: Don't Miss Out on Technical SEO
Just like on-page SEO, technical SEO is also becoming more and more important for your rankings because Google is giving it importance.

In the above image, you can see that among many on-page ranking factors, technical factors are also present.
It shows that technical SEO is going to be an important part of SEO techniques 2021.
#1.       Make Your Page Mobile-Friendly
The concept of mobile-friendly or responsive pages came when Google launched its mobile update Mobilegeddon in March 2015.
Though Mobilegeddon was not big enough, it did indicate a big upcoming change in the ranking world.
And now, today, responsiveness is one of the biggest ranking signals for Google. Big enough that Google has a whole guide for making mobile-friendly content.
And Google clearly says that Google is not going to consider websites that don't consider mobile…

…and it happens!
Google seriously takes into account your mobile responsiveness.
And you should also start paying attention to it in 2021 if you haven't yet.
#2.       Decrease Your Loading Time
We have already talked about how Google gives importance to users' experience with your page.
So no wonder that the speed of your page is also an important technical SEO factor.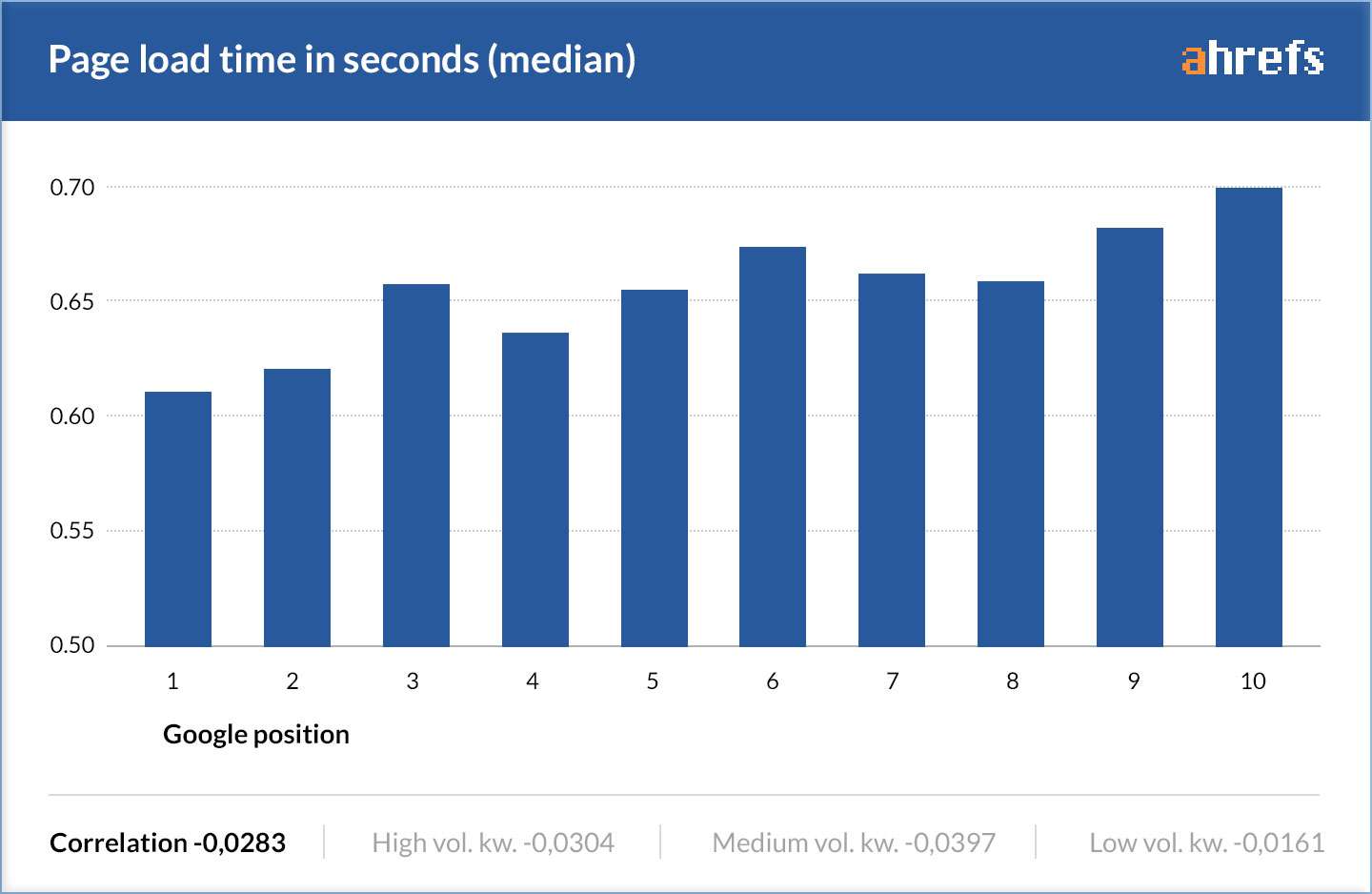 Honestly, no one likes slow loading sites – including you.
In fact, 40% of visitors abandon a page if it takes more than 3 seconds to load.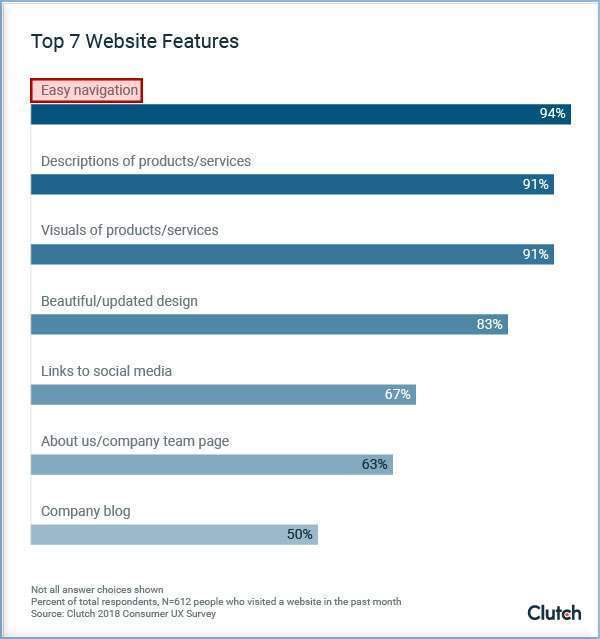 So… Work on your page's speed!
You can check your site's speed through PageSpeed Insights.
#3.       Develop Easy Navigations
Website navigation is just like roads. If the road doesn't have proper signboards, a stranger cannot reach his destination.
Similarly, if your site's navigation is not clear and easy, visitors will get strayed or bounce back.
Both of these conditions are not acceptable.
People and Google want your site to have simple on-site navigation.
The problem is…
Some people make pretty websites.
Others make websites from a marketing perspective.
But the best web page has both things: visual appeal and marketing element.
Your users want appealing content as well as they want to find the desired things without much effort.
Everything should be served on the plate.
Here is an example of a website with poor navigation.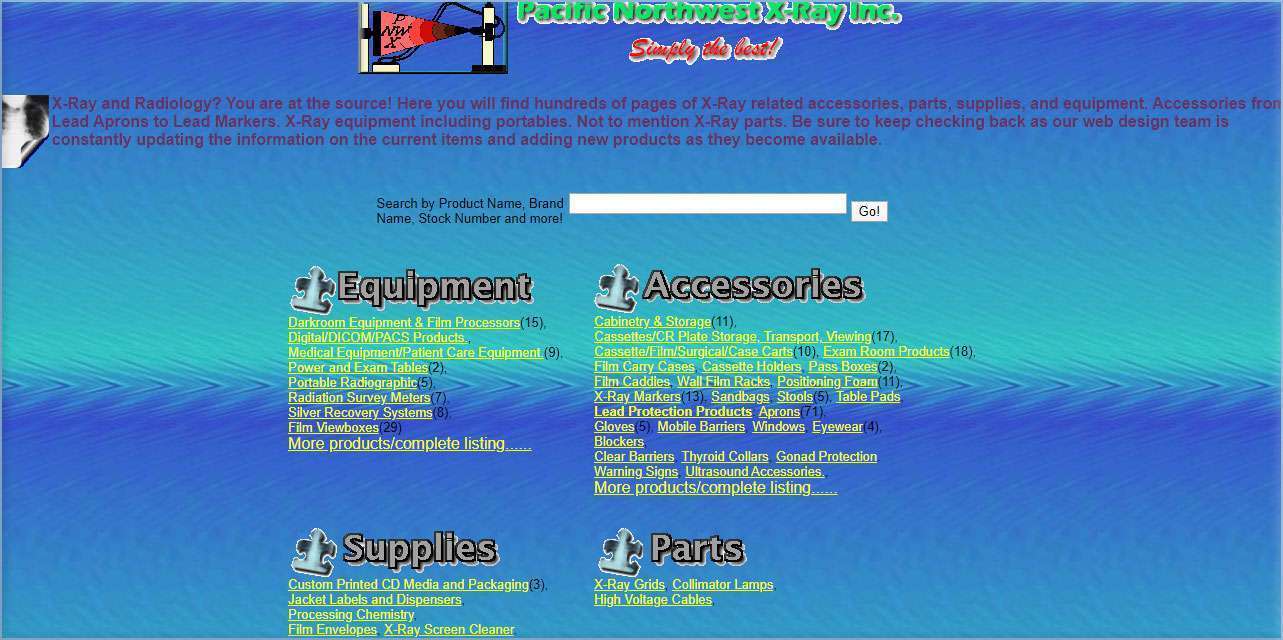 You just don't know what to do with this website.
What is it about?
What do they want you to do?
Or where should you go to find things for which you clicked this website?
This website tells nothing.
And now, here is an example of a website with clear, simple, and actionable navigation.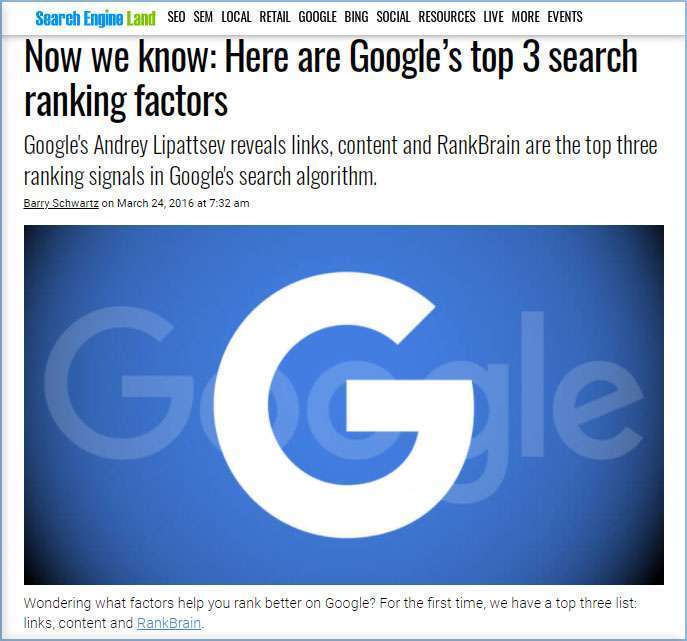 Everything is clearly jotted down, and you can find each and everything without gazing at the site with a blank face and hitting the wrong buttons.
TACTIC # 6: Pay Attention to Getting Backlinks
Most people ask me if backlinks still matter.
And I wonder how many times I have said: Yes, they do.
Backlinks are one of the top three SEO factors Google considers for ranking, the other two being content and RankBrain.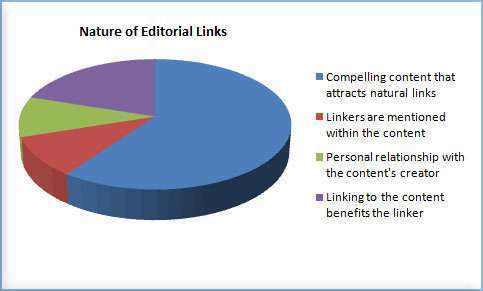 And Ahrefs has proved the significance of backlinks in ranking through a recent study.
The study of over a billion pages explored that over 90.63% of pages get zero organic search traffic.
Out of these pages, 66.31% of pages didn't have any backlinks.
It shows that Google is still in quest of backlinks to determine the ranking fate of any website.
And if you are looking for SEO tactics and methods 2021, backlinks should be part of your strategy.
So stop thinking about whether you need backlinks or not, and start working on them. YOU DO NEED LINKS!
Undoubtedly, the best backlinks are natural and editorially placed links that people give to your site naturally.
Here are given top reasons why people will link to your site, according to Kaiser the Sage:
Content is extremely valuable, and they will like to share it with others
They were mentioned in the content and want to let others know
Content creator reached out to them
The link provider will harness personal benefits from linking
The last one is what Google prohibits if it involves money, gifts, and other material benefits as it comes under the link scheme category.
But there are many other ways to earn backlinks that are not at all shady or manipulative, as mentioned above.
Here are my personal top three link building ways that bring credibility along with a backlink:
1.       Guest Posting
Guest posting has long been my favorite link building technique, and I still like it because it…
Helps to rank higher.
Gives authority and credibility.
Drives qualified traffic.
Grabs the attention of the relevant audience.
But make sure that you do it in the right way that means you…
Manually outreach post sites.
Post only on high authority sites.
Write high-quality and valuable content.
Editorially place the link.
You will find guest post contributions on big blogs as well.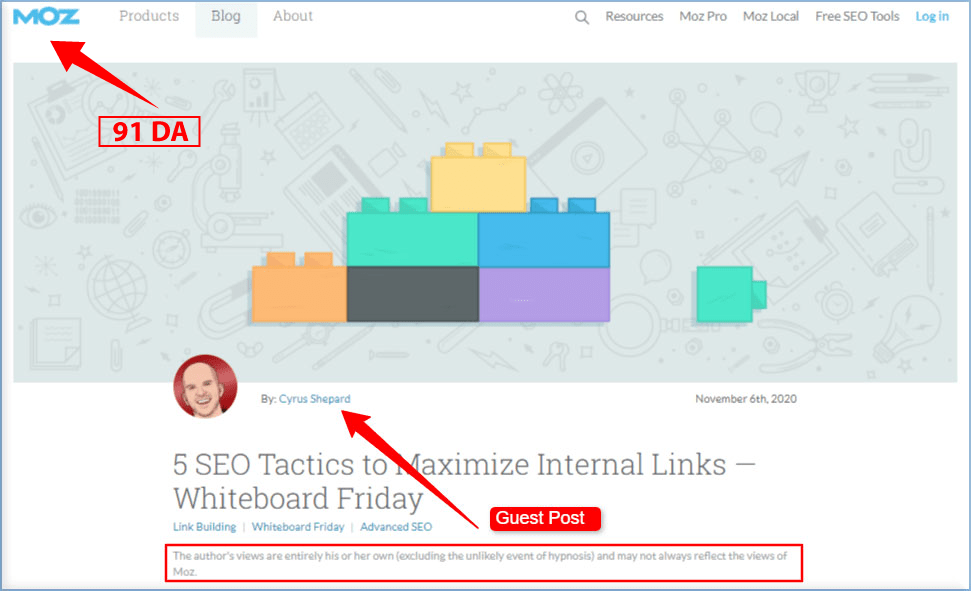 That's only because the guest post really works for SEO and other business benefits.
2.       Get Mentioned in Link Roundups
Getting a link from link roundups is one of my most favorite things in SEO.
Why? Because link roundups have people who are eager to give you a link.
I mean, if you have awesome content, getting a link through this technique is super-duper easy.
To put simply: Link roundups are basically a particular niche's blogs that tell their audience which blogs/sites are the best or they should follow.
For instance:

This website is related to interior designing and is telling its readers '20 best interior design blogs' they should follow.
If you scroll it down, you can see that they have linked to sites.
What does it mean? Well, a free link!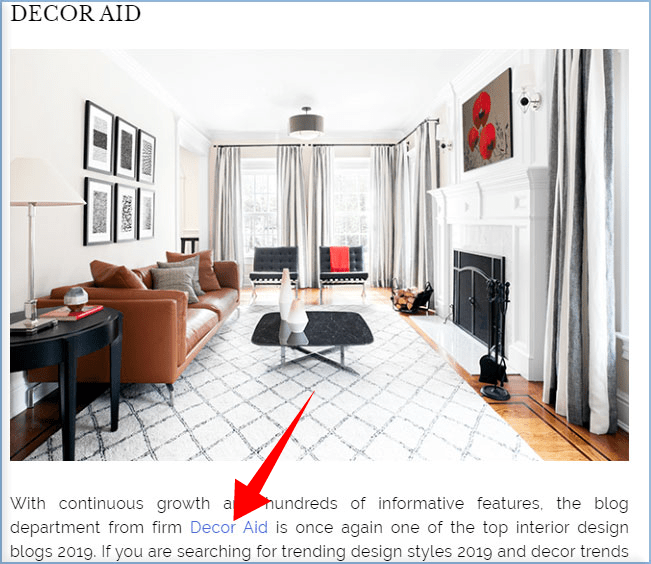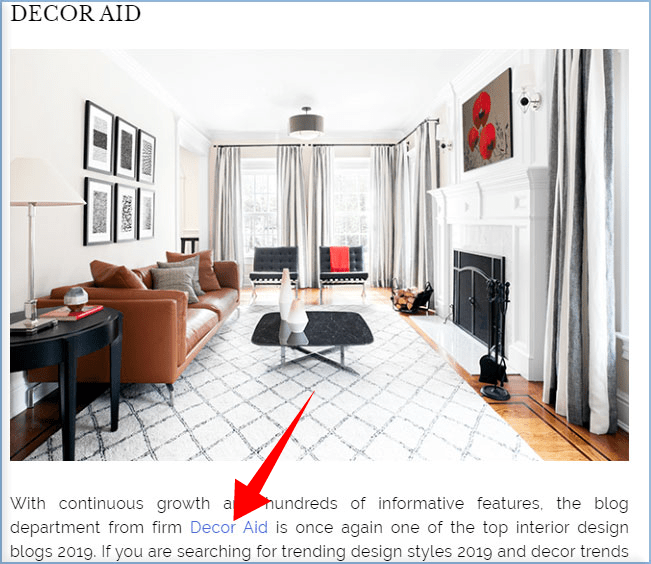 You can find similar link roundups in your niche and pitch out to them.
But before pitching, make sure that your website and content really deserves to land in the top-X categories.
You can see that these roundups are for the ace players of the industry. So make sure that you fulfill this criterion.
And why do I like this technique?
Well, the answer is simple because it…
Is easier to secure a link through it.
Puts you in front of the right people, interested in you.
Makes you credible because if you are on the top-X list, you are something HUGE.
3.       Contextual Links
You might have read blogs where the writer gives a link, saying that you can read more about the topic or subject matter through this link.
Here is an example of 'read more' section:
They are editorially placed contextual links.
But for this, again, you have to do two things:
Produce a worth mentioning content
Reach out to the blog post owner with a convincing pitch
You can sense why I mentioned this technique. Yes, because…
You get exposure in front of the right audience.
A shout out from an influential blog owner establishes your credibility.
Conclusion
Google has become extremely careful and intelligent over the past few years. That's the reason that now there is no space for shady SEO techniques that were once useful or popular.
Now, if you want to get SEO benefits for a long time without getting into the bad books of Google, white hat SEO is your only savior.
Fortunately, viable SEO techniques are not as difficult or impossible to achieve as they might sound.
It is just that they are time-consuming and need continuous efforts. But then, you know, all good things come to you with effort and struggle.
Be smart, focused, and strategic with all your techniques: be it keyword selection, on-site SEO, content creation, technical SEO, search intent understanding, or link building.
Once you know the drill, SEO will not be a hard nut to crack for you.