Picture this:
You have just set up your home improvement and remodeling business to offer your target audience and customers the best home improvement products and services. However, before you reach out to prospective leads, you must take into consideration the competition and SEO of your company. In order to fulfill the digital marketing component of your business, you will need home improvement SEO.
We all can agree that the best way to reach customers is through organic traffic. In the past, people would first approach their friends, relatives, or neighbors for recommendations if they required a professional in home remodeling. 
However, it is 2023, and things have changed quite DRAMATICALLY! 
Today, Google will be the first place your prospective customers will come to.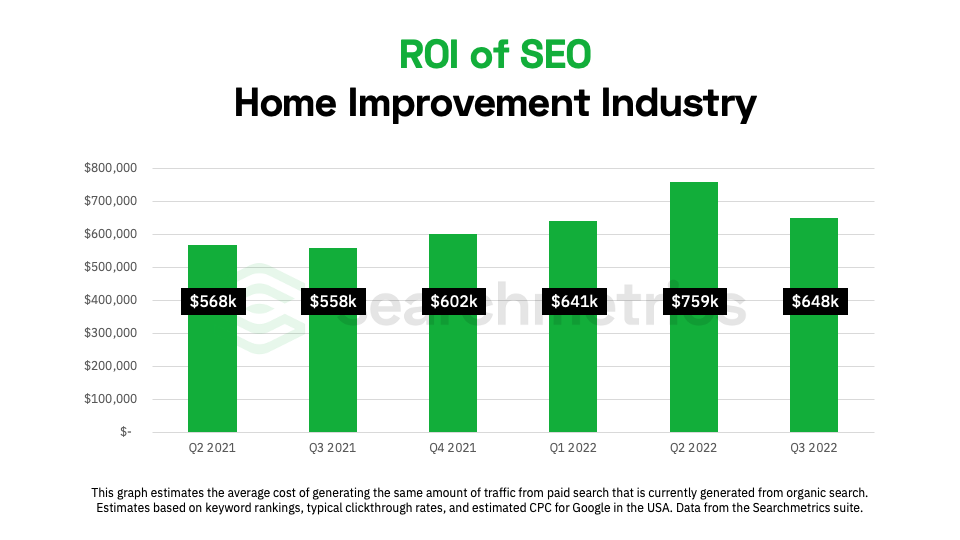 But without having your home improvement website optimized for search engines, how can potential clients find your exceptional services? 
Therefore, home improvement SEO must be given top priority if you want to make your website relevant to users looking for your services.
SEO for home improvement businesses calls for numerous alterations and tweaks to be made to your construction company website in order to boost the possibility that the web pages will rank higher in the search engines result pages (SERPs).
Why SEO is Important for Your Home Improvement Business
Before we go into the specifics of website optimization to improve its Home Improvement SEO ranking, let's discuss the value of SEO. You may get more internet traffic and, consequently, increased leads by simply optimizing your website to include keywords that your prospects use to look for companies similar to yours! 
Many builders, designers, and remodelers are able to increase their traffic by at least 25 to 50% in less than a year by developing a SEO home improvement plan, once-optimizing their primary website, and publishing one or two blogs per month that focus on the major issues or queries that prospects have. In 2-3 years, maintaining such an SEO home improvement program should result in a double or triple increase in website traffic and leads.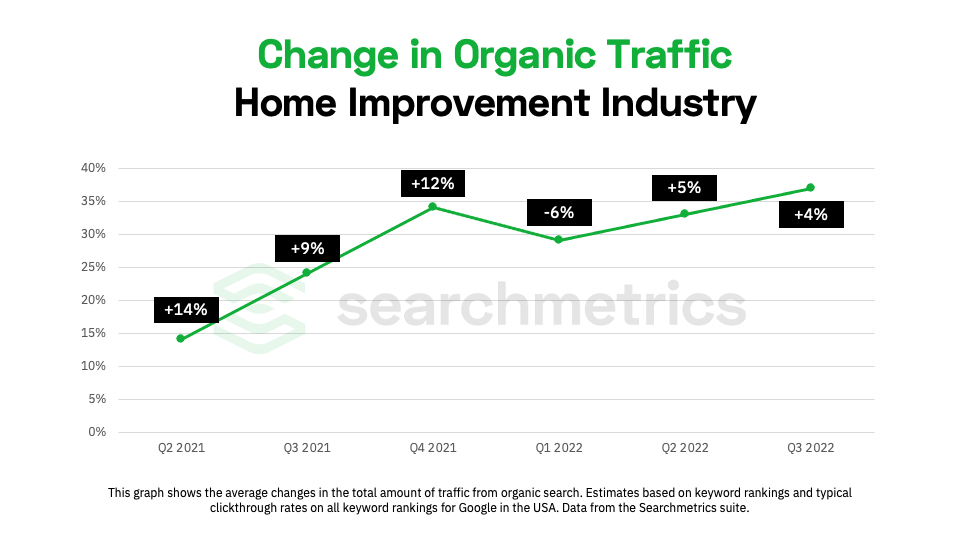 Additionally, this can double or triple the number of qualified leads you receive each month, provided your lead conversion rate remains stable. It all begins and ends with improving current content and producing fresh, SEO-friendly material that focuses on the keywords your target audience uses to search.
Greater Visibility
With SEO, you can raise the position of your website for home improvement-related keywords on search engines. One of the main advantages of using SEO for your home improvement company is that it enables you to connect with a growing number of potential clients, which in turn boosts traffic and sales.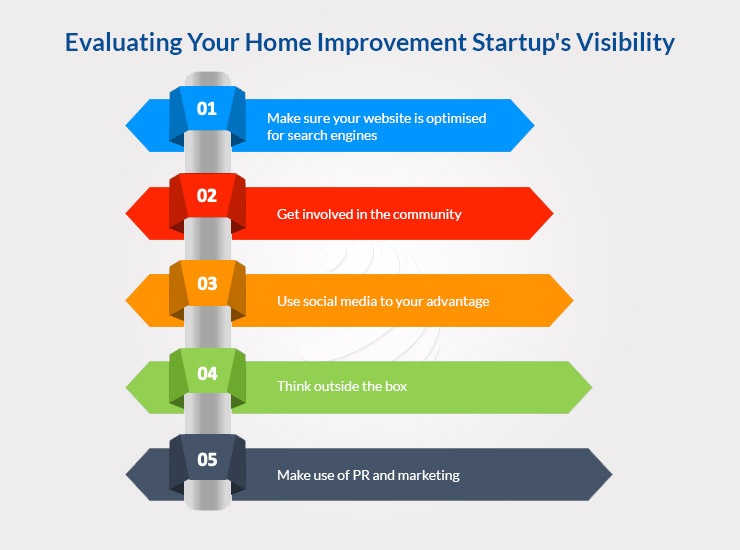 You can directly increase brand awareness thanks to it. You may quickly increase the exposure of your website with the aid of a reputable business offering top SEO services. 
More Qualified Leads
With home improvement SEO, you may participate actively in your potential clients' investigation. This enables you to explain your services to them in detail and show them how you stand out from the competition. In essence, you demonstrate to them why they should pick you above your rivals.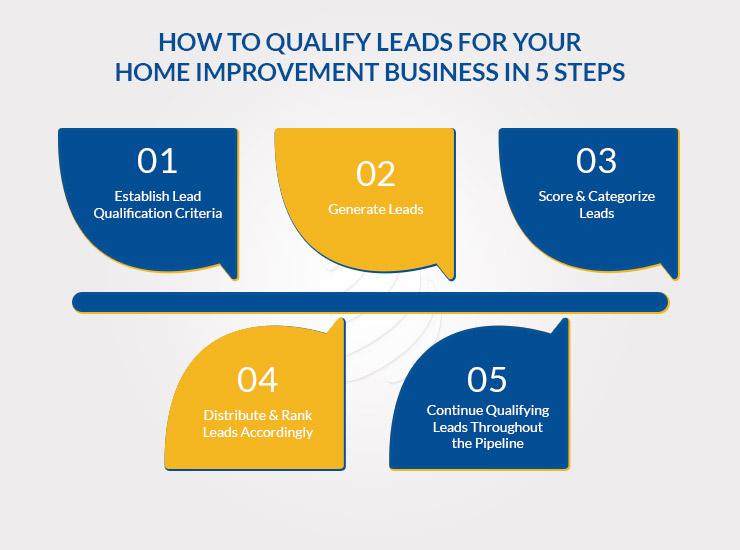 This differs significantly from traditional advertising techniques like TV and radio ads, which provide you with a finite amount of time to spread a broad message to the public. There is a great likelihood that the audience won't convert using these strategies. However, there is a good probability that the SEO leads will become consumers if you use advanced home improvement SEO services.
This is due to the fact that you specifically target customers who were searching for services that were similar to what they were looking for. Thus, SEO for home improvement enables you to generate an increasing number of qualified leads.
High ROI
It's no secret that you'll make more money from SEO if you thoroughly optimize your website and improve your online reputation. In contrast to conventional advertising methods, where their advertisements had to be broadcast on third-party platforms for a specific period of time, your Home Improvement SEO Strategies are immediately applied on your own website.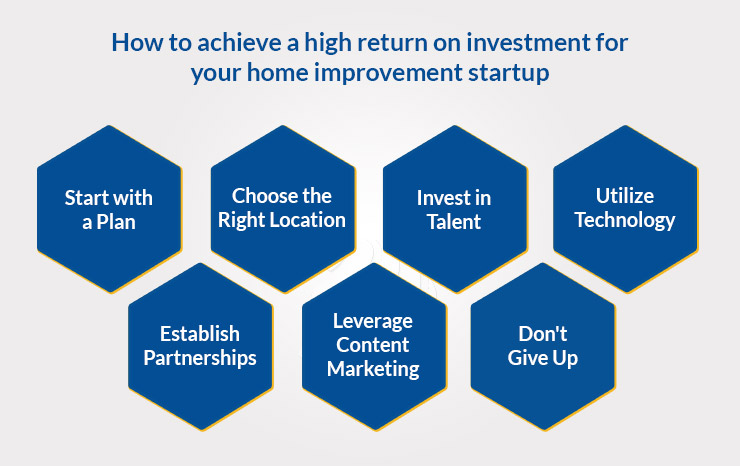 As a result, as soon as you create and improve your online rankings, search engines will continually provide you with qualified leads through your website, and you won't need to worry about the varying costs of ad space. Additionally, better outcomes would be an extra benefit to this.
Home Improvement SEO Tactics
The right SEO tactics can be your secret ingredient for success as the owner of a home improvement business. 
Just as a sturdy foundation is vital to any renovation project, a well-structured SEO strategy lays the groundwork for your online visibility.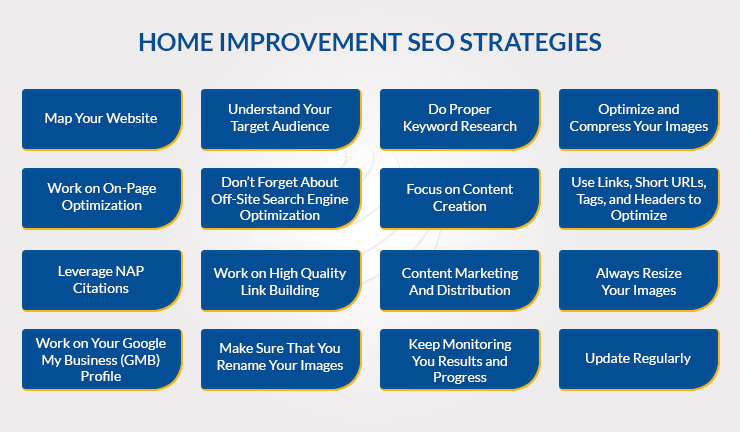 From optimizing for local searches that connect you with homeowners in your community to crafting compelling content that showcases your expertise, each tactic is like a precise brushstroke on the canvas of your digital presence. 
As you wield these strategies with finesse, you're not just optimizing for search engines – you're crafting a pathway for homeowners to discover, trust, and choose your services amidst a sea of options:
We must comprehend the current state of your website before you can make any changes or work on home improvement SEO. Map your website as a starting step. In order to do this, launch an Excel or Google sheet and add the following columns:
Meta Description

URL

Header 1

Page Name

Page Title

Notes
Next, add the following details to the spreadsheet for each of your website's main pages. Here is a more thorough explanation of each point for those who are new to home improvement SEO:
Name of the page: The page name on your website is the overall name of the page. For instance, "Home," "About," "Contact Us," etc.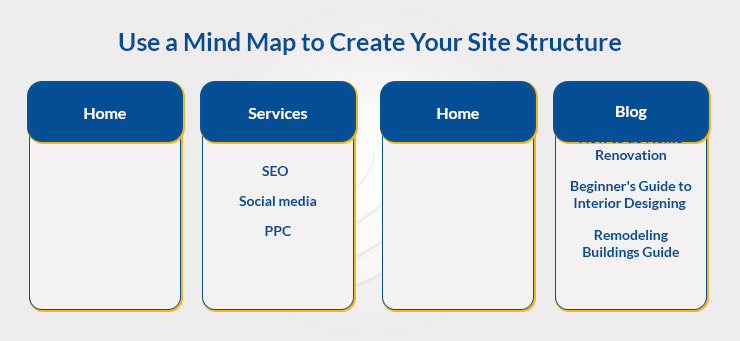 Title of the Page: The title that appears with your page in search engine results is called the "page title."
Meta description: The meta description, which explains the contents of the page, appears directly under the page title in search engine results.
URL: This one should go without saying. However, URLs are important for SEO. Thus, we want to include them in our page.
Header 1: The first header on your page would be the most noticeable.
Notes: Include any additional notes pertaining to any existing keywords on your page that relate to your products, your location, or other key terms. Examples include "Our services page indicates that we do kitchen, bathroom, and whole home renovations," "Home page mentions that we are a home builder working in New York City," etc.
Simply type "None" or "N/A" if you don't have any values filled in for a certain page.
Understand Your Target Audience
Any home improvement and renovation business must first understand its target market to be successful. Finding the terms and phrases your audience uses to look for services like yours is an essential part of this understanding.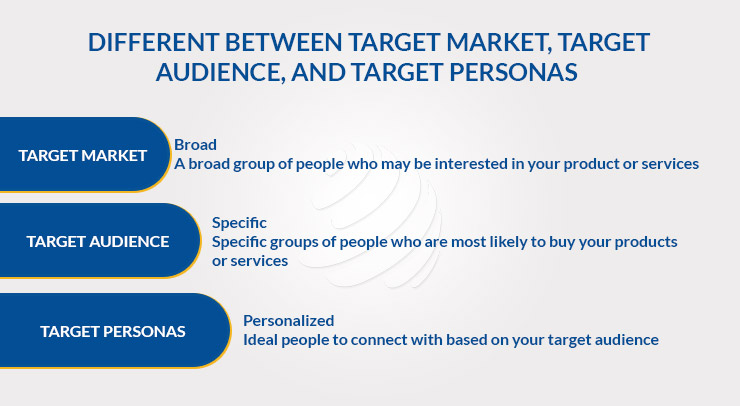 By doing this, you may modify your marketing plan to better suit their requirements and tastes. Analyzing the search habits of your target market might reveal important information about their profile, interests, and problems.
Using this knowledge, you can produce content that connects with your audience and fosters a closer relationship between you and them. So, if you haven't already, begin researching the terms your target market uses to find your services and start utilizing them to your advantage.
Do Proper Keyword Research 
You need to know which keywords and phrases your potential customers are searching for during their research process.
Proper keyword research involves finding the best words for your home improvement business and learning how difficult they'll be to rank for. This sets the foundation for the rest of your SEO strategy. Don't skip out on keyword research.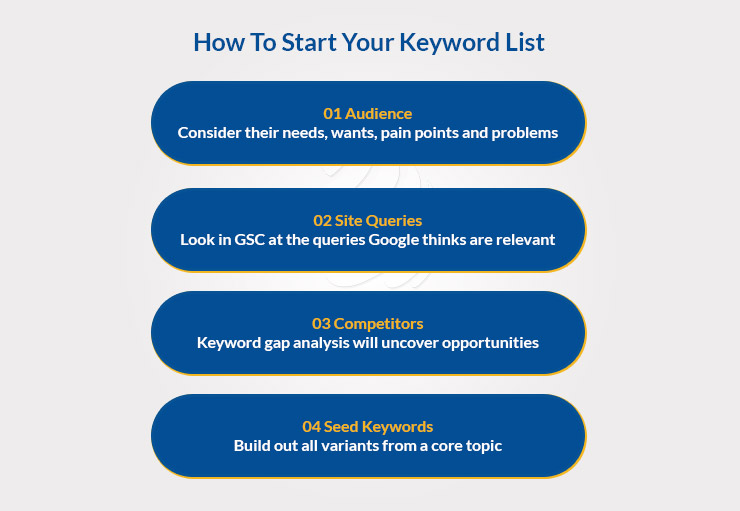 Let's take a look at the type of keywords that you can use when working on home improvement SEO:
Use Industry-Specific Keywords and Terms
When people search for terms relating to your business and the services you provide, your website should come up. For example, experts in home improvement would want to rank well for keyword phrases that contain words like "home improvement," "home builder," "home design," "new design and improvement," and so on. And keep The terms remodeling, remodeler, design-build, renovations, etc., should all be ranked by remodelers.
Location-Specific Keywords and Terms
In addition to what you offer as a business, you should appear in local searches for terms related to your industry or when someone specifically types in your area. This means that your website needs to mention the areas, towns, and/or states where you work. 
Location + Industry Keywords and Terms
The following is an example of how industry- and location-specific keyword phrases should be used: Caroline, a New York-based home improvement expert, would like to appear as high up on Google's first page as possible for terms like New York home improvement or new homes New York. 
In the same way, a Pennsylvania-based home improvement expert would like to appear on the top page of search results for "Pennsylvania remodeling" or "Pennsylvania home improvement."
Optimize and Compress Your Images
You also need to work on your images as part of your home improvement SEO. Remove the extra metadata that was retained in the file after resizing your photographs. Simply drop your image file(s) into an image compression application to accomplish this. We recommend using websites such as Resize Image, Tiny PNG, and I Love Img.


Your file should be no more than 100 kilobytes in size. Although it is more difficult to achieve with photos that are 1200px wide, this is still the goal you should aim for. Frequently, you can run your compressed image file(s) through the image compressor once more to reduce the file size even more without sacrificing image quality.
Work on On-Page Optimization
The keywords you discovered during your keyword research should be optimized for each web page on your website. You can achieve this by including the keyword(s) in the copy of your website, as well as title tags, headers, and meta descriptions.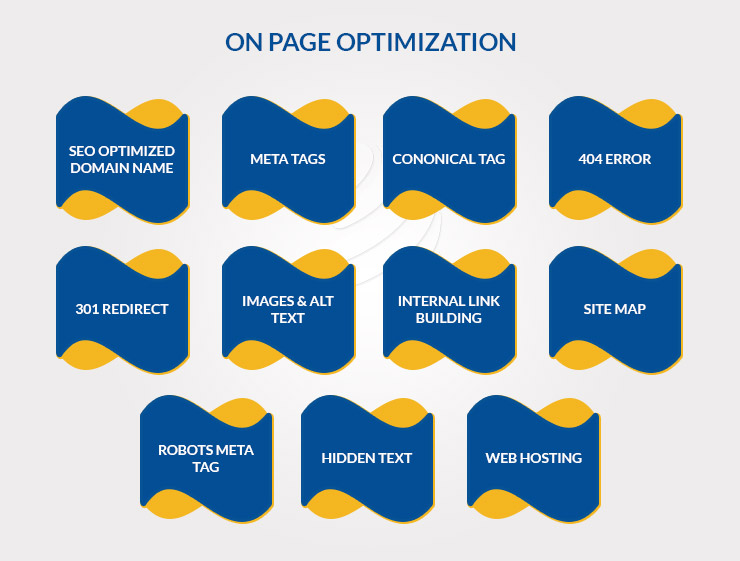 Search engines will be aware of the topics covered on your site's pages as a result, which will help it rank highly when potential clients conduct searches online.
Don't Forget About Off-Site Search Engine Optimization
The majority of home improvement SEO work is done off the website, not on it. The search engine bots are able to see all of the backlinks pointing to your business's website thanks to modern, sophisticated search algorithms. Your page will be seen by search engines as more authoritative and have a higher rank if there are more high-quality, niche websites providing backlinks to it.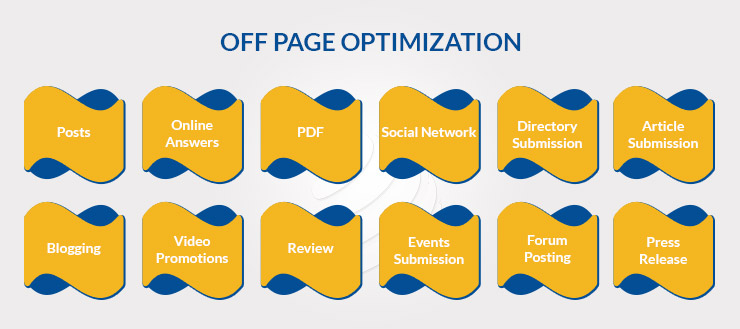 You should look for links to pertinent regional websites for home renovation businesses, such as:
Directory of businesses in your neighborhood

Better Business Bureau (BBB)

The local chamber of commerce

Home improvement websites and forums
Consult an SEO company for home improvement SEO services to find out more about creating a strong link profile and to have your current link profile thoroughly examined.
Focus on Content Creation
Making content with your keywords in mind is a fantastic home improvement SEO strategy. Blogging is one of the most significant and successful ways to do this. Google likes it when companies add fresh, original pages to their websites.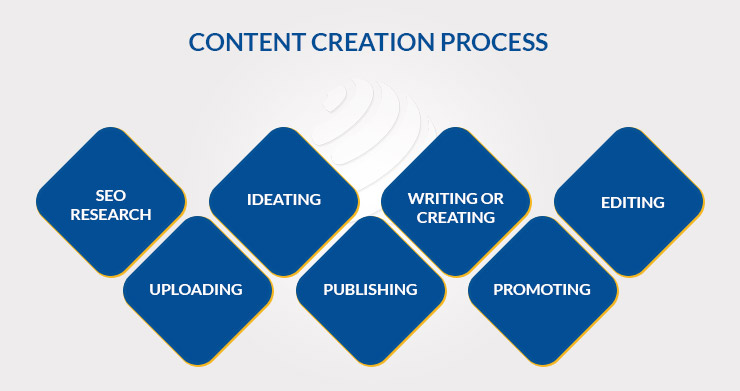 By doing this, you can rank for keywords other than those related to your home improvement products and services. Additionally, this increases your credibility and trustworthiness, supporting your position as a thought leader in the home improvement sector.
Use Links, Short URLs, Tags, and Headers to Optimize
Content creation is one thing. Maximizing its influence is a completely different thing. You need to come up with a clever title tag and an engaging meta description if you want to stand out. When it comes to raising your click-through rate and SERP ranks, these criteria seem to be essential.
Moreover, metadata is valuable and advantageous. Businesses that just optimized their metadata for search engines saw a 48% increase in organic traffic. Make sure your primary keyword is present in your website's title tag before publishing a post.

On top of that, in order to optimize your blog article for search engines, make sure to employ header tags (H1, H2, etc.) and URLs correctly. 
The headline that people view while doing a thorough web search must be both appealing and pertinent to their search. By appealing to their search criteria, you can entice them to visit your website. Consider this home improvement SEO 101.
Make sure you're employing those keywords in the title and meta description of your website if you specialize in custom home improvement or remodeling.
For local home builders, improvement artists, and remodelers, location specificity is essential. You shouldn't utilize generic keywords that will draw buyers from the wrong regions if you aren't targeting the entire country. Make sure that your search engine optimization NAPs (Name, Address, and Phone Number) are accurate and consistent across the web to help ensure you're reaching the ideal target audience. 
When your company relocates, changes phone number names, or types the name or address in various ways across the web, NAPs may become inconsistent.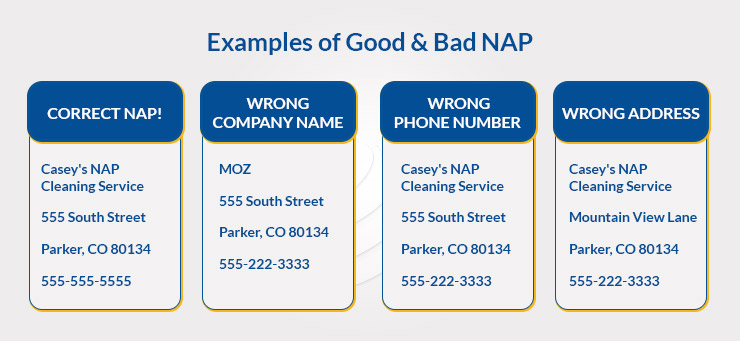 Because they represent your internet authority, NAPs are significant to your ranking considerations. Even if your content is exactly what a visitor is looking for, your authority will be reduced, and your business will show lower on search results if your NAPs are inconsistent. 
Because Google considers every internet reference of your business, it is simple to have inconsistent NAPs. Google searches everything, including your website, social media profiles, and third-party directories. Even seemingly insignificant NAP errors like "North 22nd Street" versus "N. 22nd Street" will harm your authority and ranking. This is very important for home improvement SEO.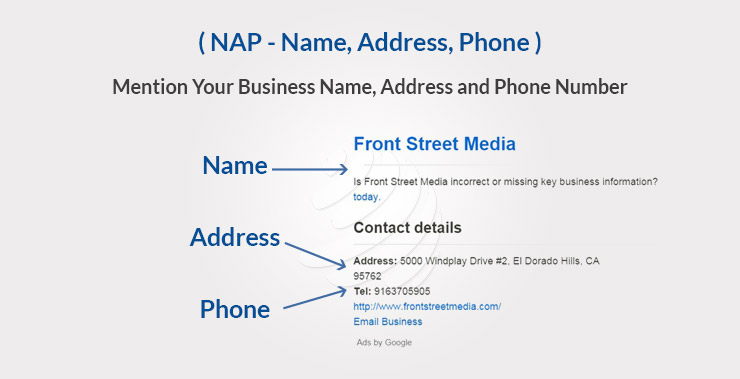 Potential clients may find erroneous NAPs frustrating, and you may lose business if they are unable to contact you as a result of outdated or inaccurate information. 
Should you, therefore, verify your NAPs? If your company is less than a year old and you haven't altered your business's name, location, or any other component, you're definitely doing okay. If your company is more established, you've probably changed at least one component of it. Therefore, it would be a good idea to review your NAPs.
Work on High Quality Link Building
Your website will rank higher in search engines the more links it has from reliable sources. Reaching out to bloggers, editors, and other website owners is a huge part of home improvement SEO. Prove to them that your work is something their readers will enjoy.
Content Marketing And Distribution
Making content and distributing it to sites other than your website is one way to gain backlinks and boost your offsite SEO.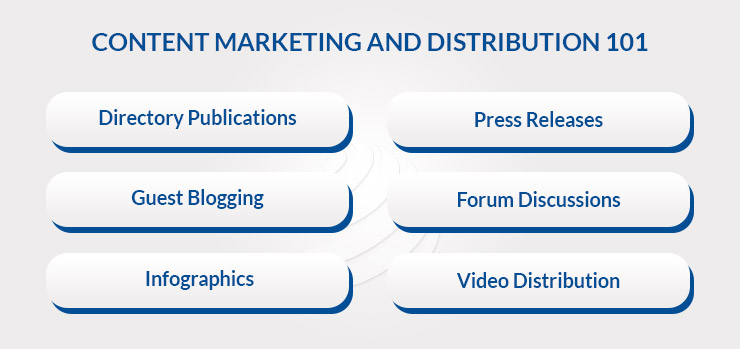 As a matter of fact, this is one of the best ways to improve your Home Improvement SEO ranking. Make sure to utilize the following:
Directory Publications 
Most specialized sectors have online directories that list both regional and national rivals. It's simple to obtain backlinks for SEO by setting up a profile on these directories, including images and videos of your work, and connecting to your website.
Press Releases
The majority of companies who are launching a new home improvement novel product or service frequently produce a press release and send it out to various web outlets. By doing this, you can obtain backlinks from those publications for your website.
Guest Blogging
Blogging as a guest on other blogs is a terrific method to promote your company and brand. This demonstrates your authority in your field and the growing number of links pointing to your website.
Forum Discussions 
Joining forums and responding to people's urgent concerns about your sector are two quick techniques to boost offsite home improvement SEO and build connections to your website. Quora.com is one of the most well-liked sites for doing this.
Infographics
Pictures help people perceive information much more easily than reading extensive papers does. Making educational infographics for your website is a wise move because it improves your offsite home improvement SEO as well as your business's Home Improvement SEO ranking when other websites use them and link back to your site to give you credit. The result is a high domain authority backlink.
Video Distribution
You may boost your offsite home improvement SEO with video in two primary ways:
Creating YouTube videos and adding descriptions with backlinks to your website.
Or developing and hosting videos on your website. 
You'll get some fantastic offsite home improvement SEO when other websites use the embed code from your video player to upload onto their site.
Always Resize Your Images
If you upload hundreds of stunning portfolio photographs and house model images to your site of huge size, it will take FOREVER for your website to load. Photographs from professional-grade cameras are often up to 4000px wide. Your web pages should ideally load in under 3 seconds; otherwise, people will just leave the page and go to one that does. In actuality, 40% of visitors will leave a page that takes longer than 3 seconds to load. 

Source: Promo
Images can be resized using a variety of tools; they don't need to be complicated. Your PC or Mac's generic photo editing tool (such as Paint) should have no trouble completing this task.
Work on Your Google My Business (GMB) Profile
The most recent and greatest social network, Google My Business, will improve your Home Improvement SEO ranking. Maintaining an up-to-date and accurate Google My Business listing with relevant NAPs, photographs, offers, posts, and reviews can make a big impact on how you rank on Google, particularly in comparison to your rivals.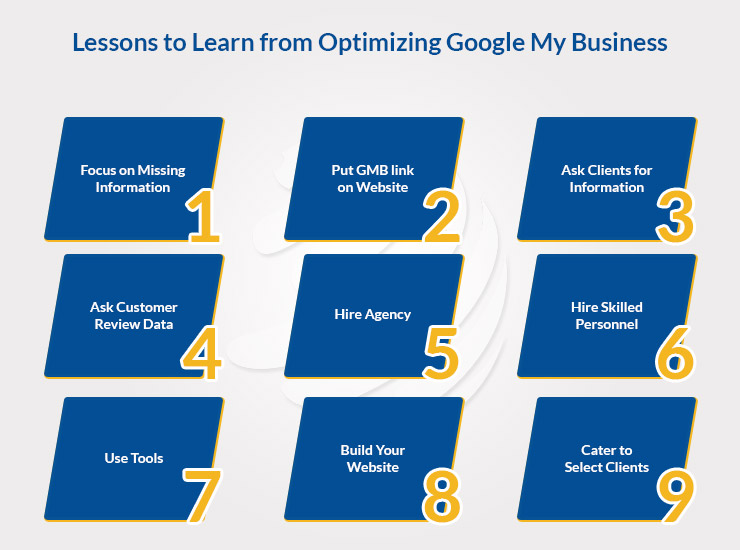 Weekly updates to your Google My Business listing via the "Google Posts" option should include new images, business updates, promotions, and fresh blogs. Make sure to provide thoughtful comments on reviews and update company information as necessary, such as holiday hours or closures. 
Make Sure That You Rename Your Images
It just doesn't seem worthwhile or meaningful to rename every single image, which is why image titles like "IMG_557854" are extremely common on home improvement websites with a lot of photographs. However, you need to understand that it is worthwhile because thorough home improvement SEO strategies are the ones that have the greatest impact. 
The title and alt text of your photos, as well as videos, are examined by a search engine crawler as they read your website's HTML, and they utilize that information to further establish the topic of the page.
Prior to adding your photographs to your website, rename them to reflect the location and service that are associated with them. By doing this, you increase the likelihood that your site will rank highly in search results because the URL of the image contains pertinent keywords that web crawlers can use to populate your image.
Keep Monitoring You Results and Progress
To ensure that your website is accomplishing your objectives, it is essential for you, as the owner, to monitor its performance over time. Fortunately, there are lots of home improvement SEO tools out there that may assist you in tracking your progress and making the necessary changes. 
These tools allow you to monitor the traffic, keywords, backlinks, and other aspects of your website to determine what is effective and what requires improvement.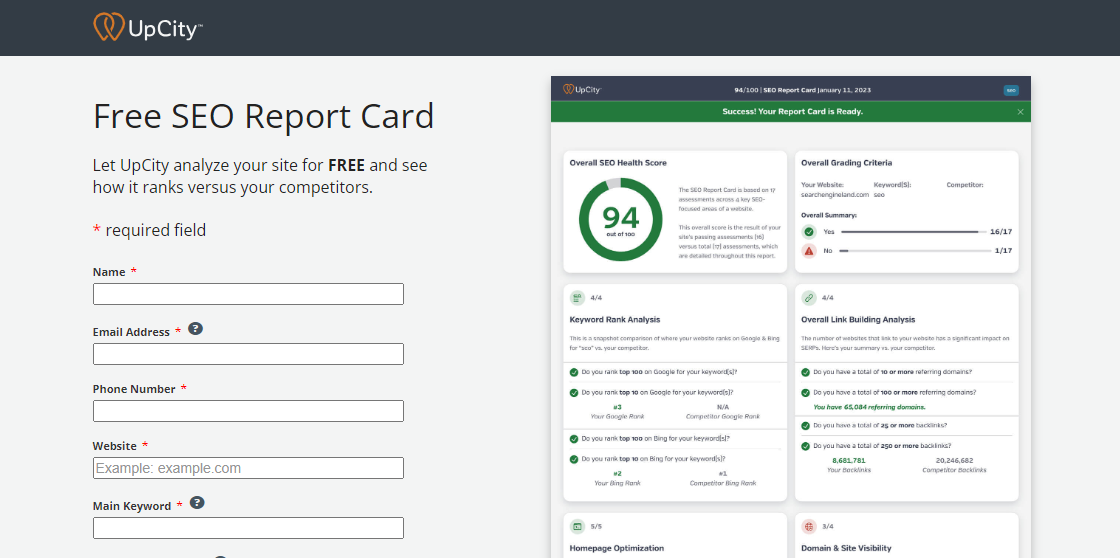 Source: Up City
This data may help you develop a home improvement SEO strategy, pinpoint issue areas, and make modifications to enhance the functionality of your site as a whole. You can stay on top of your home improvement SEO game and continue to draw and keep visitors by keeping a frequent eye on the development of your website.
Keeping up with the most recent trends and information is essential to staying one step ahead of other home improvement businesses in the fast-paced digital world of today. Since internet audiences are constantly looking for new and pertinent content, this is especially true for content development. 
You must continuously add new information and insights to your content if you want to keep your website or blog on your audience's must-visit list.
By doing this, you keep your readers interested and satisfied while also improving your search engine rankings, which may result in more people visiting your website. Although consistently updating your content may seem like a daunting chore, you may benefit from a strong online presence by prioritizing it and allocating time in your calendar for it.
Want to Gain More Insights About How Search Engine Optimization Can Scale Your Home Improvement Business?
The best strategy to raise brand awareness and build trust for your home improvement company in order to draw in more audience and customers is through home improvement SEO. Globex Outreach can serve as your driving-edge partner if you're looking for someone to help you on your SEO trip.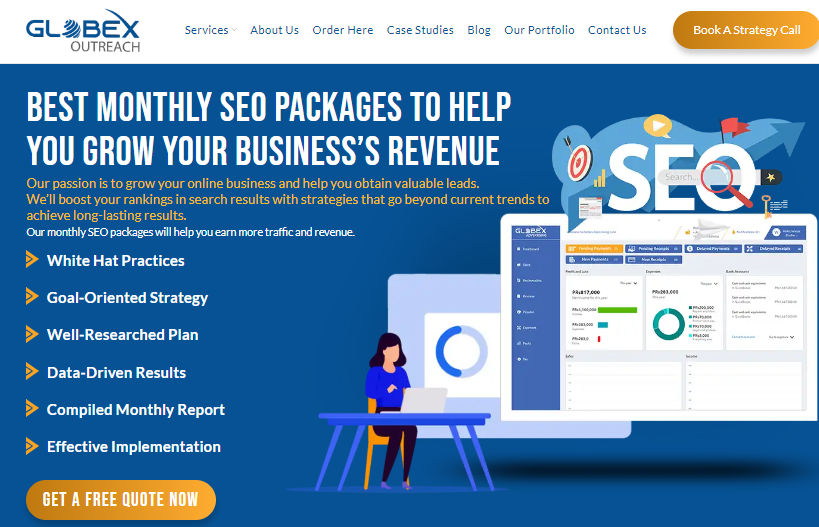 In order to create a distinctive home improvement SEO plan that can be adapted to your tastes and requirements, Globex Outreach has certified SEO consultants who know your home improvement firm inside out. We provide industry-leading SEO services that are completely targeted at your home improvement business.
Want to create a powerful, fully tailored SEO plan? 
Talk to our Experts Today!
Questions You Must Ask Before You Hire an Agency for Home Improvement SEO Services
Even though you now recognize the significance of SEO, you may not yet possess a great deal of the necessary knowledge or simply lack the time to give it much thought. If you choose to engage someone to handle your home improvement and remodeling company's SEO, make sure you're getting all the information you need.
Can I View Some Examples of Other Clients You Have Helped or Case Studies?
You can learn more about the business's procedures, go-to tactics, and actual client outcomes by asking this question. Keep in mind that because your business is unique, you can anticipate that your results will be particular to it. 
What Primary Keywords Generate the Highest Search Volume?
The answer to this query will differ depending on your company, geography, competition, and a number of other criteria, as with many other SEO queries. The business you intend to hire should conduct research to determine which keywords generate the highest volume of searches. 
There are various more high ranking potential keywords based on your particular services and area, but frequently, you will see a large search volume for anything price or cost-related.
How Hard Will It Be for Me to Outperform My Rivals?
Once more, this is dependent on a variety of variables, such as the age and domain authority of your website, the content of your website, the number of competitors in your area, the SEO strategies used by those competitors, and other SEO considerations. 
When you interview prospective home improvement SEO agencies, ask them about auditing your competitors' web presence so you can get a better picture of what it will take to outperform them.
How Soon Will I Be Ranking Number One in SERPS?
In all honesty, getting ranked #1 on Google is impossible to predict and is best resolved on a case-by-case basis. Your ability to go up the Google rankings depends on the phrases you're trying to rank for and your competitors' online presence. 
Additionally, your timetable will be influenced by your present rating. It will take you significantly less time to reach page one of Google if you are on page two as opposed to pages three, four, or five. A more accurate estimate ought to be available from your potential SEO business.
What Keywords Can I Expect to Rank For?
The majority of people desire to rank for every keyword. However, this is not feasible. Make sure the business you hire understands what is feasible and what could be too far-fetched. Ensure that the keywords they recommend you rank for align with the search intent of your target audience, who would be looking for the services you provide. 
The business should be able to provide you with a solid list of prospective ranking keywords and an estimate of how challenging it will be to rank for each one.
Wrapping This Up
A robust online presence is essential for any business, and the home improvement industry is no exception. Implementing effective SEO strategies can significantly elevate your visibility and credibility in the online world of SEO home improvement.
By focusing on localized keywords, optimizing your website's technical aspects, producing valuable and engaging content, and leveraging the power of social media, you can create a comprehensive SEO strategy tailored to the unique demands of the home improvement market. Remember, home improvement SEO is not a one-time task but an ongoing effort that requires monitoring, analysis, and adaptation.
As you navigate the complexities of SEO, always keep in mind the ultimate goal: connecting with homeowners in need of your expertise. 
Whether it's a simple DIY tip or a major renovation project, your online presence should reflect your commitment to helping them turn their houses into dream homes. So, embrace these SEO home improvement strategies, stay updated with the latest trends, and watch your online visibility flourish, bringing more doors to your doorstep and more tools to your toolbox.