Guest posting is a strategy that is extremely powerful yet often overlooked. The best part is that it can elevate your online presence to new heights. 
Picture this: a gateway that connects you with a vast audience opens doors to fresh opportunities, and establishes you as an authoritative voice in your field. Welcome to the realm of guest posting – a phenomenon that holds the key to unlocking the true potential of your online journey.
In this age of information overload, where countless voices compete for attention, guest posting emerges as a beacon of authenticity and credibility. It transcends the boundaries of self-promotion and introduces you to a diverse array of engaged readers eagerly seeking valuable insights and thought-provoking content.
But what exactly is guest posting, and how can you leverage its potential to create a lasting impact in your niche?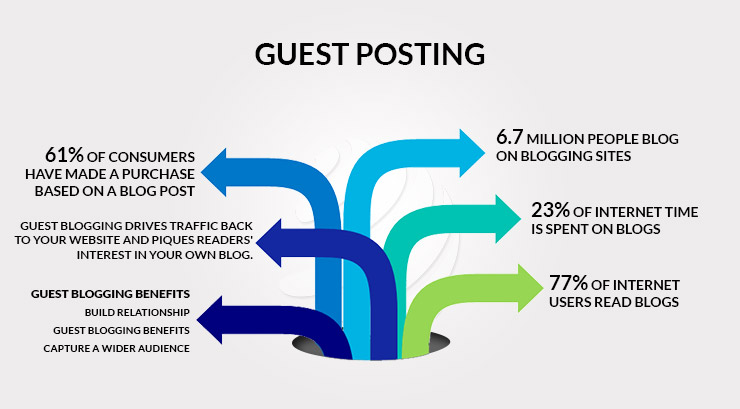 Fear not, for this guest post guide is here to shed light on the art and science of guest posting. Whether you're a seasoned blogger, a budding entrepreneur, or an industry expert seeking to extend your influence, you are about to embark on a transformative journey that will revolutionize the way you connect with the world.
Get ready to embrace the power of collaboration, for guest posting is not merely about sharing ideas but forging meaningful connections. Our guest post guide will take you on a voyage through uncharted waters, where every guest post you write becomes an opportunity to inspire, educate, and resonate with readers from all corners of the globe.
So, if you're ready to harness the untapped potential of guest posting and elevate your online influence, let's set sail on this exhilarating expedition and dive into our guest post guide. 
The world is waiting to hear your voice – and guest posting is the conduit to make it happen. 
Let's learn: 
What Is Guest Blogging?
Before we start our guest post guide, let's first understand what guest posting is before we learn how to do efficient guest posting:
Whenever you invite or ask a third party to write a blog post for your website as a guest author, this is known as guest blogging. Usually, the author is a professional in the organization's field or an authority on topics related to it.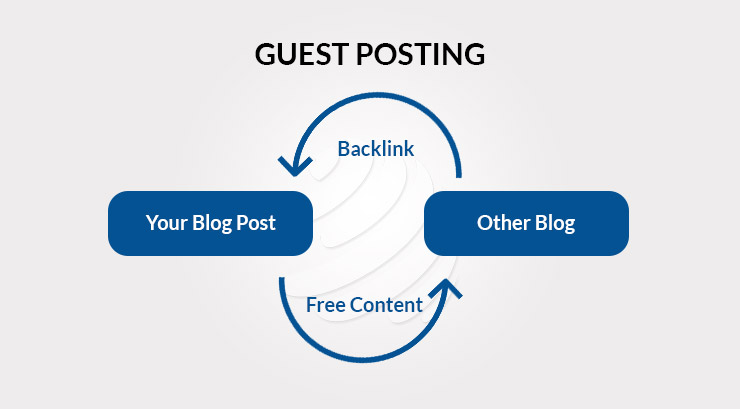 It can be an amazing approach to collaborate with people in the same business, whether for sales or in addition to tactics like affiliate marketing.
Now, let's officially kick-start our guest post guide:
Benefits of Guest Post Outreach
In the bustling world of digital marketing and content creation, guest post outreach stands tall as a strategic powerhouse, wielding the potential to propel your online presence to unprecedented heights. 
Picture a scenario where your ideas, expertise, and brand reach a wider audience than ever before, all while forging valuable connections within your industry. 
This is the remarkable essence of guest post outreach – a dynamic approach that transcends mere self-promotion and opens the door to a realm of unmatched advantages.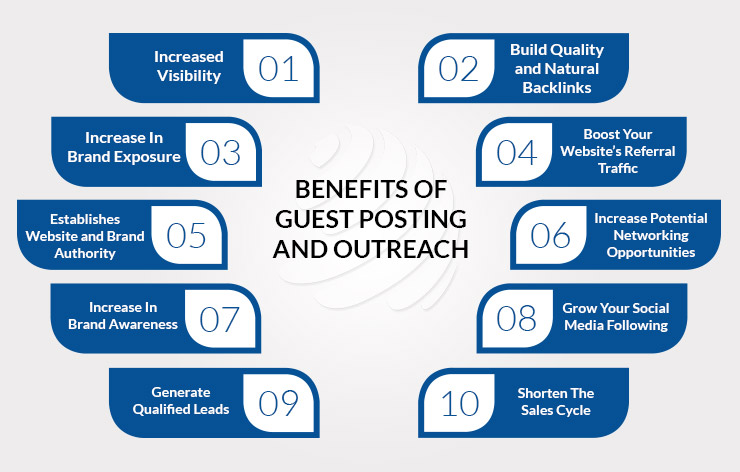 Before we delve deeper into our guest post guide, let's uncover a myriad of benefits that await those who dare to embrace this impactful strategy. 
From turbocharging your website's traffic and SEO rankings to positioning yourself as a thought leader, the benefits of guest post outreach are both vast and profound.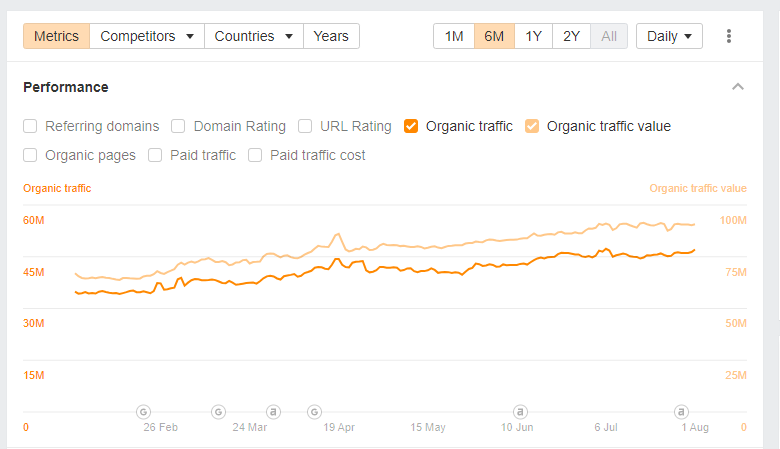 Guest posting can enable you to reach more people and improve your internet visibility to your potential audience. Moreover, you can access their audience by publishing content on another website, which may help you attract more followers or clients.
Increase in Brand Exposure
Internet users who have never heard of your brand or business before will learn about it for the first time from a credible source by contributing content to reputable industry websites. 
Therefore, you need to make sure the information in your guest articles is of a high caliber and presents a favorable view of your brand. Besides, since you'll be promoted on a well-known site, you've already got a leg up. So, all you have to do is seize the chance.
Improved Search Engine Optimization (SEO)

Furthermore, creating a high authority guest post can raise your search engine results. You can follow a simple guest post guide for this. It can help you enhance the amount of backlinks to your own website when you submit material on a website with high authority because this will boost your Search Engine Optimization (SEO).
Build Quality and Natural Backlinks
When establishing your rankings in their SERPs, search engines take into account the quantity and quality of the backlinks leading back to your website. You have additional opportunities to get more natural backlinks via guest posting. Every backlink you get is a credible mention of your brand.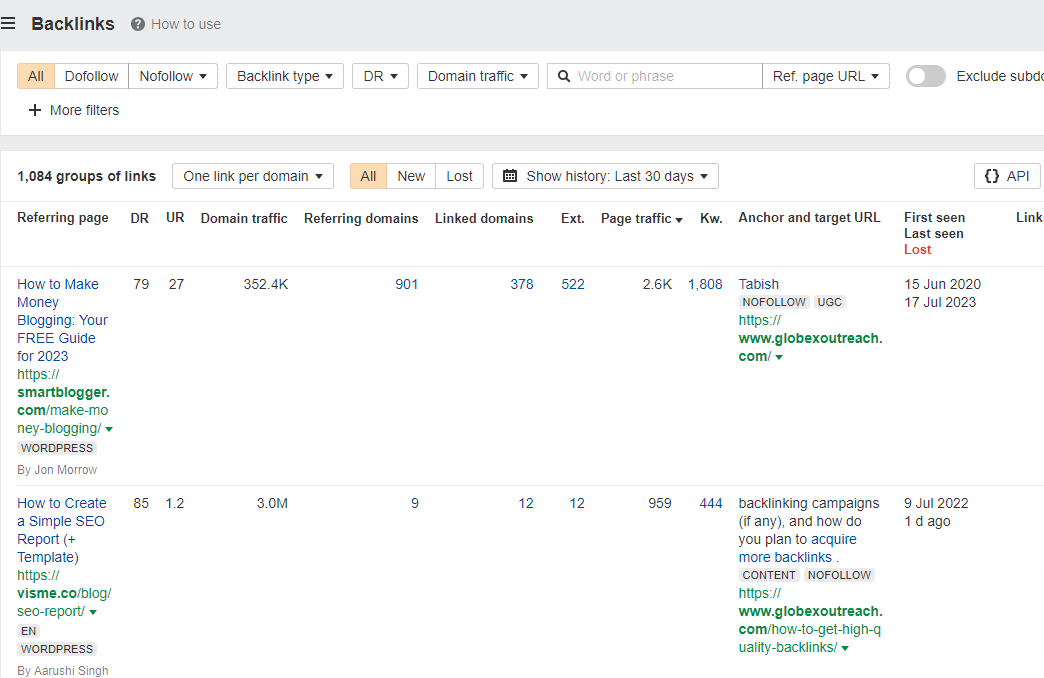 On top of that, you can include at least one link back to your website on many guest posting websites. When you have a solid internet marketing strategy in place, you'll quickly realize that link-building benefits are vast.
Boost Your Website's Referral Traffic
By contributing articles as a guest to other websites, you can draw more visitors on your own and grow your referral traffic. As a result, when website traffic grows, your company's web pages will rank higher in the search engines.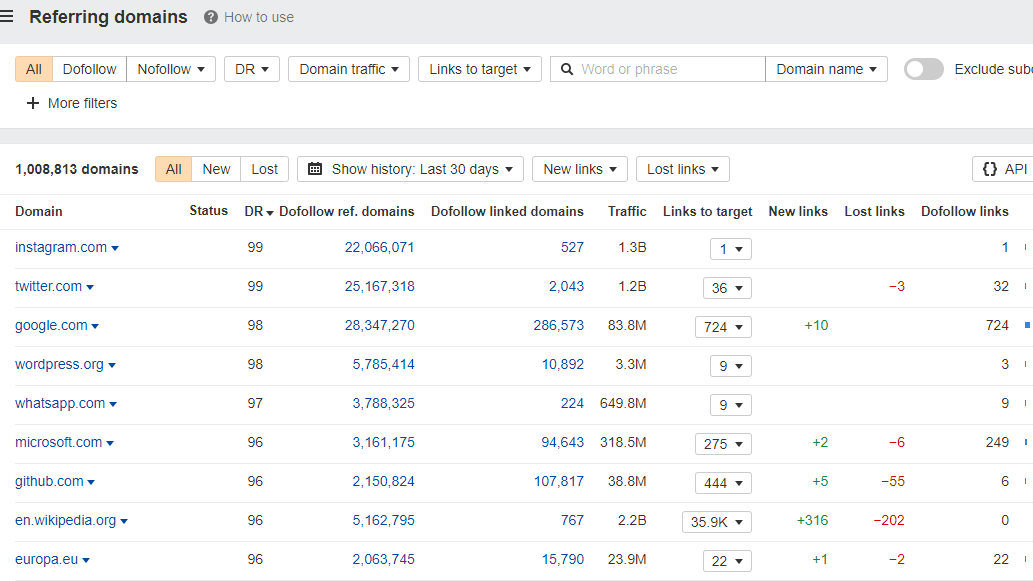 On top of that, the search engines will value your material more if you have hyperlinks in numerous guest posts, which will help you ascend to the top of the Search Engine Result Pages (SERPs).
Increase Potential Networking Opportunities
You can create some really amazing networking possibilities for your brand via guest posting. You might be able to work together on future projects or cross-promote each other's content by developing contacts with other bloggers or website owners in your niche.
Establishes Website and Brand Authority

You may position yourself or your brand as an authority in your industry by guest posting on popular websites. By doing this, you can increase the trust you have with your audience and increase the likelihood that they will come to you in the future for advice or products/services.
Increase in Brand Awareness
Brand exposure can be increased via guest posting. Your brand is exposed to a new audience when your content is published on another website, which may boost brand recognition and exposure.
Grow Your Social Media Following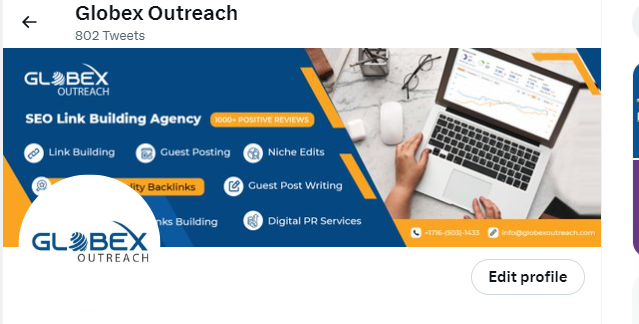 By writing for a reputable blog as a blog contributor, you can effectively get that website to endorse your brand. As a result, the social media fans of that website will think well of you. Besides, you can personalize your contributor profiles in the majority of guest blogging agreements. Finally, include links to your social media accounts at this point.
In addition to producing content that demonstrates your relevance to a given topic, you should search for websites that have already established a strong following and consistent traffic. 
As a consequence, you will have the chance to connect with companies and people who have expressed interest in your offerings through these websites. When designing the page to which you want to direct people, be sure to highlight a concrete action.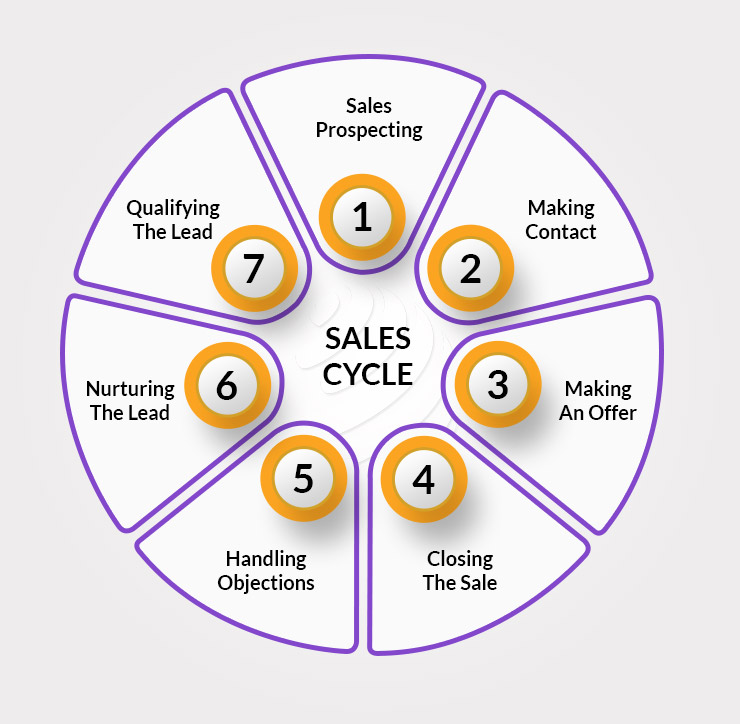 Last but not least, you can quickly increase the recognition of your business among your target audience by putting content on well-known blogs. As a result, you will reduce the length of the sales cycle for your goods and services. One of the most effective approaches to guest posting will put your business in front of the people who are most likely to become customers.
How to Find Guest Posting Topics?
In the world of digital marketing, where fresh ideas reign supreme, finding the perfect guest posting topics can be a transformative journey. 
Here's your guest post guide to guest posting topics so you can unleash your creativity and identify topics that resonate with both your audience and influential publications:
First, Choose Your Target Blogs and Websites for Guest Posting
Finding the appropriate distribution and marketing channels is the most important step in producing any commercial content for guest posting. 
By using this approach, you can determine the format and type of content, guidelines, target demographic, word limit, etc. that websites will accept. 
When you delve deep, you'll also learn about the subjects that their audience is most interested in reading and discussing. Make a list of these websites, then start thinking of possible topics to go with them. 
Perform Strategic Keyword Research
Once you've finished your market analysis on the guest posting websites, it's time to select relevant keywords. You need to look for keywords with more traffic but less difficulty and competition. When creating content, you must also consider the keyword density.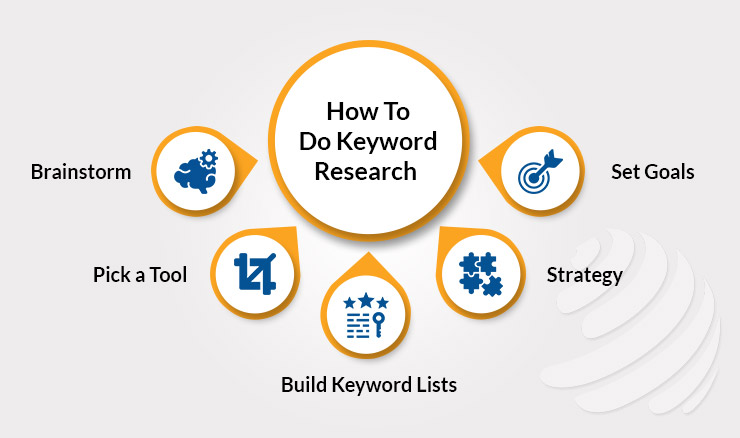 Tools like the Keywordtool, Wordstream, Google Keyword Planner, and others provide accurate keyword analysis that may be used to increase search engine traffic to your site. 
However, once you have finished reviewing the target sites' topics and keywords, you can select the best subject for your article. 
Where Can You Find Additional Topic Suggestions
In addition to the methods listed above, there are a variety of other ways to choose a topic that would be of interest to readers.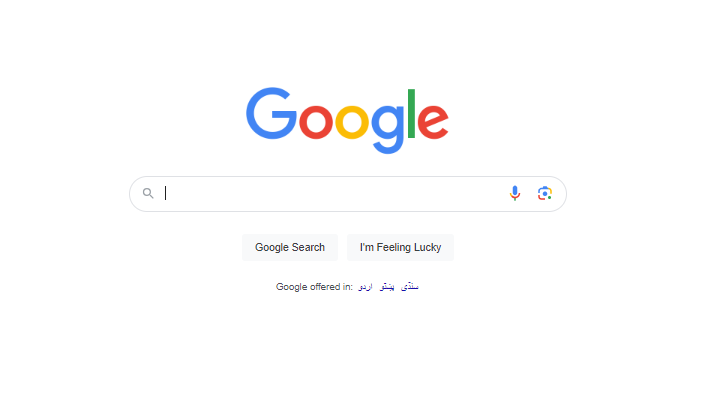 This is most likely one of the easiest and most beneficial ways to select a topic for your blog post. Simply enter the first three phrases that spring to mind when thinking about the subject into Google to see what others are looking for on various search engines. Make a list of pertinent topics and select the best one.
When it comes to communicating with people who share your opinions and interests, community threads are really helpful. You can get opinions from other marketers or regular individuals as well. In this way, you may ask them right immediately what they wish to read.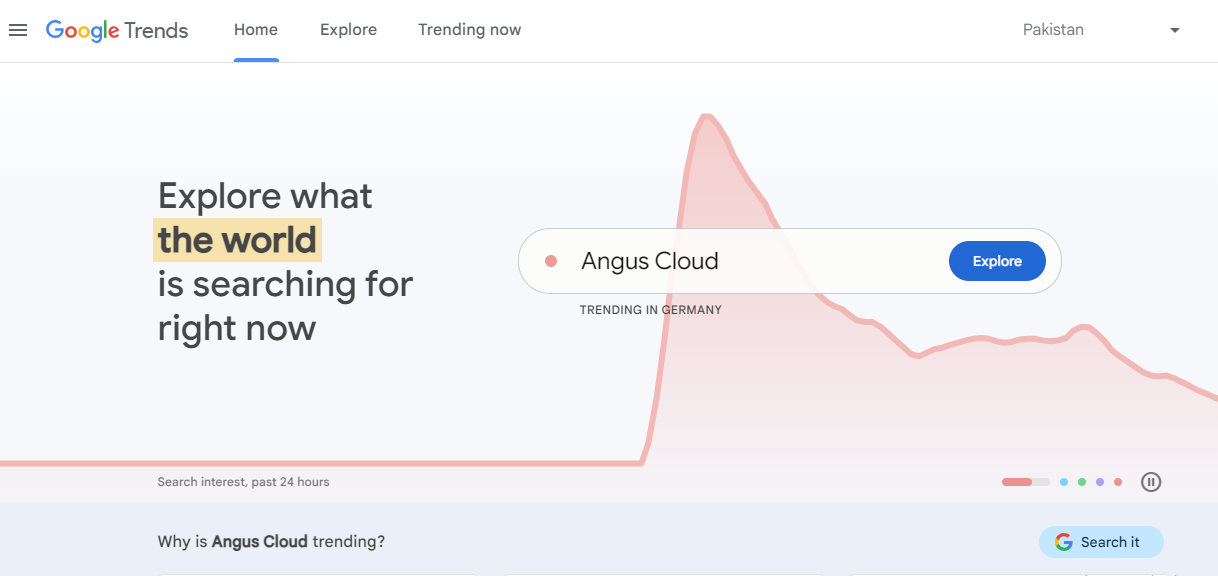 Google Trends will inform you of the most popular subjects and the content's lifespan. Plus, you can examine the subjects that people are looking for. Moreover, you can also write using these amazing trends. 
How to Find Guest Post Sites?
If you're tired of navigating the vast seas of the internet in search of guest post sites, fear not, for we've got the best guest post guide to guide you! 
Prepare to set sail on a swashbuckling adventure through the virtual landscape, discovering elusive platforms that eagerly await your valuable contributions. 
Here's how you can find guest post sites: 
Use Google Search Operators
Google is an effective search engine that can be used to locate practically anything online, including blogs that welcome guest articles. You can limit your search results to only the websites that welcome guest articles by utilizing Google search operators.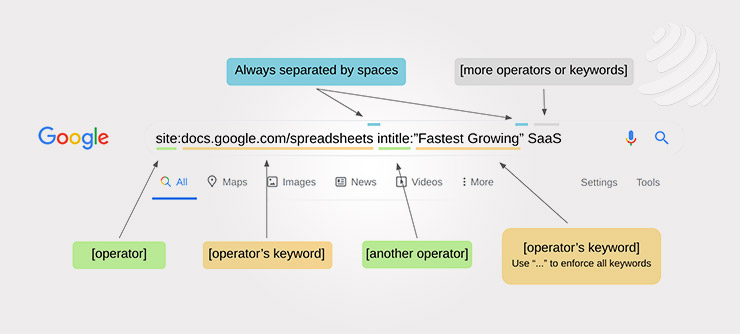 For instance, you can enter your niche keyword and "write for us" or "guest post" into a search engine. You'll receive a list of websites that are actively seeking guest posts as a result.
Use Guest Blogging Directories
You may identify websites that accept guest posts by using one of the many guest blogging directories that are available online. The most well-known directories comprise MyBlogGuest, PostJoint, and Guestpost.com. You can search for websites using these directories based on your niche, target audience, and other factors. Additionally, they offer details on the prerequisites and guidelines for guest posting on the website.
Finding web pages that accept guest posts can also be a breeze using social media sites such as Twitter and LinkedIn.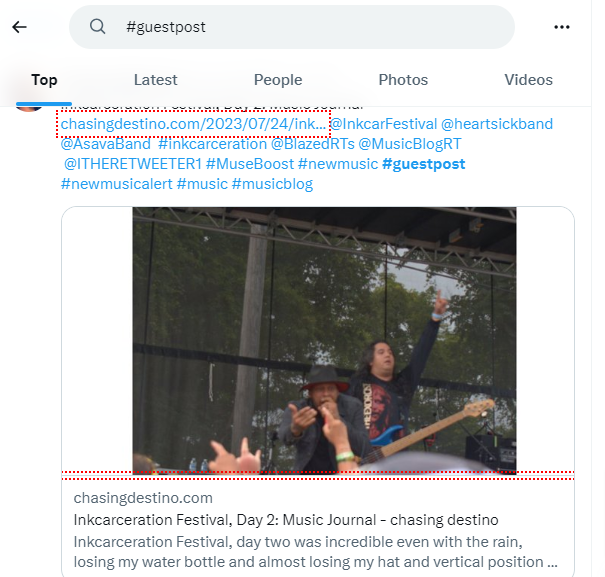 To identify pertinent posts and accounts, employ hashtags like #SEO, #guestpost, and #blogging. On top of that, you can follow influential people and bloggers in your niche to see whether they allow guest posts on their websites.
Check Your Competitor's Backlinks
Finding websites that allow guest articles can also be done by looking at your competitor's backlink profiles. It's possible that your competitors have obtained backlinks via guest posting on other websites if they are outranking you in search engine results.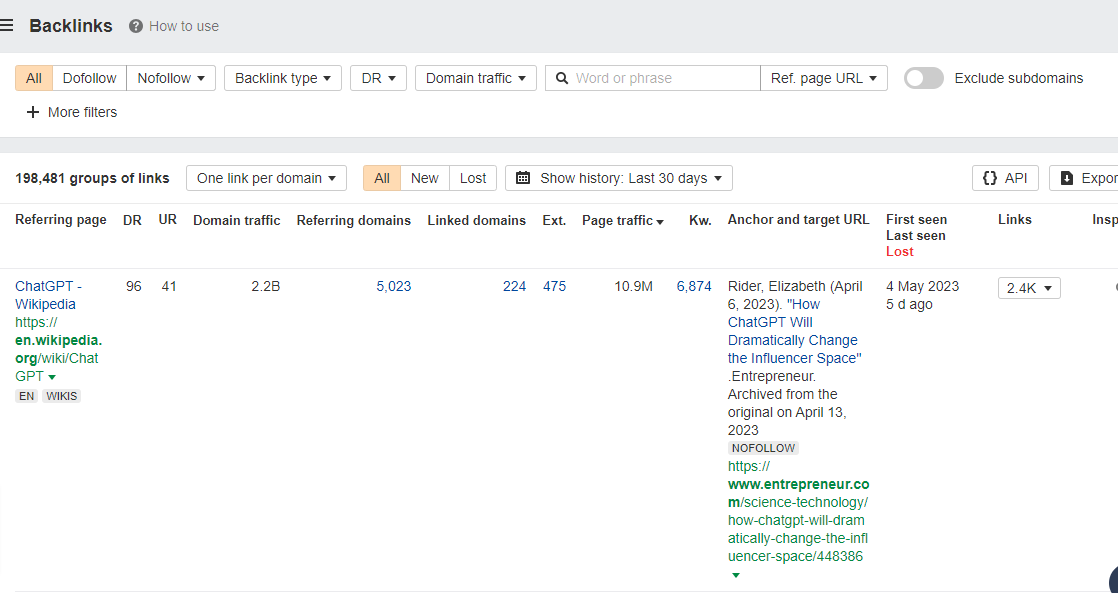 To examine your competitors' backlinks and identify websites that allow guest articles, utilize link building tools like Ahrefs or SEMrush.
Look for Niche-Specific Forums
Forums are online forums where individuals talk about various subjects pertaining to a specific niche. You may interact with other bloggers and website owners in your niche and identify websites that accept guest articles by signing up for topic-specific forums. To find out whether guest posting is permitted, you can also review the forum's standards and rules.
Reach Out to Bloggers And Website Owners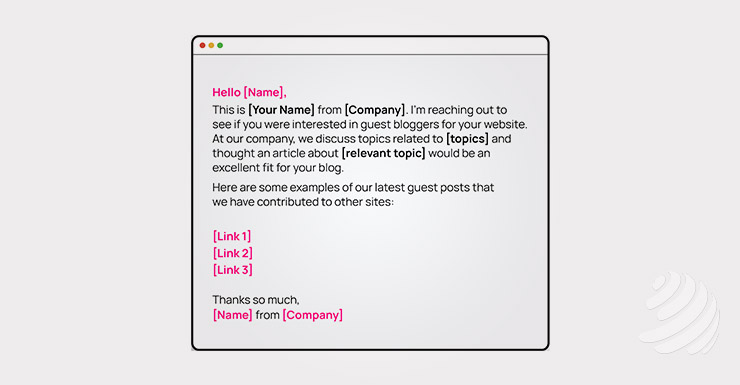 Contacting bloggers and website owners in your niche directly is another technique to discover websites that accept guest pieces. Ask them if they accept guest posts on their website by sending them an email or a direct message on social media. Maintain a professional tone in your email correspondence and include a brief bio of yourself and your website.
The Best Guest Posting Strategies
The best guest posting guide is incomplete without guest posting tips.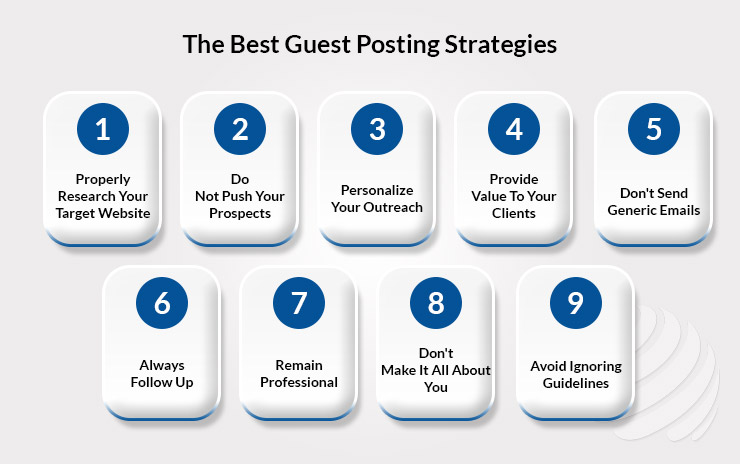 So, let's dive in:
Properly Research Your Target Website
Study the website you want to reach out to and make sure it is a good fit for your content before you contact it. Find websites in your niche that have a strong following and active audience participation.
Do Not Push Your Prospects
Contacting websites shouldn't include being forceful or demanding. Keep in mind that they receive several requests for guest posts and may require additional time or resources to respond to each one.
Personalize Your Outreach Email and Messages
When you email a website, be sure to personalize it. Mention a piece of content you liked or found useful, and address the website owner by name. This demonstrates that you have looked into their website and are really interested in it.
Provide Value to Your Clients
Don't send the same email to numerous websites. This demonstrates that you are only searching for a quick backlink and have no real interest in their website.
Don't Send Generic Emails
Avoid sending generic emails to multiple websites. This shows that you are not genuinely interested in their website and are just looking for a quick backlink.
If you don't hear back from the website owner right away, don't get disheartened. A friendly reminder should be sent after a few days or a week.
Make Sure That You Stay Professional
In all of your interactions, act professionally and with respect. Keep in mind that you stand for your brand, and your outreach should represent your standards and beliefs.
Don't Make It All About You
Don't make the guest article all about you or your website when pitching it. Instead, concentrate on how your piece will help the website's readers.
Avoid Ignoring Guidelines
Before submitting your guest post, thoroughly read the website's instructions. If you don't follow these rules, your post might not be appropriate for the website.
Best Guest Posting Sites
You cannot create a guest post guide without listing some of the best guest posting sites.
Our team got down to work and listed the best among the best guest posting sites for our guest post guide: 
| | | |
| --- | --- | --- |
| Target Url | Domain Rating | Ahrefs Rank |
| International Living  | 74 | 44535 |
| Living Rich With Coupons  | 65 | 180975 |
| WSJ | 92 | 241 |
| American Bar  | 89 | 2075 |
| Above the Law | 79 | 15106 |
| Attorney At Work | 70 | 114407 |
| Marketing Tech News  | 76 | 29993 |
| Rank Watch  | 71 | 80099 |
| Search Engine Watch | 88 | 2620 |
| Search Engine Land  | 91 | 969 |
| SE Round Table  | 84 | 5911 |
| Content Marketing Institute  | 89 | 2228 |
| Blog Herald  | 70 | 109591 |
| Make a living Writing | 70 | 109916 |
| Blog Reseller Club  | 78 | 20598 |
| Business Insider  | 84 | 5327 |
| Social Media Explorer  | 74 | 42993 |
| Social Media Strategies Summit | 70 | 104947 |
| Social Media Revolver  | 52 | 586821 |
| Get Response  | 90 | 1700 |
| Bench Mark Email  | 84 | 6347 |
| Colocation America  | 66 | 153841 |
| All Tech Buzz | 63 | 213522 |
| Analytics in  | 78 | 21477 |
| MobiSoft Infotech  | 61 | 254422 |
| Complete Connection  | 49 | 776446 |
| Technology Networks  | 77 | 24506 |
| The Next Tech  | 59 | 315818 |
| Web Design Ledger  | 77 | 25185 |
| Web Designer Depot  | 82 | 8242 |
| Cats who Code  | 70 | 100615 |
| Interior Design Magazines  | 31 | 3996689 |
| BMJ Journal  | 91 | 635 |
| Money Saving Mom | 71 | 80521 |
| Geeks state Blog  | 59 | 300897 |
| The Travel Manuel  | 38 | 1900905 |
| Digital Photography School  | 81 | 10255 |
| Taste of Home  | 85 | 5163 |
| Love My Dress | 74 | 47063 |
| U Texas  | 90 | 1224 |
| Greater Good Berkeley  | 91 | 559 |
| Women On Business | 60 | 283063 |
| Harvard Business Review  | 92 | 344 |
| Dumb Little Man   | 73 | 52051 |
| Pick the Brain  | 73 | 63030 |
| 5 Minutes for Mom | 72 | 77357 |
| Living Well Mom  | 64 | 185639 |
Best Blog Submission Sites
We have listed the best guest posting sites; we obviously were going to list the best blog submission sites as well. 
So, let's take a look at some of the best blog submission sites to complete our guest post guide.
| | | |
| --- | --- | --- |
| Target Url  | Domain Rating | Ahrefs Rank |
| Linkedin | 98 | 5 |
| WordPress | 93 | 139 |
| Weebly  | 94 | 88 |
| High Rank Directory  | 60 | 280513 |
| Pro Link Directory  | 49 | 805054 |
| Blogroll Center  | 0 | 188374939 |
| Fuel My Blog  | 29 | 4725927 |
| Promote Business Directory  | 56 | 404496 |
| Free to Prank Directory  | 33 | 3305912 |
| Add your Blog  | 38 | 1992244 |
| World Web Directory  | 0.9 | 71736579 |
| Free Directory Submit  | 34 | 2967596 |
| Add Free Web DIrectory  | 38 | 2030001 |
| Top Sites Web Directory  | 42 | 1395405 |
| Submission Web Directory  | 64 | 194475 |
| Site Promotion Directory  | 57 | 357438 |
| Volunteer Alliance  | 0 | |
| My Blog Directory  | 1 | 70520524 |
| On Top List  | 77 | 23221 |
| Free Website Service  | 0 | |
| Blog Search Engine   | 45 | 1128803 |
| Blog Engage  | 56 | 417309 |
| Globe of Blogs  | 51 | 645492 |
| Work It Mom  | 40 | 1654796 |
| Bloggers passion | 73 | 56408 |
| Juke Box Alive  | 34 | 3018933 |
| Snap Pages  | 85 | 4958 |
| Indi blogger  | 5 | 34597843 |
| All 4 Webs  | 71 | 93937 |
| Entire Web  | 72 | 66861 |
| Merchant Circle  | 85 | 4921 |
| Idea Scale  | 77 | 24127 |
| Blog Baker  | 42 | 1391117 |
| Science Stage  | 36 | 2317380 |
| Moon Fruit  | 80 | 12219 |
| Play Buzz  | 77 | 22925 |
| Wall Inside  | 64 | 190777 |
| Red Bubble  | 91 | 816 |
| News Vine | 76 | 29209 |
| Cook Eat Share  | 52 | 606666 |
| Blog Catalog  | 74 | 45391 |
| Area Voices  | 64 | 188323 |
| Social Media Today  | 89 | 1901 |
| Web Garden  | 72 | 66461 |
| Kick off Labs  | 74 | 51159 |
| Marketing Web Directory  | 25 | 7181404 |
| Best Business Web Directory  | 27 | 6034308 |
| Home Page Seek  | 17 | 12098215 |
| Good Night Journal  | 47 | 969563 |
| Bloggings Most Wanted  | 1.6 | 60793523 |
| Bloggers Choice Award  | 48 | 881938 |
| Blogs By Category  | 6 | 30734831 |
| Open Blog Directory  | 1 | 69846815 |
| Bored Panda  | 85 | 4629 |
| Daily Strength  | 11 | 20090154 |
| Boing Boing  | 40 | 1720322 |
| Trendiee  | 38 | 1944086 |
| Ever Note  | 91 | 863 |
| Couch Surfing  | 82 | 9189 |
| Wix  | 95 | 43 |
| Tumblr  | 94 | 56 |
Conclusion
In a digital universe brimming with endless possibilities, you've now unlocked the secrets of the ultimate guest post guide. Like a seasoned maestro wielding words, you're equipped to navigate the intricacies of guest posting strategy with finesse and flair.
Remember, guest posting isn't merely about backlinks and boosting numbers—it's a symphony of collaboration, connection, and creativity. So, whether you're leaving your mark on prominent platforms or diving into undiscovered niches, let your unique voice reverberate through the digital realms.
As you bid adieu to this guest post guide, stand tall as a guest posting virtuoso, armed with the power to amplify your influence, share your wisdom, and inspire countless hearts and minds.
So, go forth and let the world hear your resounding guest post crescendo. Embrace the journey, savor the connections, and revel in the knowledge that your words have the potential to change lives, one guest post at a time.
Now, the stage is set, and the spotlight is yours. You know how do you negotiate a guest post. Plus, you also know how to select topics and how to find sites. So, take a deep breath, and let this guest post guide lead you!